Ben Affleck And Ana De Armas Still Seem Totally In Love While Filming Scenes For Their New Movie Together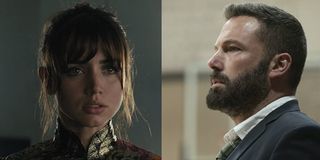 Ben Affleck and Ana de Armas have been close since last winter. They first met on the set of Deep Water back in 2019, and it wasn't long after that rumors of their romantic relationship began to swirl. This year, they have even been social isolating together. Now, it looks like the two are still totally in love while filming reshoots for Deep Water together.
While taking a little time off from the Deep Water set in New Orleans, Ben Affleck and Ana de Armas gave off plenty of PDA. De Armas was sitting on a railing, wearing a ring on her left ring finger and kissing Affleck as he stood. The ring is just a prop used for her role in Deep Water, according to People.
This is the first time in weeks that we've seen Ben Affleck and Ana de Armas together. The two have been busy on other projects and have finally come back together for the Deep Water reshoots. Despite being away from each other, it's nice to see their bond has remained strong.
In Deep Water, Ben Affleck and Ana de Armas play unhappy married couple Vic and Melinda Van Allen. In the film, Vic allows his wife to have affairs to avoid divorce, but things take an ugly turn when Melinda's lovers start disappearing and Vic Van Allen becomes a prime suspect.
Despite the complexities of a romantic couple working together on set, it doesn't sound like Ben Affleck and Ana de Armas' relationship is getting in the way of them bringing their top-notch skills to the upcoming film. Their Deep Water co-star, Jacob Elordi, recently commented on what it was like to work with them and said it was one of his favorite working experiences. He enjoyed having the chance to step back and watch two "titans of film" make movies.
Since becoming seemingly official back in May, Ben Affleck and Ana de Armas' relationship has gradually ramped up and become more serious. In June, she hopped on a plane with Ben Affleck and his two kids to go on vacation. Then, a month later, Ana de Armas got an adorable doggo to go on walks with her and Ben Affleck. Needless to say, they've been spending a lot of time together this year.
Now, it seems, since the two have been vacationing a lot together -- like going to Cuba and Ireland -- and there have been rumors that they might end up moving in together. Reportedly, Ben Affleck bought a "dad pad" back in 2018, complete with a playhouse, swimming pool, and slides for his kids. So if she were to move in, that would likely be the place.
Other than Deep Water, Ben Affleck and Ana de Armas have quite a few projects on the horizon. Ben Affleck will be directing and starring in Ghost Army and Ana de Armas will appear in No Time to Die and play Marilyn Monroe in Blonde.
Your Daily Blend of Entertainment News
Thank you for signing up to CinemaBlend. You will receive a verification email shortly.
There was a problem. Please refresh the page and try again.