Tim Allen And Richard Karn Reuniting To Film New Series Is The Most Home Improvement Thing Ever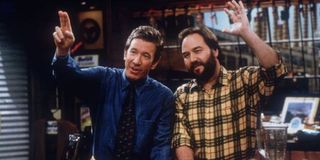 The casts of beloved '90s sitcoms have been reuniting a lot lately. The cast of The Fresh Prince of Bel-Air got together to film an HBO Max special that will air next month. Meanwhile, the cast of Friends is also expected to reunite for a special, which was originally set to air back in May. This isn't even including all of the reboots from the past few years. While Tim Allen and Richard Karn didn't reunite to film a Home Improvement reboot, they've returned to working together. And as you might expect, their new show is very on brand in regard to their sitcom characters.
Tim "The Tool Man" Taylor and Al Borland are returning to the world of tools and building things once more. The characters were famous for hosting their own workshop series on Home Improvement. Now, Tim Allen and Richard Karn are taking a page out of their characters' books. The actors will be hosting History's Assembly Required, a new competition series that will see builders from across the country working to fix and upgrade a myriad of household items. Karn took to Twitter to share a picture of him and Allen on the first day of shooting. Take a look:
With a set of tools hanging on a wall behind them and the actors standing behind a wooden table, it certainly feels like they never really left the set of Home Improvement. On the '90s sitcom, handymen Tim and Al hosted Tool Time, which showed the fictional audience how to build and fix things around the house, and it sounds like Assembly Required will follow a similar style. The nostalgia is very real.
Not only will Tim Allen and Richard Karn host Assembly Required, but they're also executive producing. In addition to being a competition show, the series is set to explore the history of the items being worked on by the builders, which makes sense considering that it's going to air on the History Channel. I'm curious to see how the show turns out, but it sounds like a pretty interesting concept.
Richard Karn wasn't the only one who was excited about reuniting with his Home Improvement co-star. Tim Allen posted quite a few tweets about the show and the first days of filming. One of the posts included an entire wall full of tools — drills, saws, an axe and more — and another was a selfie of himself and Karn. However, perhaps the best tweet from the set of Assembly Required included a picture of Allen and Karn standing next to the hot rod from Home Improvement. Check it out below:
Tim Allen, much like his sitcom counterpart, is a huge fan of cars and actually took home the 1933 Ford Roadster that was used on Home Improvement. I'm guessing that the "tooltime hotrod" shown in the photo above is the very same vehicle from the show, and Allen's caption implies as much. How cool is that?
Assembly Required is set to premiere at some point in 2021 and will consist of ten episodes. In the meantime, be sure to check out our 2020 fall TV guide for more on what to watch.
Your Daily Blend of Entertainment News