No Time To Die's Lashana Lynch Reveals The Marvel Movies She Auditioned For Before Landing Captain Marvel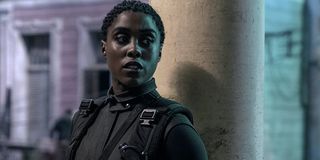 Lashana Lynch may not be a household name yet, but she's rapidly become an actress you can't help but keep an eye on. After getting her big break in Captain Marvel, she's poised to make big waves in next year's No Time To Die. The British actress recently revealed that her Marvel debut was a long time in the making and that she'd actually auditioned for a few other movies before she landed Captain Marvel.
While she's accumulated just a handful of credits thus far, Lashana Lynch has taken a bold and straightforward approach to her career. The actress got real about what her trajectory has entailed. While she had humble beginnings, she's also had plenty of ambition. She relayed a story about filming the ABC drama Still Star-Crossed and a conversation she had with her castmates about her career dreams:
While her co-stars may have thought her goals too ambitious, Lashana Lynch knew better. She kept pursuing a role in the MCU, and before long, she was cast as Maria Rambeau in Captain Marvel. The role, Lashana Lynch told GQ, was one that was hard-fought -- and came after she lost out on several other MCU roles:
Since Captain Marvel, Lashana Lynch's career has continued to thrive, and she's now poised to have a huge career breakthrough in the upcoming Bond film No Time To Die, in which she plays Nomi, the new 007. While she's experienced racist backlash since her role in the film was announced, she's set her sights on the future.
There's been speculation that Lashana Lynch could take over for Daniel Craig, since No Time To Die is his last film with the franchise. While it's too early to know whether those rumors will become reality, it's still a huge career moment for her and one that she finds to be delightful.
Unfortunately, Lashana Lynch has to wait a bit longer before she can formally introduce the world to Nomi. No Time To Die has been pushed back multiple times this year due to the pandemic and isn't scheduled to hit theaters until April 2, 2021.
Your Daily Blend of Entertainment News