Following Altered Carbon's Cancellation, Anthony Mackie Has Another Netflix Movie Lined Up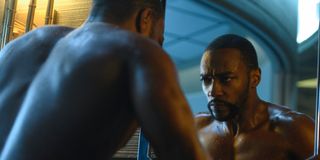 Fans of Netflix's sci-fi series Altered Carbon were disappointed when it was cancelled earlier this year. However, at least one star has built an ongoing relationship with the streaming platform. Anthony Mackie has signed on to both produce and star in the upcoming Netflix thriller The Ogun.
According to The Hollywood Reporter, The Ogun, written by Dark Knight Rises stuntman Madison Turner, tells the story of a man who travels to Nigeria to try and find a cure for a mysterious genetic disorder he's passed onto his daughter. He must use the powers that come with that disorder to fight his way back to his daughter after she is kidnapped.
Okay, that sounds pretty intense. While we don't have all the details about exactly what kind of powers Anthony Mackie's character will have, The Ogun has the potential to be pretty thrilling. We already know he's capable of pulling off some impressive stunts, so it will be cool to see him put those skills to good use again.
The Ogun is the latest in a series of projects Anthony Mackie has done for Netflix. In addition to taking over from Joel Kinnaman as the lead in Altered Carbon's second season, he's also starred in an episode of Black Mirror. On the film front, he produced and starred in the platform's 2019 sci-fi film IO.
There is no official word yet on when production will begin for The Ogun -- which means we likely won't know when it will premiere for a while. This also won't be the only project Anthony Mackie fans can anticipate to hit streaming platforms in the not-too-distant future.
He recently wrapped production on Disney+' The Falcon and the Winter Soldier. That series, co-starring Sebastian Stan, will follow their Avengers characters after the events of Avengers: Endgame.
Fans have been anticipating the upcoming series ever since it was announced, especially since it will give us a more in depth look at Anthony Mackie's Captain America -- and he's dropped hints that it won't be like a typical TV show. However, a delay in production due to COVID-19 meant that The Falcon and the Winter Soldier won't be ready until some time in 2021.
Because of those delays, the next project we see Anthony Mackie in may or may not end up being The Woman in the Window. That thriller, starring Amy Adams, was delayed in 2019, but Netflix was in talks to acquire it earlier this year.
If it isn't clear by now, Anthony Mackie has lined up a solid suite of projects that will keep him on our favorite streaming platforms for the foreseeable future. Which one are you most looking forward to? Let us know in the comments!
Your Daily Blend of Entertainment News
Thank you for signing up to CinemaBlend. You will receive a verification email shortly.
There was a problem. Please refresh the page and try again.