What Happens To The Money Disney World Parkgoers Toss Into Wishing Wells? Turns Out, Something Nice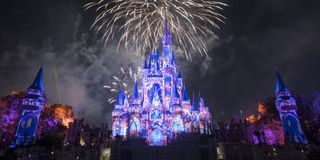 It's some part of human nature that at this point causes most of us, when we walk past any sort of artificial body of water, a fountain, a well, or whatever, to want to make a wish and toss in a coin. When we're at a place like Walt Disney World, that impulse is likely increased by an order of magnitude. Disney World is the place where dreams really do come true, after all. But what exactly happens to all those coins once they've been wished upon? As it turns out, they really do go to making people's dreams come true. Walt Disney World just donated $20,000 to charity, with all the money coming from guests "wishes."
For Thanksgiving, Walt Disney World gave the $20,000 to the Coalition for the Homeless of Central Florida. Disney World regularly removes all the coins from the various waterways. They are cleaned and sorted and the money is then donated to a local charity. You'd be hard pressed to find a water ride or a fountain that doesn't get full of coins. Everything from It's a Small World to Splash Mountain ends up full of coins. I suppose Walt Disney World could just keep the cash, so it's certainly nice to see the money going to a good cause instead.
That wasn't the only gift to the area homeless population, as, according to the Orlando Sentinel, Walt Disney World chefs put together a Thanksgiving feast for 650 people, including 250 pounds of turkey. The meal has become a Walt Disney World tradition. Of course, 2020 is the year when most traditions get thrown out the window, so it wouldn't have been that shocking if the annual meal had been canceled for the year. Disney recently announced that layoffs hitting the division that includes the parks would increase from the previously given number of 28,000 to 32,000. While Disney World is open for business, and has been able to slowly increase its maximum capacity since reopening this past summer, the massive resort certainly isn't bringing in the money it once was.
With the closure of Disney World that lasted from March until July, that's several months of coins not being dropped into fountains. The closure of the parks almost certainly impacted not only the resort's bottom line but also the amount that would have been donated to charity.
However, it does not appear that canceling the event was considered. While it certainly cost Disney World money, the donation and the annual meal are likely more needed than they have been in recent years. I'm usually not one for tossing coins in fountains, I'm usually not one for carrying coins very often anymore, but if I happen to find one in my pocket the next time I'm at Walt Disney World, I won't even hesitate to toss it in. It will likely do more good in the fountain than in my pocket, especially when combined with all the others that it joins.
CinemaBlend's resident theme park junkie and amateur Disney historian. Armchair Imagineer. Epcot Stan. Future Club 33 Member.
Your Daily Blend of Entertainment News
Thank you for signing up to CinemaBlend. You will receive a verification email shortly.
There was a problem. Please refresh the page and try again.