Upcoming Aubrey Plaza Movies And TV Shows: What's Next For The Happiest Season Star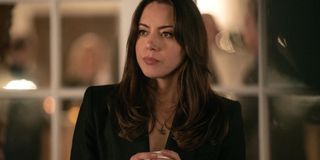 As 2020 draws to a close, Aubrey Plaza has flourished in two very different movies. On Thanksgiving weekend, audiences got a chance to see the actress's scene-stealing performance in Hulu's LGBTQ+ family rom-com, Happiest Season. And even more recently, Plaza received some of her finest reviews yet for her versatile dramatic character work in the darkly comedic indie thriller, Black Bear.
Of course, throughout the past decade-plus, the outstanding actress has proven her commendable talents in a variety of projects, on screens both big and small. Whether it's Parks and Recreation, Legion, The To-Do List, Safety Not Guaranteed, Scott Pilgrim vs. the World, or Ingrid Goes West, her best work (at least, in my view), to name a mere few, Aubrey Plaza is only getting more confident and exceptional with her daring and distinguished performances. We're watching the continued rise of our most intriguing and adventurous modern actresses.
If you love Aubrey Plaza, as many people online clearly do (as well they should), you'll want to know what she has coming up next. That's where we're here to help. Here are the Aubrey Plaza movies and shows you can look forward to seeing in the near future.
Omniboat: A Fast Boat Fantasia - TBA 2021 (Completed)
An anthology comedy that chronicles the life of Lay'n Pipe, a 47-foot TopGun Cigarette speedboat, from its conception through the end of human civilization, Omniboat: A Fast Boat Fantasia certainly made a splash (you see what I did there?) when it premiered at the 2020 Sundance Film Festival. Directed by a team of filmmakers, including (but not limited to) Hannah Fidell, Celia Rowlson-Hall, Terence Nance, Jillian Mayer, Dan Kwan, and Daniel Scheinert, while also featuring a boatload of stars (hardy har har), such as Adam DeVine, Jon Glaser, Adam Pally, Finn Wolfhard, Amy Seimetz, and Aubrey Plaza, this bizarre collaborative movie became a curious addition to the famous film festival, though it didn't receive the warmest critical response.
Following its starry debut, Omniboat has been left idling. Presently, it's unclear when this unconventional ocean-bound farce will be released to the general public. It hasn't even stormed its way to other film festivals outside of Sundance. It's probably too "out there" for general audiences, but it has too many talented people involved for it to sink. One imagines that it'll be picked up eventually. For now, though, it's coasting.
King Knight - TBA (Post-Production)
Have you ever wanted to see Aubrey Plaza voice a character named Pine Cone? Well, by golly, you'll get a chance with King Knight, the new comedy from Richard Bates Jr., the writer-director behind the tremendously underrated horror-comedy Excision. King Knight's plot synopsis describes the story of a High Priest of a modern-day coven who confronts his past as an all-American prepster. It also stars Matthew Gray Gubler, Ray Wise, Barbara Crampton, Andy Milonakis, and more. Any other details have been left vague.
As noted before, King Knight features a voice-only performance from Aubrey Plaza, though it's unclear if she's actually, you know, voicing a pine cone or if she's voicing, say, a cat or a dog (or some other domestic/undomesticated) animal with that name. In any case, this sounds like another bonkers movie from Plaza, an actress who clearly loves taking risks and gambling on some strange, beguiling, and/or challenging roles. We should learn more about this project soon enough, which is in post-production (or possibly completed).
The Ark And The Aardvark - TBA (Post-Production)
At the very least, The Ark and the Aardvark carries a cute title. Whether this is one of those movies where the name came first and the rest fell into place isn't for me to say, but I'll admit that the premise also sounds fairly entertaining. A computer-animated tale of an aardvark who becomes a leader of a group of misfit animals hoping to bring all the animals onto the ark, the synopsis has a bit of a Sunday School vibe going on, based on its bible-leaning backdrop, but the voice talent suggests that it's a family movie aiming for a wide net.
The voice ensemble includes Miles Teller, Aubrey Plaza, Jenny Slate, Rob Riggle, Craig Robinson, and Stephen Merchant. That's quite a talented acting team. One hopes it reflects well on the film's potential.
Directed by Kung Fu Panda co-helmer John Stevenson, from a screenplay written by Philip LaZebnik (Mulan, The Prince of Egypt) and Glen Dolman, The Ark and the Aardvark has been in-the-works for a few years now, though its official release date hasn't been announced yet. Currently, it's expected to be in post-production. We'll likely hear more about this family movie's release in the months ahead.
Best Sellers - TBA (Post-Production)
On paper, Best Sellers sounds rather familiar. It follows a cranky retired author who embarks on a farewell book tour through the help of a young publisher. Certainly, that synopsis has the hallmarks of a sappy, maudlin, weepy dramedy. But given the talent involved, maybe we shouldn't judge this book by its cover. The lead roles are played by Sir Michael Caine and Aubrey Plaza. That's definitely one way to get us intrigued. Hopefully, they'll move away from the conventionality of the storyline and find something emotionally resonant and true with the material — and very funny, too.
The feature directorial debut of actress Lina Roessler, written by first-time screenwriter Anthony Grieco, Best Sellers introduces a lot of new talent into this tale of a seasoned scribe and his less-worldly companion. Maybe they'll bring something fresh and exciting to the forefront? Or, at the very least, the creatives will provide Aubrey Plaza and Michael Caine with grounded, fleshed-out characters filled with heart, humor, and insight into the world-at-large. Time will tell. The movie is in post-production with no release date announced.
Little Demon - TBA (Pre-Production)
While Aubrey Plaza continues to make a big impression on the big screen, both in big studio affairs and inside the indie scene, she hasn't left the small screen behind. The Parks and Recreation actress recently finished her run in FX's Legion, and she's signed on to lend her voice to Little Demon, a new animated sitcom centered on a custody battle between a woman (Aubrey Plaza) and the devil, voiced by none other than Danny DeVito. FX greenlit the pilot earlier this year.
In addition to Danny DeVito and Aubrey Plaza lending their chops to this forthcoming show, Lucy DeVito, Danny's daughter, is also onboard to voice Plaza's Antichrist teenage daughter. Both DeVitos are executive producers for this program, while Plaza is producing as well. Also attached as an executive producer is Dan Harmon (Rick & Morty, Community), which might give this show the boost it needs. Little Demon is still in the very early development stages, so updates are few-and-far-between. But as a bizarre cartoon mix of Rosemary's Baby and Kramer vs. Kramer, color us very intrigued!
It's also fairly amusing that Aubrey Plaza will go from biblical with The Ark and the Aardvark to demonic with Little Demons. The woman has range!
Untitled Guy Ritchie Thriller - TBA (Announced)
Guy Ritchie keeps himself busy. Back in January, the English filmmaker released The Gentleman, which came out only a few short months after the Aladdin remake, and it was around that time that he finished work on his newest film, Wrath of Man. Starring Jason Statham, the action-thriller sounds like another high-energy popcorn flick from the rambunctious entertainer, and Ritchie and Statham apparently enjoyed each other's company. They will soon be reuniting for an upcoming, untitled spy thriller, and this time around, they'll be joined by Aubrey Plaza, in another unexpected career turn.
Once called Five Eyes, Guy Ritchie's latest joint will follow M16 agent Orson Fortune (Jason Statham) as he tries to track and halt an illegal weapon sale that could prove to be chaotic. Aubrey Plaza is believed to be playing Sarah Fidel, a tech expert who's begrudgingly paired with Statham's super spy. Certainly, Jason Statham proved his comedy chops in Spy and the Crank movies, and now we'll get a chance to see Plaza in action movie mode.
Hope - TBA (Announced)
If Happiest Season makes one thing abundantly clear, it's that Aubrey Plaza needs to be headlining more romantic comedies. While she played notable supporting characters in Scott Pilgrim vs. the World, Mike and Dave Need Wedding Dates and Playing It Cool, while also headlining unconventional genre exercises like Safety Not Guaranteed and Life After Beth, the actress has certainly proven herself to be a dynamic, distinctive, and dependably delightful screen presence who deserves more starring roles, notably in more mainstream movies. Well, Netflix seems to agree, at least. The actress is signed on to star in Hope, a streaming rom-com that shows the absurd lengths a mid-30s woman (Plaza) will go when she discovers the perfect man.
As Collider reported, Hope is written by Karen McCullah and Kristen "Kiwi" Smith (10 Things I Hate About You, Legally Blonde, The House Bunny), and it'll be directed by Jackie van Beek and Madeleine Sami (The Breaker Upperers). No word yet on when filming will start, but one certainly hopes that this upcoming rom-com is worthy of Aubrey Plaza's immense talents.
Do you love Aubrey Plaza? Let us know in the comment section below.
Will is an entertainment writer based in Pittsburgh, PA. His writing can also be found in The Playlist, Cut Print Film, We Got This Covered, The Young Folks, Slate and other outlets. He also co-hosts the weekly film/TV podcast Cinemaholics with Jon Negroni and he likes to think he's a professional Garfield enthusiast.