Happiest Season: 8 Quick Things We Know About Kristen Stewart's Lesbian Rom-Com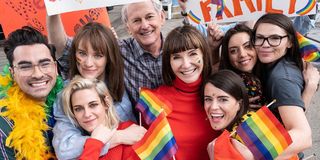 With the Halloween decorum drawing to a close, it's only a matter of days before people take out their yuletide decorations, pull out the Christmas tree, wrap up their presents, and welcome in another holiday season of merry delights and plentiful good tidings. Alas, while this year will assuredly be less merry than many others before it, that doesn't mean you have to be a grinch. Your annual family tradition of going to the movies might be dashed, but if you have a Hulu subscription, you will be able to watch Happiest Season, the seasonal romantic comedy starring Kristen Stewart.
Once set for theaters, Happiest Season will go straight to the service in November. This year won't be filled with as much holly and jolly as others, but you can still invite some laughs in. If you're curious to learn more about this upcoming lesbian rom-com, here are eight quick things you should know.
Happiest Season Follows A Woman About To Propose At Her Girlfriend's Family's Christmas Party, Only To Discover That She Hasn't Come Out
Regarding the plot itself, Happiest Season follows Abby (Kristen Stewart), a young woman who plans to propose to her girlfriend, Harper (Mackenzie Davis), while attending Harper's family's annual holiday party. But this proposal doesn't go according to plan, as Abby discovers that Harper hasn't actually come out yet to her conservative parents, Ted (Victor Garber) and Tipper (Mary Steenburgen). Upon this unexpected discovery, Abby starts to question what she knows — or what she thought she knew — about the woman she's preparing to marry.
As the plot synopsis for the movie notes, Happiest Season captures "the range of emotions tied to wanting your family's acceptance, being true to yourself, and trying not to ruin Christmas." Suffice to say, expect a lot of rom-com hijinks to ensue from there.
Kristen Stewart Called The Experience Of Making Happiest Season 'Really Exhilarating And Freeing'
While Kristen Stewart willingly admitted that Happiest Season won't stray too far from conventionality, she also says that being involved in a film where marginalized people love each other "in the middle of something that's so standardized" became a "really exhilarating and freeing" experience. As Stewart further elaborated to EW, Happiest Season won't shock people with unexpected twists and turns. It's not experimental or challenging the viewer. As Stewart bluntly notes, "it's a fucking rom-com holiday movie. It'll work out." But she also admits that this "new feeling" is "relieving, allowing yourself to breathe."
While Stewart has made several unconventional movies in the past, Happiest Season was her chance to celebrate Christmas cheer while also showing two women in love in a fun fashion. In such a bleak year, it's good to have some good tidings during the holidays.
Happiest Season Is The Second Film From Co-Writer/Director Clea DuVall, Who Also Stars
Happiest Season serves as the sophomore feature from co-writer/director Clea DuVall. Better known as an actress, notably for her roles in But I'm A Cheerleader, Girl, Interrupted, The Faculty, Veep, The Handmaid's Tale, American Horror Story, Heroes, Zodiac, Can't Hardly Wait, The Grudge (2004), and Argo, to name a few, DuVall made her feature screenwriting and directorial debut with 2016's overlooked, underrated indie hangout dramedy, The Intervention. Though it owes a lot to movies like The Big Chill, DuVall proved herself to be an assured actor's directors, particularly with a starry cast that included Natasha Lyonne, Ben Schwartz, Alia Shawkat, Cobie Smulders, and DuVall herself.
Likewise, Happiest Season has an exceptionally high-profile ensemble, which we'll discuss momentarily. It should be noted, too, that, in addition to her behind-the-scenes duties, DuVall also plays the part of Georgia in her latest film.
The Story Is Based On Clea DuVall's Past Experiences
When it comes to her latest film, Happiest Season isn't merely a chance for the novice filmmaker to bask in the glow of the warm Christmas festivities. Rather, this is a personal chance for the co-writer/director to explore her "own place of truth" and tell a seasonal story "from [her] own perspective," as she noted in an Entertainment Weekly interview. DuVall admits that there have been several Christmases with her partners where she's been with their folks and they didn't know the truth about her queer identity. Rather, she gets labeled "'the friend' at the family function."
Therefore, while Happiest Season may follow a traditional Christmas movie format, it'll come from a perspective that's not often seen inside this genre, or studio movies in general, and it'll bring an emotional perspective that's relatable and truthful. As DuVall told People:
Happiest Season's Cast Also Includes Mackenzie Davis, Aubrey Plaza, Alison Brie, Dan Levy, And More
Much like Clea DuVall's first film, Happiest Season is filled with several notable stars, including Kristen Stewart and Mackenzie Davis in the lead roles, as well as Victor Garber and Mary Steenburgen in prominent supporting roles. Additionally, Alison Brie, Aubrey Plaza, Schitt's Creek's Dan Levy, Ana Gasteyer, Mary Holland, Jack McDorman, and Sarayu Blue are on-hand to round out the ensemble, though their roles in the movie remain unclear. What's not unclear, however, is that DuVall knows how to round up an outstanding cast for her movies, likely appealing to them as an actress herself.
Whether or not Happiest Season is worthy of their collective talents remains to be seen. But if this follow-up film is as well-rounded as the director's previous film, they'll be in good hands.
Happiest Season Was Shot In Pittsburgh In Early 2020, Prior To COVID-19 Shutdowns
Personally speaking, I can't get enough of movies shot here in the 'Burgh! My hometown of Pittsburgh has been the backdrop (or, at least, one of the backdrops) for several notable, praise-worthy films over the decades, including (but not limited to) The Deer Hunter, RoboCop, Night of the Living Dead, The Silence of the Lambs, Groundhog Day, Wonder Boys, The Dark Knight Rises, The Perks of Being A Wallflower, and many more. It's also the shooting location for Happiest Season, which entered production in my fair city in late January and finished filming in February. This is notably mere weeks before productions nationwide faced COVID-19-related shutdowns, allowing this movie to be edited and finished for its November release.
I'm certainly looking forward to seeing my city on the screen again soon, if sadly not on the big one.
Happiest Season Was Co-Written By Actress Mary Holland, Who Also Stars, In Her Screenwriting Debut
You may or may not recognize the name, but you've likely seen Mary Holland in several projects over the past few years. The actress has appeared in Blunt Talk, Veep, Mike and Dave Need Wedding Dates, Comedy Bang Bang!, It's Always Sunny in Philadelphia, Crazy Ex-Girlfriend, The Package, Curb Your Enthusiasm, Between Two Ferns: The Movie, The Good Place, Silicon Valley, Greener Grass, Homecoming, and many other movies and shows in the past 10-plus years. While she hasn't gotten too many lead performances throughout her career, she's consistently working and consistently reliable as a screen presence. Now, she's jumping into the next phase of her career: screenwriting.
With Happiest Season, Mary Holland makes her screenwriting debut in this Christmastime studio rom-com, expanding herself creatively in the process. Here's hoping she finds success in this new field.
Previously Set For Theaters, Happiest Season Will Stream Exclusively On Hulu On November 20th
Based on appearances, at least, Happiest Season is the type of movie that you watch snuggled up in a warm blanket, watching between sips of hot chocolate or warm coffee in your living room with your family or friends. Like many Christmas-based films before it, Clea DuVall's sophomore feature seems like it's designed to be watched inside during a cold winter day, celebrating the spirit of seasonal joy before or after you've opened your gifts and shared the love with your family. Perhaps it's only fitting, then, that Happiest Season will arrive in homes everywhere — practically gift-wrapped — in time for the holiday season.
In lieu of its intended theatrical release via Sony Pictures, Happiest Season is now a Hulu exclusive. It'll be hitting the site on November 20th. Just in time for Christmas.
Are you excited to see Happiest Season when it arrives on Hulu? Let us know in the comment section!
Will is an entertainment writer based in Pittsburgh, PA. His writing can also be found in The Playlist, Cut Print Film, We Got This Covered, The Young Folks, Slate and other outlets. He also co-hosts the weekly film/TV podcast Cinemaholics with Jon Negroni and he likes to think he's a professional Garfield enthusiast.
Your Daily Blend of Entertainment News
Thank you for signing up to CinemaBlend. You will receive a verification email shortly.
There was a problem. Please refresh the page and try again.