Vanessa Hudgens: What To Watch Streaming If You Love The Princess Switch Star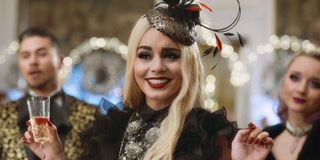 CinemaBlend participates in affiliate programs with various companies. We may earn a commission when you click on or make purchases via links.
You can enjoy multiple Vanessa Hudgens in the Netflix Original movie The Princess Switch. The film doesn't just give you one character played by Hudgens, but two. She has been building an interesting career since her High School Musical days - appearing in franchise films, big blockbuster movies, indie flicks, musicals, and much more. Vanessa Hudgens isn't an actor to put in a box.
If you've loved Hudgens forever, or are a new fan, then you're in luck because there are plenty of her movies and specials to stream online. Here are a few options to fill your week or weekend.
The Princess Switch Movies - Netflix
Vanessa Hudgens plays Stacy De Novo and Lady Margaret Delacourt, a baker and a royal who switch places for a few days. They get to enjoy each other's lives and realize that they may want to deviate from their initial life plans. In 2020, Netflix released a sequel, The Princess Switch: Switched Again.
The sequel introduces a third look-alike. This time it's an evil cousin, Lady Fiona, and we get a throne stealing scheme in this one. Vanessa Hudgens fans should enjoy these movies because it allows the actress to take on three different roles. It's also just a sweet, romantic Christmas movie. The Princess Switch: Switched Again is also an important addition to the Netflix Christmas Universe.
Stream The Princess Switch movies on Netflix here (1 (opens in new tab), 2 (opens in new tab)).
The High School Musical Trilogy - Disney+
The first High School Musical film starts with Troy (Zac Efron) and Gabriella (Hudgens) meeting for the first time, and it's beautiful music from the start. Troy then finds himself torn between his love of basketball and singing. The first two High School Musical films were Disney Channel Original movies but the final one received a theatrical release.
These films are what started Zac Efron and Vanessa Hudgens' careers. The movies helped propel them to superstardom and made them household names, especially among millennial and Generation Z Disney fans. High School Musical also allowed Hudgens to show off her singing talents, as well as her then developing acting abilities.
Stream the High School Musical movies on Disney+ here (1 (opens in new tab), 2 (opens in new tab), 3 (opens in new tab)).
Grease Live - Crackle
Grease: Live is Fox's live production of Grease. The cast includes Julianne Hough, Aaron Tveit, Vanessa Hudgens, and Keke Palmer. The 2016 television event is the tale of Sandy (Julianne Hough) and Danny (Aaron Tveit), who meet over the summer and have a magical encounter. But, when Sandy gets transferred to Danny's school, things aren't as smooth as they were during the break.
Hudgens plays Betty Rizzo. Rizzo is a different role from the actress' usual good girl persona. The character is sexy, bold, a little jaded, and she seems like a fun character to play. In Grease: Live, Hudgens gives one of her best performances, especially because she had to do it all live. She's sassy, believable, and gives that Rizzo attitude that Grease fans love.
Stream Grease: Live on Crackle here.
Bad Boys For Life - Starz
Bad Boys for Life is the third installment in the Bad Boys franchise. This movie follows Mike Lowrey (Will Smith) as he tries to find the people trying to kill him. Meanwhile, Marcus Burnett (Martin Lawrence) just wants to retire and enjoy the next, quiet chapter of his life. Bad Boys For Life does a good job of setting up the next generation of bad boys and bad girls.
Vanessa Hudgens plays one member of the next generation as Kelly, a weapons expert. This is a supporting role for Hudgens, but she gets enough material to show that she's just as badass as the guys and can hold her own, both in kicking butt and by standing out on screen. Hopefully, in the next Bad Boys film, we get to learn more about Kelly and the other new characters.
Stream Bad Boys For Life on Starz here (opens in new tab).
Polar - Neflix
Polar is an action movie about a retired assassin who finds himself back in the game. He also finds himself as the target of his former employer and being chased by young assassins. Mads Mikkelsen plays the retired assassin, Duncan Vizla a.k.a. The Black Kaiser. Hudgens plays his neighbor Camille. She becomes a target because of her friendship with Duncan.
Hudgens has been building an impressive portfolio of action movies over the last few years, and this is another cool one that she has on her resume. Camille's innocent persona pairs well with Duncan's ruthless killing machine habits.
Stream Polar on Netflix here (opens in new tab).
Second Act - Showtime
Jennifer Lopez stars in Second Act,a film about a woman who is a hard worker but finds her career opportunities limited because of her lack of higher education. She gets a chance of a lifetime when her friend's son lies on her resume and creates fake social media profiles, also giving her more impressive work credentials.
Vanessa Hudgens plays Zoe Clarke, the daughter of Anderson (Treat Williams), the man that owns the company that Lopez's character Maya comes to work for. At first, Zoe isn't the friendliest, but she eventually forms a bond with Maya, and they learn their connection is stronger than either expected. Overall, Second Act is a feel-good movie about second chances, but it's a more serious role for Hudgens because her character is ambitious and career oriented.
Stream Second Act on Showtime here.
Gimme Shelter - Tubi
Gimme Shelter stars Vanessa Hudgens, James Earl Jones, Rosario Dawson, Brendan Fraser, Stephanie Szostak, and Ann Dowd. The film follows Apple (Hudgens), a young girl who is pregnant. She seeks out her wealthy father (Brendan Fraser) after running away from home.
She eventually leaves her father and moves into a shelter for pregnant girls. She bonds with the other girls and begins to build a family there. This is one of Hudgens's strongest performances. It's emotional, raw, and inspiring.
Stream Gimme Shelter on Tubi here.
The Knight Before Christmas - Netflix
The Knight Before Christmas is another Netflix and Hudgens Christmas film. This time, Brooke (Hudgens) meets a handsome knight from the 14th century. Josh Whitehouse plays the knight, Sir Cole, who sweeps Brooke off her feet.
The Knight Before Christmas is an enjoyable twist on Christmas romance films. We have seen boy meets girl so many times, but we've rarely seen girl meets knight. Whitehouse and Hudgens have great chemistry, so you're easily invested in their unusual love story.
Stream The Knight Before Christmas on Netflix here (opens in new tab).
Spring Breakers - Showtime
Three friends, Candy (Hudgens), Brit (Ashley Benson), and Cotty (Rachel Korine), rob a bank to get money for a spring break trip in Florida. They tell their friend Faith (Selena Gomez), and bring her along for the ride. The law catches up with them, but eccentric drug dealer Alien (James Franco) bails them out.
He soon brings Candy, Brit, and Cotty into his world of crime, but Faith doesn't want to go down that path. Spring Breakers takes Hudgens far away from the world of Disney in this crime, sex, violence, and insanity filled film. This is a much more adult role for Hudgens that proves she's not singing to Troy about going her own way anymore.
Stream Spring Breakers on Showtime here.
Frozen Ground - Netflix
Based on the real-life crimes of Alaskan serial killer Robert Hansen, Frozen Ground tells the story of state trooper Jack Halcombe (Nicolas Cage), a man investigating the rape and murder of several Alaskan girls. He seeks help from Cindy (Hudgens), a prostitute that escaped being kidnapped by Hansen (John Cusack).
Frozen Ground is a haunting true-crime thriller. The film is made even more powerful by the excellent performances of the main cast. Hudgens gives another strong performance which shows that she continues to grow and improve as an actress.
Stream Frozen Ground on Netflix here (opens in new tab).
Bandslam - Showtime
Before Hudgens left the world of high schoolers singing in musicals, she appeared in Bandslam. The film follows Charlotte (Aly Michalka) and Will (Gaelan Connell) as they form a band. He also forms a bond with Hudgens' character Sa5m (pronounced Sam). Sa5m and Will's friendship eventually turns into a romance.
Bandslam is a very adorkable teen romance movie. It's another film that proves why Hudgens was one of the queens of teen comedies in the mid-2000s. She's likable and has an ease when playing girl-next-door teen characters. Bandslam is a good Hudgens movie to watch if you want something lighthearted and sweet, with some music thrown in there.
Stream Bandslam on Showtime here.
Sucker Punch - Netflix
Back in 2011, Zack Snyder co-wrote and directed Sucker Punch. It's about Babydoll (Emily Browning) being committed to a mental institution. She deals with her new situation by fantasizing and creating fantastic worlds. In these fantasy worlds, she befriends four girls: Sweet Pea (Abbie Cornish), Rocket (Jena Malone), Blondie (Hudgens), and Amber (Jamie Chung). Carla Gugino, Oscar Isaac, and Jon Hamm also appear in Sucker Punch.
If you like unique action and fantasy / adventure films, then Sucker Punch may be a good fit. It serves as a chance for Hudgens' fans to see her kick butt in highly stylized action sequences.
Stream Sucker Punch on Netflix here (opens in new tab).
These are only a few of Vanessa Hudgens' movies available to stream. Sites like Netflix, Hulu, and other premium services have a few other options available, like Dog Days and Journey 2: The Mysterious Island. Fans of Vanessa Hudgens can catch her next in Tick, Tick...Boom!
Your Daily Blend of Entertainment News
Spent most of my life in various parts of Illinois, including attending college in Evanston. I have been a life long lover of pop culture, especially television, turned that passion into writing about all things entertainment related. When I'm not writing about pop culture, I can be found channeling Gordon Ramsay by kicking people out the kitchen.
Your Daily Blend of Entertainment News
Thank you for signing up to CinemaBlend. You will receive a verification email shortly.
There was a problem. Please refresh the page and try again.