10 Emmy Rossum Movie And TV Roles You Probably Forgot About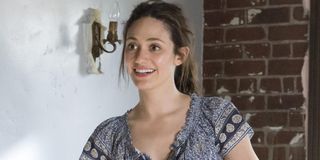 It is a bittersweet time to be fan of Shameless, Showtime's American update of the hit British family dramedy, which is ending this year after 11 seasons. On the other hand, for many devotees to the Gallagher clan, the real bittersweet moment was when Emmy Rossum left the show in 2019. Other than praying for Fiona Gallagher to make an appearance before the series finale of Shameless or waiting for the premiere of her upcoming miniseries Angelyne, I imagine some of her loyal followers have managed to find some ways to cope since Emmy Rossum's Season 9 exit.
They may have tried binging her best moments on the Emmy-winning series, checking out some of the music they previously did not know she released as singer-songwriter, and discovering some of her efforts behind-the camera (such as directing an episode of Amazon's romantic anthology series Modern Love). Or, they revisited some of her other best known acting credits. Who could forget her Golden Globe-nominated role as the object of Gerard Butler's affection in Joel Schumacher's The Phantom of the Opera, or more recent films like the National Lampoon creator biopic, A Futile and Stupid Gesture, and the 2019 action film Cold Pursuit, with Liam Neeson?
It is perfectly fine if these are her only roles, outside of Shameless, which you actually do remember. In fact, lucky for you, we have made it a specialty of ours lately to help remind fans of performances by their favorite stars that may have slipped their minds over the years. I came up with 10 for Emmy Rossum, starting with her very first gig.
Law & Order (Alison Martin)
Emmy Rossum was 11 when this 1997 Law & Order episode aired, in which she plays Alison Martin, whose father is suspected of killing his wife's uncle. As it turns out, he is guilty of the murder, because the Egyptian uncle had hired an Egyptian doctor to perform a female circumcision on young Alison - which her mother made no attempts to prevent. Coming onto the scene immediately with a role that dark gives a performer the strength to take on anything.
Mystic River (Katie Markum)
Six years later, Emmy Rossum channeled that strength to play teenage Katie Markham, whose murder is the central focus of Clint Eastwood's brutal drama Mystic River, as based on Dennis Lehane's novel. Sean Penn won his first Oscar playing Katie's distraught, ex-con father; Kevin Bacon his old friend, now a detective working the case; and Tim Robbins also gives an Oscar-winning performance as their other friend who has long struggled with his own traumatic childhood experience. Painful secrets from their past and lies from the present come to the surfaces as the investigation of Katie's death evolves, and the movie is a must watch.
Genius (Claire Addison)
Secrets and lies are the foundation of Claire Addison's (a delightfully charismatic teenage Emmy Rossum) relationship with trouble-making junior high student Chaz Anthony, or so she thinks. Chaz is actually Charlie Boyle (Jurassic Park III's Trevor Morgan), a socially inexperienced 14-year-old science prodigy tasked with assisting a crackpot professor who wants to defy gravity at the university where Claire's dad coaches hockey. Charlie creates the "Chaz" persona to impress Claire after immediately falling for her, only leading to more problems, in Genius - a 1999 Disney Channel original movie that still holds up well.
The Day After Tomorrow (Laura Chapman)
Whether or not schlockmeister Roland Emmerich's 2004 B-movie parading as a cautionary climate change tale holds up today depends on your ability to suspend disbelief or your appreciation for cheesy disaster flicks. Emmy Rossum actually gets to play a science whiz herself as Laura Chapman in The Day After Tomorrow, as well as the love interest of 24-year-old Jake Gyllenhaal as Sam Hall - both of whom are trapped in New York while Hall's paleoclimatologist father Jack (Dennis Quaid) races to rescue them in the midst of a new Ice Age.
Poseidon (Jennifer Ramsey)
Speaking of cheesy disaster flicks, Emmy Rossum seemed to be on a role with the genre by 2006, when she starred in Wolfgang Petersen's single-word remake of 1972's The Poseidon Adventure. She plays Jennifer (daughter of Kurt Russell as a former New York mayor), who is one of several survivors desperately searching for a safe exit after a tidal wave causes the titular cruise ship to capsize on one fateful New Year's Eve.
Before I Disappear (Maggie)
The fate of writer and director Shawn Christensen's suicidal character, Richie, is postponed when his estranged sister Maggie (Emmy Rossum) urgently asks him to look after her precocious, 11-year-old daughter Sophia (Fatima Ptacek, the voice of Dora the Explorer) in Before I Disappear. Other than Rossum's powerful supporting role, this 2014 feature-length update of Christensen's own 19-minute drama Curfew (which earned him the Academy Award for Best Live Action Short film in 2013) has a relatable darkness and even a grim sense of humor that may, strongly, appeal to Shameless fans.
The Audrey Hepburn Story (Young Audrey Hepburn)
Fans of Shameless may also be curious to see how Emmy Rossum pulls off portraying an Academy Award-winning screen legend in her teenage years in The Audrey Hepburn Story. The 2000 made-for-TV biopic chronicles the life of the Dutch Breakfast at Tiffany's star from her struggles with her parents' divorce and living under Nazi-rule during War World II to her career as one of Hollywood's most beloved actresses, at which point she is played by Jennifer Love Hewitt, who also serves as co-executive producer.
Comet (Kimberly)
Speaking of love, the relationship between the pessimistic Dell (Justin Long) and the witty Kimberly (Emmy Rossum) is a complicated and strange trip told over the course of six years in Comet. The romantic dramedy with a unique sci-fi edge turned out to be the catalyst of a real-life love story between Rossum and writer and director Sam Esmail, who made his feature-length debut with the 2014 film before becoming the prolific mastermind of such series as Homecoming, an upcoming revival of Battlestar Galactica, and Mr. Robot.
Mr. Robot (Caroler #1)
Speaking of that highly acclaimed, Emmy-winning USA original series, creator Sam Esmail would later cast his wife in the fourth and final season premiere of Mr. Robot, starring Oscar-winner Rami Malek as a mentally disturbed cyber-security engineer who moonlights as a vigilante hacker. Emmy Rossum makes an uncredited, blink-and-you-miss-it appearance as part of a group of Christmas carol singers whom Malek's Elliot Alderson and Christian Slater's title character walk past in New York City.
Dragonball Evolution (Bulma)
One would imagine that Emmy Rossum looks back on her involvement with this 2009 adaptation of the popular anime wishing you could miss her with just a blink. Instead, she is a major presence in Dragonball Evolution as scientist Bulma - one of the many characters from Akira Toriyama's original Japanese manga subjected to shameless white-washing in this attempt at a new live-action franchise. The movie now lives in infamy as a critical and commercial failure at levels of "over 9000!"
What do you think? Was I a little too harsh on Dragonball Evolution, or do you feel that I was being too undeservingly generous to it simply by giving it any attention? Let us know in the comments and be sure to check back for additional information and updates on Emmy Rossum's post-Shameless career, as well as even more retrospectives on your favorite celebrities' lesser-known roles, here on CinemaBlend.
Jason has been writing since he was able to pick up a washable marker, with which he wrote his debut illustrated children's story, later transitioning to a short-lived comic book series and (very) amateur filmmaking before finally settling on pursuing a career in writing about movies in lieu of making them. Look for his name in just about any article related to Batman.
Your Daily Blend of Entertainment News
Thank you for signing up to CinemaBlend. You will receive a verification email shortly.
There was a problem. Please refresh the page and try again.