Walking Dead Boss Finally Has An Update On The Rick Grimes Movie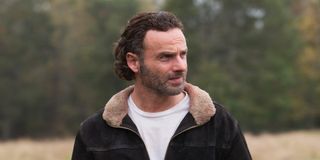 It's been two years since the AMC's The Walking Dead movie was announced, and there is still no movie in our sightline. The franchise is far from at a standstill, though, as the original series is going on its 11th season and has multiple spinoffs, including Fear the Walking Dead and the new Walking Dead World Beyond for audiences. In a new update, The Walking Dead screenwriter and producer Scott Gimple ghas fans renewed hope that the ball is going to get rolling soon on the upcoming film.
Updates and teasers on the upcoming film have been on the rise, and Scott Gimple dropped some promising words about the status of the film on AMC+'s streaming The Walking Dead Holiday Special (via Comicbook).
Like with most things going wrong -- or at least in a holding pattern -- right now, COVID is to blame here. While it's easy to get discouraged when it seems like a whole year (so far) of life and content has been denied us, there are a few positives we can take from Scott Gimple's status update.
First of all, it sounds like it's going to be GOOD. Andrew Lincoln may have only grown Rick's beard back this year, but it sounds like he has been working with production since before it was announced.
Second, even though the creative team can't shoot right now, the film has not been put on the back burner. The halt on shooting may even be a good thing, since they are using this time to fine tune and make the movie as good as it can get. Anticipation mounts with such a long production time, so a flop would be devastating to the franchise. No pressure.
Another thing to consider concerning the delays in production is the real-world/Walking Dead universe time differences. Andrew Lincoln has been Rick for over ten years our time, but for only about 5 years in Rick Grimes time if the movie takes place directly after his exit helicopter ride. The age difference has been easily explained with how the post-apocalyptic conditions have grizzled Rick. If there are to be three Walking Dead films to come, it could be interesting to see multiple stages of Rick.
The longer we wait for a movie, the longer we wait for Rick, as he has already been off the original series for seasons now. Fans were able to get their Grimes fix with his now Carl-aged daughter Judith on the OG Walking Dead, but a new storyline with Rick remains highly desired by the fanbase. We'll keep you updated as soon as there's an official date, but for now consider your hope renewed by Scott Gimple.
Constantly thinking about books, coffee, and the existential dread I feel from Bo Burnham's Inside. While writing I'm also raising a chaotic toddler, who may or may not have picked up personality traits from watching one too many episodes of Trailer Park Boys.
Your Daily Blend of Entertainment News
Thank you for signing up to CinemaBlend. You will receive a verification email shortly.
There was a problem. Please refresh the page and try again.