Bill Murray's Netflix Christmas Special Just Keeps Getting Weirder and Weirder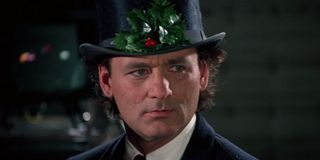 Who wouldn't want to work with Bill Murray? And during the holiday season. I'm not sure any other two things in the world could bring that much joy. So naturally, the stars are aligning for what is becoming a totally weird (and totally rad!) Netflix Christmas Special. Miley Cyrus, Amy Poehler, Maya Rudolph and George Clooney are among the celebrity cast, and Clooney recently spilled the beans on just how weird this Christmas party is going to be.
While on the road promoting his upcoming Disney film Tomorrowland, George Clooney stopped by CBS' Late Show With David Letterman (opens in new tab) and chatted about a certain Christmas special he'd been filming. He told Letterman:
Let's just take a moment to visualize the ridiculousness Clooney described. You have Clooney, Oscar-winning actor, sitting on a piano bench as he and Paul Shaffer (Letterman's band leader/sidekick) pretend to sing in what's bound to be a hysterical lip-syncing scenario. And then there's an instance where New York's Christmastime representatives, The Rockettes, probably dressed as reindeer, pull a sleigh with Clooney and Miley Cyrus aboard. All this under the direction of Lost in Translation collaborators Sofia Coppola and Bill Murray. Damn are we in for a treat.
We already knew this variety special would host a whole slew of sketches and songs, and with Bill Murray heading the project, there's no doubt some hilarity to ensue. From the sound of it, the special will feature celebrities bringing our favorite Christmas carols to life, from "Rudolph the Red-Nosed Reindeer" to "Silent Night" and everything in between. The celebrities added to the show will be playing themselves, or some version of themselves in what Murray describes as a "little movie" with music and texture. This basically sounds like the Hollywood office party we've all been dying to see.
We have yet to hear if there is any specific plot carrying this "little movie" and wonder if Bill Murray will be reprising his cynical role as Frank Cross in the 1988 movie Scrooged. Could these celebs be representing the three Christmas Spirits visiting Murray?
News is slowly coming out about the Christmas special, and Paul Shaffer confirmed that it will indeed be coming out this coming winter on Netflix, but with no exact date confirmed quite yet.
Your Daily Blend of Entertainment News
Thank you for signing up to CinemaBlend. You will receive a verification email shortly.
There was a problem. Please refresh the page and try again.