What The Happy Death Day Cast Is Doing Next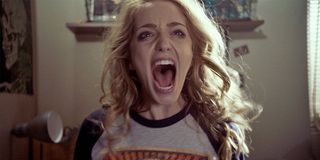 In 2017, Blumhouse took audiences by surprise, yet again, with the winning success of Christopher Landon's Happy Death Day, a cheeky and clever time loop slasher horror-comedy mash-up that featured an excellent central performance from Jessica Rothe.
Following its $100 million-plus box office, along with its warm response from critics and audiences alike, the movie received a likable 2019 sequel and the promise of a third installment not long afterward. While the fate of this trilogy capper to the unlikely Happy Death Day franchise still remains a bit uncertain, the lively acting ensemble behind these darkly fun and funny PG-13 romps have proven their talents in both these endearing and immensely entertaining little genre-benders and elsewhere.
Now that it's been a little over three years since its release, what is the Happy Death Day cast working on now? Let's take a look and find out!
Jessica Rothe (Theresa "Tree" Gelbman)
In the role of Theresa Gelbman, i.e. "Tree," a selfish, inconsiderate, hard-partying college student who learns the error of her ways and becomes a better person when she's stuck in a time loop and constantly dying on her birthday, September 18th, Jessica Rothe had a transformative and evolving star-making (or, at least, should've been star-making) lead performance in Blumhouse's horror-comedy smash hit, Happy Death Day.
Before she became Tree, Jessica Rothe was best known for her supporting turn in La La Land. She also starred in MTV's short-lived comedy series, Mary + Jane. Her other film credits include Lily & Kat, Parallels, The Preppie Connection, The Tribe, Better Off Single, Bastards of Young, Juveniles, Trust Fund, and Summertime. Additionally, Rothe appeared in episodes of Gossip Girl, High Maintenance, Blue Bloods, Happy Endings, The Onion News Network, and Chicago P.D.
Following Happy Death Day's outstanding success, Jessica Rothe reprised her role as Tree in Happy Death Day 2U and Whitney Avalon's music video, "This Song is Killer." She also starred in Please Stand By, Tater Tot & Patton, and Forever My Girl, as well as Valley Girl and All My Life earlier this year. Additionally, Rothe had a starring role in Amazon Prime's short-lived dystopian series, Utopia. Next, she'll star in Body Brokers, and maybe Happy Day Day To Us... someday.
Israel Broussard (Carter Davis)
As Carter Davis, the affable and affectionate fellow college student whom Tree meets first thing in the morning every time she wakes up on September 18th, Israel Broussard played the male lead in Happy Death Day, offering assistance to Jessica Rothe's character during her time loops and eventually becoming her romantic love interest.
Prior to starring in this Blumhouse horror flick, Israel Broussard was best known for starring in Sofia Coppola's The Bling Ring, while also appearing in films like Flipped, Earth to Echo, The Chaperone, Good Kids, H8RZ, and Jack of the Red Hearts. Additionally, Broussard guest-starred in episodes of Sons of Anarchy, Romantically Challenged, Perfect High, and Fear the Walking Dead. And the actor can be seen in M83's "Claudia Lewis" music video.
Outside of returning to play Carter Davis in Happy Death Day 2U, Israel Broussard was most notably seen in Netflix's popular YA rom-com, To All The Boys I've Loved Before, following Happy Death Day's 2017 release. But the actor garnered controversy when insensitive tweets resurfaced soon after To All the Boys' streaming debut. Broussard later apologized. Also, he starred in Extinction and an episode of Hulu's Into the Dark. Next, Broussard stars in Fear of Rain, which will come out on February 12th, 2021.
Ruby Modine (Lori Spengler)
Playing the part of Lori Spengler, Tree's roommate who appears to be caring and sweet, though she holds wickedly nefarious intentions, Ruby Modine had an unsuspectingly villainous role in Happy Death Day. The daughter of actor Matthew Modine, the film-TV actress was best known for her supporting turn in Shameless prior to this Blumhouse production. Also, Modine starred in Central Park and Gypsi, lent her voice to Mia and the Migoo, and appeared in a spatter of short films.
After Happy Death Day, Ruby Modine returned for the sequel, Happy Death Day 2U, and starred in Satanic Panic. Earlier this year, the actress guest-starred in an episode of God Friended Me. Next, Modine will be seen in American Desert, Don't Fear, and the short film, Ask Me If I Care. Additionally, she'll be heard in My Love Affair with Marriage. Outside of acting, Modine is also a musician and dancer. She's the lead singer of Ruby Modine and the Disease.
Rachel Matthews (Danielle Bouseman)
As Danielle Bouseman, the leader of the Kappa Pi Lambda sorority, Rachel Matthews played a sassy and bossy supporting character in Happy Death Day. Making her film debut in this Blumhouse horror-comedy, Matthews returned to play Danielle in Happy Death Day 2U, and she had recurring parts in Fox's Gotham and Hulu's Looking for Alaska. Also, she did voice work for Frozen II and appeared in Maggie Rogers' "Give A Little" music video.
Next, Rachel Matthew stars in Ms. White Light, which entered the film festival circuits last year, and Tankhouse.
Charles Aitken (Gregory Butler)
In the part of Gregory Butler, a physics professor taking part in a salacious affair with Tree behind his wife's back, Charles Aitken plays one of several suspects for the Babyface Killer in Happy Death Day. Outside of this performance, the actor is best known for his supporting character in Cinemax's excellent medical drama series, The Knick. He can also be seen in other shows like Bonkers, Foyle's War, Madam Secretary, Sleepy Hollow, and Frontier, as well as films like As You Like It and The Girl on the Train.
In addition to reprising this role in Happy Death Day 2U, Charles Aitken was recently seen in Summertime, which is still in the film festival circuits, as well as episodes of The Alienist: Angel of Darkness and I Hate Suzie. Next, the actor stars in the upcoming drama, Red Sandra.
Caleb Spillyards (Tim Bauer)
Playing Tim Bauer, a fellow Bayfield University student trying to woo Tree who holds a closeted secret, Caleb Spillyards played a sad-sack supporting character in Happy Death Day. As an actor, Spillyards' other film credits include Joe Dirt 2: Beautiful Loser, Evan's Crime, Anyone, Step Away from the Stone, Consumption, and Shark Island. He can also be seen in The Astronaut Wives Club. Following Happy Death Day, Spillyards reprised the role of Tim in Happy Death Day 2U and appeared in Birds of Prey, Tenet, The Never List, Run Sweetheart Run, and NCIS: New Orleans. Next, the actor stars in Love & Food.
Outside of these acting roles, Caleb Spillyards is a stunt performer who worked on The Last Ship, The Night Shift, 9-1-1, Shameless, Into the Badlands, The Gifted, Magnum P.I., Animal Kingdom, Agents of S.H.I.E.L.D., and the aforementioned Tenet, Birds of Prey, NCIS: New Orleans, and Run Sweetheart Run. He also did stunts for Avatar 3, Red Notice, Kate, and the TV series, Paradise City, and he's currently working on MCU's Spider-Man 3.
Jason Bayle (David Gelbman)
As David Gelbman, the widowed father of Tree, Jason Bayle plays an emotional dramatic role in Christopher Landon's horror-comedy. Prior to this performance, Bayle was seen in The Big Short, Get Hard, Trumbo, Jeepers Creepers III, Joe Dirt 2: Beautiful Loser, Evan's Crime, All Styles, and Indiscretion. He also guest-starred in American Horror Story, Claws, Roots, The Chicago Code, and Preacher. After reprising the role of David Gelbman in Happy Death Day 2U, where he was given more screentime, the actor appeared in Cloak & Dagger and USA Network's The Purge, another Blumhouse production. He currently doesn't have any upcoming roles lined up or announced yet.
Phi Vu (Ryan Phan)
In the role of Ryan Phan, Carter's roommate, Phi Vu played a notable supporting character in Happy Death Day, particularly as the actor had a more prominent part in Happy Death Day 2U. Prior to starring in this Blumhouse hit, Vu was seen in Pitch Perfect 2, Logan, Fist Fight, and Kickboxer: Vengeance. He also guest-starred in Scream Queens and Ozark. Before returning for Happy Death Day's sequel, Vu appeared in Preacher. Most recently, the actor starred in Netflix's rom-com, The Perfect Date.
Rob Mello (John Tombs)
Playing the menacing part of John Tombs, a serial killer dressed as the Babyface Killer for most of the movie, Rob Mello had a vicious role in Happy Death Day. Before taking on this threatening character, Mello starred in The Best of Me, 2016's The Magnificent Seven, The Hammer, Crazy Lake, Wild Bill Hickok: Swift Justice, and 10 Seconds to Run. He can also be seen in Nashville and Outsiders. Following his time in Happy Death Day, Mello reprised his role as John Tombs in the sequel, while also appearing in Into the Ashes, Semper Fi, Obsession, and episodes of Hot Date and Fear the Walking Dead. Additionally, the character actor starred in 2017's short film, A Righteous Man, and this year's short film, Should We Be Doing This?
Next, Rob Mello stars in Quail Hollow and the short film, Strangelove, which he also directed. Away from acting, Mello also directed 2017's short film, Love Is Black and White, and 2018's short film, Recipe for Murder. He's also attached to write the horror film, Tin Roof.
Tran Tran (Emily)
As Emily, a sweet-natured sorority sister who's always there to greet Tree during every relived September 18th, Tran Tran plays a (mostly) silent-but-charming supporting character in Happy Death Day. To date, her appearances in this movie and its sequel remain her only professional acting credits. Hopefully, her sunny scene-stealing role in these fun-loving horror-comedies will help her find more acting work in the near future.
Do you love Blumhouse's Happy Death Day movies? Let us know in the comments!
Will is an entertainment writer based in Pittsburgh, PA. His writing can also be found in The Playlist, Cut Print Film, We Got This Covered, The Young Folks, Slate and other outlets. He also co-hosts the weekly film/TV podcast Cinemaholics with Jon Negroni and he likes to think he's a professional Garfield enthusiast.
Your Daily Blend of Entertainment News
Thank you for signing up to CinemaBlend. You will receive a verification email shortly.
There was a problem. Please refresh the page and try again.