Happy Death Day 3: What's Going On With The Time Loop Sequel?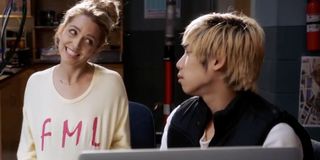 It's fitting that Happy Death Day fans want a repeat (or, rather, a three-peat) of this time looping franchise's success. The original was a surprise hit, both critically and commercially, and the sequel proved to be nearly on-par with the first spin. One imagines that this loopy series would only get bigger and more bonkers with a trilogy-capping sequel. Alas, despite serving as a should-be star-making role for Jessica Rothe and demonstrating writer-director Christopher Landon as a rising horror-comedy talent, Happy Death Day 3, i.e. Happy Death Day to Us, is still stuck in limbo, with everyone involved eager to make it but waiting for the go-ahead from the higher-ups.
Over the course of nearly two years, Christopher Landon and producer Jason Blum have wavered in their commitment to this proposed Happy Death Day sequel. But now that it's a point of interest for everyone involved, what's the status of this threequel? And when should we expect to see it (if it comes together at all)? Here's what we know so far about Blumhouse's Happy Death Day to Us.
In February 2019, Christopher Landon and Jason Blum Wanted To Make Happy Death Day 3, Potentially As Part Of A Blumhouse Cinematic Universe
Not long after Happy Death Day 2U neared completion, there were already rumors circulating about a third, presumably final Happy Death Day 3 popping up after this newest sequel's release. Considering that it's a time looping franchise about relieving the same day over and over, sequel talk was basically a given. The second movie even ended on a cliffhanger. And certainly, the actors, Jason Blum, and Christopher Landon welcomed this conversation, teasing the possibility of a third movie if the second did well.
In fact, Jason Blum took it one step further by proposing a Blumhouse Cinematic Universe, which would connect Happy Death Day with other movies under his banner, including The Purge, Paranormal Activity, and Insidious, as ScreenRant reported. Whether or not the BCU came true, all the main players involved with Happy Death Day clearly wanted to revisit September 17th in the not-too-distant future.
But In March, Jason Blum Said Happy Death Day 3 Was 'Not Very' Likely, With Christopher Landon Shooting Down Rumors In July
While Jason Blum and Christopher Landon expressed optimism about Happy Death Day 3 leading up to Happy Death Day 2U's release, its underwhelming box office changed their script. Though it wasn't a failure (it grossed $64.6 million off a $9 million budget), the sequel's final total paled in comparison to its predecessor's $125.5 million earnings, suggesting that audiences weren't as willing to revisit this nimble new franchise as the Blumhouse team hoped. The sequel plans weren't (unhappily) dead, but they were definitely dampened.
In March 2019, when a fan inquired about Happy Death Day 3's future, Jason Blum admitted bluntly that it was "not very" likely "but not impossible." That's not the most encouraging notice. And in July, when rumors circled about Happy Death Day 3's development, Christopher Landon admitted that "it just ain't happening" unless "Netflix wants to pony-up and finish this trilogy."
In August 2019, Christopher Landon Claims He Has An Outline For A Third Happy Death Day Movie, But Doesn't Want To Share It Yet
Based on the general discouragement towards a potential Happy Death Day 3 by both Jason Blum and Christopher Landon, things were looking pretty bleak for this would-be sequel. But, as Blum noted, the sequel wasn't an impossibility, and Landon retained a firm idea of what he wanted HDD3 to be. While those details remain unknown, Landon confirmed to ComicBook.com in August 2019 that he already put a "fair amount of detail" into this sequel — though he opted not to write a screenplay yet, knowing it might not happen.
Even though Jason Blum and Christopher Landon remained despairing, the writer-director kept his sequel idea a secret in the hopes that it might come to fruition. Alas, with Landon hard at working on Freaky, Happy Death Day 3's future remained uncertain.
One Year After Happy Death Day 2U's Release, Jason Blum Claims Happy Death Day 3 Is Still On His Radar
While Jason Blum and Christopher Landon were negative about the possibility of a third Happy Death Day throughout 2019, something changed in early 2020, coinciding with Happy Death Day 2U's first anniversary. During promotional rounds for The Invisible Man and Fantasy Island, Blum was once again asked about Happy Death Day 3 by Bloody Disgusting. Surprisingly enough, the super-producer expressed earnest hope for this third movie, noting that it was "still on" his "radar in some shape or form." He also claimed HDD3 hasn't been "put to bed" and that "it's still in the front of" his mind.
While Jason Blum was quick to note that it wasn't a done deal, the producer admitted that he has "ideas" and he was still willing to pursue another sequel, despite 2U's disappointing box office. While that wasn't a guarantee, Blum's tune was certainly more optimistic than it was even one year earlier.
Jason Blum Claims He's 'Working Overtime' On This Threequel
Following these more encouraging February comments, Jason Blum continued to keep the fire burning by saying that he was "working overtime" and "trying" to get this threequel off the ground. As Blum noted in this June interview, the project wasn't moving forward in any official capacity, but he was definitely interested in making Happy Death Day 3 a reality.
It's hard to know what turned Jason Blum from pessimistic to enthusiastic about this sequel, but it's clear that the producer was more willing than ever to get HDD3 up and running, which was inspiring to hear. While the movie still wasn't gaining traction, it was good to know that the ball was rolling and that serious efforts were set in place.
In September 2020, Christopher Landon Confirms Happy Death Day 3's Development With Jessica Rothe On Board, Reveals Title Is Happy Death Day To Us
Following a little-over-a-year of conflicting reports, Christopher Landon provided an encouraging update this September when he revealed that he was working on this anticipated sequel, while also garnering support from Jason Blum and Jessica Rothe. As the writer-director noted in an Empire interview, the project is "definitely off to the side" but he has an idea in place. And he hopes it happens "sooner rather than later."
Additionally, Christopher Landon revealed that the title will be Happy Death Day To Us, which goes against the heavily-rumored (or, at least, hoped) title of Happy Death Day, Tree, which would've kept the series' current naming convention. But, as Landon explained, this newly-announced title ultimately honors the franchise's tradition of subverting expectations.
In October 2020, Christopher Landon Claims Happy Death Day To Us Will Be A Narrative Departure From The Previous Movies
For a franchise centered around a time loop, it's to the immense credit of Christopher Landon that the Happy Death Day movies have avoided doing the same thing over and over again. The director first flipped expectations by turning his original HDD into a warm romantic comedy caught inside an already-unconventional PG-13 college slasher. Likewise, Happy Death Day 2U borrowed more from Back to the Future Part II than Friday the 13th Part 2, thus winning over audiences worried that the sequel would be a tired rehash. So it's unsurprising to learn that Happy Death Day To Us will also dash expectations, but this trilogy closer is apparently quite a bit different from the first two films.
As Christopher Landon confessed close to Halloween, Happy Death Day 3 won't see Tree reliving the same day over and over again, nor will it find her stuck in a parallel universe (presumably). Instead, it'll follow its own timeline. His words:
Additionally, Jessica Rothe admits that she had her own expectations for what she hopes this third and conclusive Happy Death Day movie will be. She noted in a recent interview that she wants to make sure they do right by both the character of Tree and the fans who love her arc, providing a fitting and satisfying conclusion that'll end her loopy story the right way. As Rothe explained it, she would "never want us to sacrifice her story and her journey" in order to "make something smaller than it deserves to be." Of course, if the team did get it wrong with this Tree-quel, they have the luxury of, you know, doing it again — if need be.
In November 2020, Christopher Landon Claims Happy Death Day To Us Is Ready To Go, Awaiting Approval From Universal
After months of hesitation, Christopher Landon is now finally ready to move forward with Happy Death Day To Us ... assuming, of course, that Universal Studios will give him the chance to make it happen. As he told MovieWeb, the outline is penned and the cast is game. Now, it's just a matter of Landon biding his time until he gets the greenlight to write it. Once that's established, he'll hopefully lock a script down and rapidly move forward with this third, final installment in this unlikely horror-comedy franchise. But, for now, the director is left playing the waiting game.
Here's what Landon said:
In December 2020, Jessica Rothe Expresses Interest In Freaky/Happy Death Day Crossover
Shortly after Christopher Landon wrapped on Happy Death Day 2U, the writer-director moved on to his newest horror-comedy genre-bender, Freaky, which debuted in theaters nationwide last month. Now that it's available on PVOD, more audiences have gotten a chance to check it out, and Freaky is earning its own fanbase, much like Landon's previous two movies. With that in mind, it's not out of the realm of possibility that we might see a Freaky sequel someday, though Jessica Rothe took it one step forward. She suggested making a crossover between this 2020 release and her own Happy Death Day series.
During an interview with us for All My Life, Jessica Rothe expressed eagerness to make a Blumhouse crossover, agreeing that it would be "so insane and so much fun." The actress also noted that Christopher Landon's heart and humor is infused into both the Happy Death Day films and Freaky, and she thinks it wouldn't be hard to connect these worlds together.
Are you excited to revisit the world of Happy Death Day with a potential new sequel? Let us know in the comment section below.
Will is an entertainment writer based in Pittsburgh, PA. His writing can also be found in The Playlist, Cut Print Film, We Got This Covered, The Young Folks, Slate and other outlets. He also co-hosts the weekly film/TV podcast Cinemaholics with Jon Negroni and he likes to think he's a professional Garfield enthusiast.
Your Daily Blend of Entertainment News
Thank you for signing up to CinemaBlend. You will receive a verification email shortly.
There was a problem. Please refresh the page and try again.