Happy Death Day And 5 Other Movies That Prove Jessica Rothe Should Be A Superstar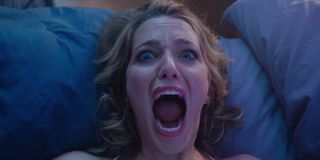 Nearly three years ago, Blumhouse surprised viewers everywhere with a fresh, inventive, and unexpectedly charming new take on both the slasher genre and familiar time loop formula with Happy Death Day, a highly entertaining low-budget horror-comedy that benefitted enormously by its star-making performance from Jessica Rothe. Or, at least, that should've been the case. While Rothe recently reprised her character in Happy Death Day 2U and took on the title role in this past weekend's Valley Girl remake, her star status tragically hasn't come into full fruition yet — which is a shame because the bright young actress clearly has what it takes to be a superstar.
Hopefully, Hollywood will wise up and give Rothe the A-list role she deserves. But if they somehow still need more evidence that she's a star on the rise, here are six films that showcase her talents — including Happy Death Day.
Happy Death Day
It's not hard to imagine a lesser version of Happy Death Day. You know, a movie that's simply another Groundhog Day rip-off. Perhaps even an unremarkable version of Edge Of Tomorrow or Source Code. Time loop movies are fittingly a vicious cycle in Hollywood, only rarely providing something unique or worthwhile with their high-concept premise. Only a few become rewarding. But that was certainly the case for this joyfully fun horror-comedy. While Happy Death Day doesn't reach the same heights as the aforementioned Bill Murray classic, which it playfully name-checks, this cheeky, endearing, enjoyably self-aware new spin on the familiar concept gave us a fresh take on this timeless concept through its clever twists, a goofy sense of humor, an unexpectedly sweet sincerity, and, most especially, an extraordinary lead performance from Jessica Rothe, who turns this shlocky B-movie into something that's totally worth your while.
Happy Death Day is a movie that's wholly dependent on its lead star. Jessica Rothe is in every scene; she's nearly in every frame. She carries the entire narrative framework of this movie. It's not an exaggeration to say the success or failure of Happy Death Day rides or dies on her shoulders. Thankfully, the immensely talented actress gives an exhilarating performance, displaying sharp wit, excellent comedic timing, a variety of facial expressions, and touching beats of emotional openness.
It's honestly an award-worthy performance in what could've easily been a disposable slasher flick, and it makes the movie worth revisiting no matter how many times you've seen it before. Rothe's lively, confident performance is the big reason why Happy Death Day turned into a series-spanning smash hit. I firmly believe it should've paved the way for Rothe's road to Hollywood stardom. Hopefully, time will tell.
Happy Death Day 2U
Even more so than the first spin, Happy Death Day 2U relied on the shiny star power of its lead actress. An unlikely sequel to Blumhouse's surprise horror-comedy hit, writer/director Christopher Landon had more creative freedoms to push the boundaries with his sci-fi friendly continuation, one that experimented more with the narrative possibilities of his time-looping premise and genre-bending series. But no matter what risks were made to the story, it'd, once again, rely on Jessica Rothe's excellent performance to carry it.
Thankfully, Rothe only continued to impress as Tree Gelbman, finding more humor, heart, and vulnerability to explore. The challenges of balancing the emotional surprises of this story while also providing a fresh sequel that ironically didn't feel repetitive were immense, but Rothe carried this sequel wonderfully, providing a performance that's as scarily good — and possibly even better — than the first time around.
Valley Girl (2020)
In Valley Girl, the bubblegum-sweet romantic-musical re-imagining of the 1983 teen comedy of the same name, Jessica Rothe plays Julie Richman, the titular "valley girl" who alienates her social clique whenever she develops romantic feelings for Randy (Josh Whitehouse), a hard-rocker from the other side of the tracks in Hollywood. While it doesn't compete with the original, lacking the gentle emotional sincerity that made it an '80s favorite, Rothe's immensely charming, radiant (and obviously rad) performance, matched with her warm and tender chemistry with Whitehouse, helps to sell this poppy, nostalgic retelling.
The story structure follows formula, even beyond remake standards, and it never finds its groove — ironically enough — but there's simply no denying Rothe's dynamite talents. The rising actress is an immensely capable, appealing lead performer who shines both boldly and brightly in an otherwise inconsistent remake. Truly, this is a performance that sings.
La La Land
Admittedly, Jessica Rothe isn't the star of La La Land. In this original musical-romance from writer/director Damien Chazelle (Whiplash), Rothe shares the screen with Emma Stone and Ryan Gosling, serving in a supportive friend role beside our female lead. She doesn't get any solo songs and she doesn't get any moments to steal the screen. Nevertheless, in the Oscar-winning film that helped catapult the young starlet into mainstream success, Rothe is still given the chance to provide an electrifying performance, notably with the dazzling music number "Someone in the Crowd" showcasing her singing and dancing talents beside Stone, Callie Hernandez, and Sonoya Mizuno.
It was our pre-Valley Girl introduction to her great musical talents; hopefully, she'll find a film in this genre that properly gives her the center stage. It's clear that musicals help to bring out her brightest skills. La La Land is a great example.
Tater Tot & Patton
In its onset, Tater Tot & Patton plays like your typical midwestern festival film. And by-and-large, it is. It follows Andie (Jessica Rothe), an LA-based millennial who reconnects with her gruff-and-tuff distant relative, Uncle Erwin (Bates Wilder), after avoiding rehab. There's your expected cultural clash with two differing folks who must live together, whether they like it or not, before valuing each other's company. The indie doesn't break any molds, but there's an understated, elegant gentleness that's gradually touching. Its familiar, yet personal, and simplistic, yet sympathetic, which doesn't make it a masterpiece but rather a breezy, quietly investing experience.
The key to its power comes from its two central performances. Notably, Rothe takes what could've been a near-parody of a vegetarian, hula-hooping millennial and makes Andie genuine and humane, while still find the character's humor and compassion. It's a winning turn in a gently-involving film.
The Tribe (2017)
Watching a moody, atmospheric, slow-burn post-apocalyptic drama about a lowly trio of young siblings struggling to survive in the aftermath of a devastating global pandemic can be hard, especially in 2020 with, you know, everything going on. It takes a strong, nuanced performer to carry an intimate movie in this vein — particularly one with intense range who can channel layered emotional pathos and intuitive dramatic instincts. The Tribe, Roxy Shih's feature directorial debut, is another genre movie that doesn't venture far beyond the narrative conventions of other dystopian indies, but Rothe brings a lot of life to this dour tale. As Jenny, the parental eldest sister, Rothe's early performance shows signs of the assured actress we'd see in later roles, and the films we'll hopefully see from her in the near future, demonstrating an exceptional talent who only continues to come into her own.
Do you believe Jessica Rothe has what it takes to be a superstar? Do you love the Happy Death Day movies too? Let us know in the comments below!
Will is an entertainment writer based in Pittsburgh, PA. His writing can also be found in The Playlist, Cut Print Film, We Got This Covered, The Young Folks, Slate and other outlets. He also co-hosts the weekly film/TV podcast Cinemaholics with Jon Negroni and he likes to think he's a professional Garfield enthusiast.
Your Daily Blend of Entertainment News
Thank you for signing up to CinemaBlend. You will receive a verification email shortly.
There was a problem. Please refresh the page and try again.