5 Marvel Characters Zooey Deschanel Would Be Perfect To Play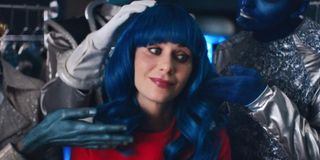 I remember when She-Hulk casting rumors were all the rage and the minds behind the Marvel movies said they were looking for an "Alison Brie type," which said actress revealed was exciting as she used to audition for roles that needed an "Anna Kendrick type" or a "Zooey Deschanel type," even. Well, speaking of the former New Girl star, I do not know how I would feel about her as Jennifer Walters, personally, but there are a few other characters whom I think Kevin Feige and co. should keep her in mind for.
In fact, I am not the only one who feels this way. Fan-casters have been imagining the perfect comic book movie role for the doe-eyed, 40-year-old, Golden Globe-nominated actress for years, with some seeing the unbeatable fan-favorite Squirrel Girl as an ideal choice for her (as well as for Anna Kendrick or Alison Brie - go figure). However, the superhero genre has been lost on Zooey Deschanel thus far, despite her New Girl co-star Jake Johnson going on to play Peter B. Parker in Spider-Man: Into the Spider-Verse and Lamorne Morris appearing in Bloodshot as a British computer hacker.
Well, I do not believe that Zooey Deschanel, who most recently appeared as "Wrong Katy Perry" in the pop star's latest music video, has missed her chance for comic book movie stardom entirely just yet. To prove it, I have compiled a modest number of characters ripped straight from the pages of your favorite Marvel titles whom the actress has the look, talent, and overall moxie to pull off. While there were many Marvelous heroines (and even a few villains I considered) to choose from, I managed to narrow the selection down to just five characters, starting with one whom Deschanel already has the voice down for.
Dazzler
Even if you have never heard of She & Him, an indie music duo Zooey Deschanel formed with folk artist M. Ward, you should at least know from her and Will Ferrell's "Baby It's Cold Outside" duet in Elf or her performance of the New Girl theme song that the actress is also quite a talented singer. One Marvel character who is also gifted in that realm, outside of her ability to create light out of sound which caught the eyes of the X-Men, is Dazzler.
The mutant was created in the 1980s to double as a Marvel superhero and real-life touring musician (as played by an actress who would perform as her in character), but those plans never materialized. Plus, her contribution to cinema so far has been a brief cameo in X-Men: Dark Phoenix, but I think casting Deschanel would open the chance for a much bigger role, or even an MCU musical.
Persuasion
In case you are not sold on the idea of a musical in the Marvel Cinematic Universe, I think I know just the person who could help persuade you. Aptly nicknamed Persuasion, Kara Kilgrave is a mutant who originally debuted as part of the Canadian superhero group Alpha Flight, which has close ties to the X-Men. Otherwise, she is most famous for her purplish complexion (which initially earned her the alias "Purple Girl" - not to mention the villainous Purple Man is her father) and ability to control people's minds of others with pheromones - which is sort of what Zooey Deschanel was struggling to avoid in M. Night Shyamalan's The Happening.
If that is not a good enough reason to you why Zooey Deschanel should play the role, trust me, I could not agree more. I do believe, however, that the actress' signature care-free attitude would be a perfect match for Persuasion's evolution from an over-confident loose cannon to a valued, responsible heroine.
Lady Deadpool
Having a care-free attitude is also defining characteristic of Deadpool, brought to life in one of the most perfect comic book movie castings ever by the definitively care-free Ryan Reynolds in two films so far (because counting X-Men Origins: Wolverine just feels wrong and actually would be as it was really stuntman Scott Adkins playing that hackneyed version of the character). Anyway, to get back on the main topic here, Zooey Deschanel's own care-free attitude and distinct sense of humor is just what the MCU would need to bring Lady Deadpool to the big screen.
It may go without saying that Wanda Wilson is literally a female counterpart of Wade Wilson from an alternate reality, who would cross inter-dimensional paths with the "Merc with a Mouth" at one point to team up on a mission and even share an awkward romantic moment. While I believe that moment alone would make for some hilarious cringe humor in a future Deadpool movie, I think there are plenty more golden opportunities for the MCU that would come from casting Zooey Deschanel as this quick-witted assassin.
Elektra
On the other hand, as much as the idea of Zooey Deschanel playing an assassin sounds crazy on its own, what about one who is not so quick-witted or bubbly as one would expect from the actress? If there is one Marvel character I think would best be suited to help her shed that image, it has to be Elektra Natchios.
Of course, some might argue that Matt Murdock's estranged lover is already part of the Marvel Cinematic Universe, having been portrayed by Élodie Yung on both Daredevil and The Defenders on Netflix, but I would argue that those otherwise exciting series barely count as canon anymore. Plus, I think many fans would also agree that the deadly assassin deserves a second chance on the big screen after her self-titled 2005 film proved unsuccessful (with all-due respect to Jennifer Garner) and, while Zooey Deschanel sounds like an unlikely choice, that just makes me more curious to see how she would pull it off. Plus, if they bring back Elektra's face mask to her ensemble, that her striking eyes could do all the acting.
Spider-Woman
Speaking of, who is the first superhero you think of when it comes to big eyes? Spider-Man, right? Well, Jessica Drew took the same approach when designing her costume after her scientist father's experiments gave her arachnid-like abilities such as pheromonal manipulation, bio-electric "venom blasts," and wall-crawling.
Now, I promise, Spider-Woman's big-eyed costume design did not inform my decision to cast the big-eyed Zooey Deschanel as the Hydra agent turned S.H.I.E.L.D. agent turned vigilante for director Olivia Wilde's upcoming film adaptation, reportedly. Besides, we do not even know for sure if Jessica Drew is the version of the character being brought to the big screen. Yet, if it is, I believe Deschanel has the spunk and the physicality to match the role, which could be her most exciting acting challenge yet.
What do you think? Should Zooey Deschanel graduate from Jessica Day to Jessica Drew, or do you think she has an even better future remodeling houses on HGTV with her boyfriend, Jonathan Scott of Property Brothers fame? Let us know in the comments and be sure to check back for additional information and updates on the multi-talented artist, as well as even more hypothetical comic book movie casting sessions here on CinemaBlend.
Your Daily Blend of Entertainment News
Jason has been writing since he was able to pick up a washable marker, with which he wrote his debut illustrated children's story, later transitioning to a short-lived comic book series and (very) amateur filmmaking before finally settling on pursuing a career in writing about movies in lieu of making them. Look for his name in just about any article related to Batman.
Your Daily Blend of Entertainment News
Thank you for signing up to CinemaBlend. You will receive a verification email shortly.
There was a problem. Please refresh the page and try again.