6 DC Characters Walton Goggins Would Be Perfect To Play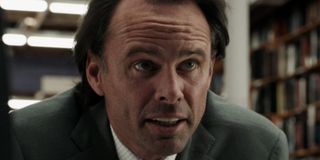 He has an Oscar for a 2001 short film he co-produced and starred in, an Emmy-nomination for playing Boyd Crowder in Justified, and has consistently stolen the spotlight in numerous blockbuster movies and hit TV series for decades now. So, what more does Walton Goggins have to do in order to outgrow his reputation as one of the industry's most underrated talents? Is landing a part in the wide world of DC movies what it will take, by any chance?
I ask that, because he already is a part of the Marvel Cinematic Universe after showing up in Ant-Man and the Wasp as the 2018 romantic superhero comedy's secondary antagonist, Sonny Burch. However, therein lies the problem: he was secondary. As an off-and-on-again career criminal in Justified, a masochistic assassin in American Ultra, and yet another professional killer hunting Mel Gibson's Santa Claus in the recent holiday action comedy Fatman, to name a few, Walton Goggins has proven more than enough times that he deserves to be the head honcho, whether that means playing a bad guy or a good guy.
Unless there is any chance in the near future of Sonny Burch becoming a Thanos-sized presence in the MCU, I think it is about time that Walton Goggins receives that chance now from the other top comic book movie franchise in Hollywood. It would be no challenging feat, either, as there are plenty of DC characters who have yet to appear in a movie, join the DCEU continuity, or who could just use a big screen reboot, whom I could easily imagine the 49-year-old actor playing. Of course, for the sake of remaining concise, I narrowed down the selection to just six names, starting with one who is kind of bad, kind of good, but right up Goggins' alley in every last detail.
Jonah Hex
Like his friend and Justified co-star Timothy Olyphant, Walton Goggins has become one of today's go-to western actors, as his roles in two Quentin Tarantino period pieces, 2015's Diablo (opposite Clint Eastwood's son, Scott), and even 2011 sci-fi crossover Cowboys & Aliens will prove. Thus, if there were ever any plans to give scarred, dead-whispering confederate soldier turned bounty hunter Jonah Hex a second chance on the big screen, I think the man is certainly qualified to play the 19th-Century, DC Comics anti-hero. Not that Johnathon Schaech has been unsatisfactory in the role on Legends of Tomorrow, but I think even Josh Brolin would appreciate a new movie that could avenge his failed attempt in 2010 (not that it was his fault, though).
Phantom Stranger
Another DC character who has been treated pretty well on television is the Phantom Stranger, whom Macon Blair appeared as in a recurring role on Swamp Thing before its sudden cancellation after one season in 2019. However, the portrayal was a far cry from the noirish detective given unlimited supernatural gifts, but cursed with relative obscurity, he was originally conceived as in 1952. This is the image of the character I would love to see Walton Goggins tackle in his own movie, or even on the upcoming Justice League Dark series for HBO Max. I say, making Goggins the 2012 version of the character, which reimagines him as Judas Iscariot resurrected and with a mission to redeem his betrayal of Jesus Christ, might be especially cool.
Deadman
On second thought, if Walton Goggins was to be cast as a member of Justice League Dark, he may be an even better fit to play Boston Brand - a murdered trapeze artist who fights evil by possessing the living, among other ghostly abilities - as Deadman. The spiritual vigilante was once the subject of an unmade TV adaptation from the the creators of Supernatural, before pleas for his own horror movie would later come out - which is all the evidence you need to understand that this a character whom comic book fans love and want to see given the proper treatment in a live action setting. Only an actor with Goggins' passion and dedication for the craft can be the one to finally bring Deadman to "life."
Clay Brody (Challengers Of The Unknown)
In the same year that Walton Goggins played the secondary antagonist of Ant-Man and the Wasp, he also played Matias Vogel - the secondary antagonist of the Tomb Raider reboot with Alicia Vikander as Lara Croft. However, the energy he put into playing that ruthless treasure hunter makes me believe he would be great as an archaeologist of more admirable character, such as Clay Brody. The former race car driver is a member of the second generation crew from Challengers of the Unknown - a lesser known DC title about a team of explorers who embark on death-defying missions in search of new discoveries, which totally should have been a movie by now, as far as I am concerned.
Sinestro
On there other hand, there are also a few DC characters who have graced the silver screen, but in a less-than-flattering manner. Just as with the aforementioned Jonah Hex in 2010, we also have Sinestro in Ryan Reynold's Green Lantern flick, from the previous year. Again, this was not for a lack of effort from British actor Mark Strong, who played the cosmic supervillain before he became corrupted by his own power, but a really disappointing script, which has a chance of being corrected with the upcoming HBO Max series centered on DC's Emerald Knights. As for casting that TV show, I believe Walton Goggins would be a fantastic choice to play Sinestro as the primary antagonist.
Calendar Man
Of course, in addition to Walton Goggins' villainous expertise, I especially admire him for his top-notch comedic timing - both of which he has combined in the HBO series Vice Principals and his guest spot on Community, among others. There are quite a few exceptionally ridiculous DC baddies I believe he could channel this energy into, but the one I would be most curious to see him take on is Calendar Man. Since his debut in 1958, the Batman villain has actually evolved from a joke suited for the 1966 series with Adam West, into a brilliant, scheming serial killer with a disturbing obsession with dates. The possibility of seeing Goggins tackle either iteration is fascinating to me.
What do you think? Should we expect to see Walton Goggins as Calendar Man facing off against Robert Pattinson's Dark Knight in the near future, or would you rather see Walton Goggins play someone heroic for once? Let us know in the comments and be sure to check back for additional information and updates on the prolific actor, as well as even more hypothetical comic book movie casting sessions, here on CinemaBlend.
Your Daily Blend of Entertainment News
Jason has been writing since he was able to pick up a washable marker, with which he wrote his debut illustrated children's story, later transitioning to a short-lived comic book series and (very) amateur filmmaking before finally settling on pursuing a career in writing about movies in lieu of making them. Look for his name in just about any article related to Batman.