What The New Girl Cast Has Been Up To Since The Series Finale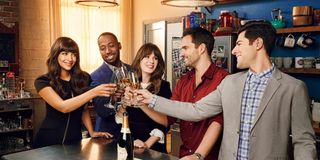 The New Girl was Fox's series that developed a dedicated fanbase during its run from 2011 to 2018. Zooey Deschanel had already been in hit movies like Elf and 500 Days of Summer prior to landing the role of Jess in New Girl. The show made Deschanel an even bigger star, and endeared the world to her and her co-stars, Jake Johnson, Max Greenfield, Hannah Simone, and Lamorne Morris. It's been only two short years since the series ended, but the New Girl cast has stayed busy with their careers.
The New Girl cast has taken on many new projects after the show, bringing their names to whole new audiences. If you're curious to learn what the New Girl crew has done since the show ended, well let us recap some of their recent projects.
Zooey Deschanel (Jessica Day)
Zooey Deschanel played New Girl's lead Jess, a quirky optimistic school teacher. Following New Girl's 2018 end, Deschanel returned to the world of Trolls to voice Bridget in Trolls World Tour. The film was a huge Video on Demand hit, and included voice-over work by Justin Timberlake, Rachel Bloom, Anna Kendrick, Kelly Clarkson, and Ozzy Osbourne.
In 2020, she had a special appearance on Apple's Carpool Karaoke with her sister Emily Deschanel and the Property Brother twins Drew and Jonathan Scott. In 2019, she made an appearance on The Kacey Musgraves Christmas Show. With her boyfriend Jonathan Scott, she currently (since May 2020) hosts a virtual game night at least once a month. She is also still making music with her band She and Him.
Jake Johnson (Nick Miller)
Jake Johnson played Nick Miller in all seven seasons of New Girl. He was the cranky hero that we needed but didn't deserve. Nick was one of Jess's roommates and her on-again-off-again-on again boyfriend. In 2018, Johnson voiced Peter B. Parker aka Spider-Man in Spider-Man: Into the Spider-verse. He plays Grey McConnell on Stumptown, an ABC crime show based on the comic book of the same name. The series plans to move to Wednesdays this fall.
He also appeared in an episode of Rob McElhenney's show Mythic Quest: Raven's Banquet. Soon Jake Johnson fans can listen to him as he voices the main character on Netflix's animated series Hoops, which will be released on August 21, 2020. Jake Johnson doesn't plan to slow down anytime soon, because he will also be in the next Jurassic World movie. It is entitled Jurassic World: Dominion, and currently scheduled for a June 11, 2021 release.
Max Greenfield (Schmidt)
Schmidt was the lovable d-bag. As a scene-stealer, Max Greenfield made it hard not to root for Schmidt, despite some of his crazier opinions and comments. Greenfield filmed a few movies after New Girl ended, including the black comedy The Oath that stars Tiffany Haddish and Ike Barinholtz, and the Taraji P. Henson led What Women Want remake What Men Want.
In 2020, he appeared along with an all-star cast in Promising Young Woman, a movie about a mysterious woman who has her future disrupted by an unexpected event. This leads to her living a double life. The cast also includes Carey Mulligan, Bo Burnham, Alison Brie, Laverne Cox, and Jennifer Coolidge.
Greenfield has been staying just as busy in the TV world. He reunited with Ryan Murphy, after appearing on American Horror Story, to have a recurring role as Ronnie on American Crime Story: The Assassination of Gianni Versace. He also has one of the lead roles on CBS' The Neighborhood, starring opposite Cedric the Entertainer, Tichina Arnold, and Beth Behrs. His TV credits post-New Girl also include A Series of Unfortunate Events and BoJack Horseman. Max Greenfield also reprised his role as Leo in Veronica Mars for Season 4.
Lamorne Morris (Winston Bishop)
Winston was not part of the original New Girl cast. He came into the project a little after Damon Wayans Jr. left it. He quickly became one of the oddest, lovable hilarious characters. Morris appeared in the critically acclaimed Game Night film that starred Jason Bateman and Rachel McAdams. He also appeared in the hugely popular Netflix Christmas movie, The Christmas Chronicles with Kurt Russell. Morris has been in other popular films like Yesterday, Bloodshot, and Jumanji: The Next Level.
In 2020, Morris reunited with his former New Girl co-star Nasim Pedrad in Desperados, a Netflix romantic comedy that also starred Robbie Amell, Sarah Burns, and Anna Camp. His TV roles include appearances on SMILF, Hell's Kitchen, Valley of the Boom, and Squinters.
Hannah Simone (Cece)
Hannah Simone played Cece, Jess's model best friend who eventually becomes a model agent and Schmidt's wife. Simone appeared on a few episodes of the now cancelled Single Parents. She played Dr. Monica Dewan on the show. Then Hannah Simone had an appearance on a series called Weird City.
In 2020, Simon joined the cast of Mira, Royal Detective as the voice of Pinky. Mira, Royal Detective is a children's show that focuses on Indian culture and customs. It airs on Disney Junior in the United States. Simone also recently landed a pilot for a CBS series that co-stars Elizabeth Hurley. Both women co-produced the series. She is also among the guest names set to appear in Jake Johnson's new animated comedy series Hoops. The guest will also include his former New Girl co-stars Max Greenfield and Damon Wayans Jr.
Damon Wayans Jr. (Coach)
Coach was Jess, Schmidt, and Nick's original roommate, but he left the show not long after the pilot. He then made guest appearances throughout and became a main cast member in Season 4, but then went back to guest-starring in the following seasons. In addition to his appearances on New Girl, he was a lead in Happy Endings. After that he made appearances on series such as Brooklyn Nine-Nine, Curb Your Enthusiasm, and Bob's Burgers. Damon Wayans Jr. is also set to appear in an upcoming episode of Jordan Peele's The Twilight Zone series.
Wayans Jr.'s recent movie credits include Super Troopers 2, Trouble, and upcoming Kristen Wiig and Annie Mumolo movie Barb and Star Go to Vista Del Mar.
Nasim Pedrad (Aly Nelson)
Aly was introduced in New Girl Season 4 as Winston's new cop partner. They become friends after a rough start, and that eventually grew into a romance. They marry by the Season 7 premiere. Nasim Pedrad appeared with an all-star cast in the horror-comedy Corporate Animals. It also starred Ed Helm and Demi Moore. In the same year, she appeared in Disney's live-adaptation of Aladdin as Dalia, Jasmine's handmaiden.
In 2020, Pedrad took on the lead role as Wesley in Netflix's offbeat romantic comedy Desperados. The film reunited her with her former TV husband Lamorne Morris. Her post-New Girl TV roles have included Brooklyn Nine-Nine, No Activity, and Chad.
Megan Fox (Reagan Lucas)
Megan Fox stepped in for Zooey Deschanel when she was on maternity leave. She played Reagan, a pharmaceutical rep who briefly took Jess' spot in the loft while she was sequestered as a juror. Reagan also briefly became Nick's love interest. Fox has since seemed to have left the TV world behind, only appearing in one series after New Girl. A show that she hosted called Legends of the Lost with Megan Fox, a four-part docu-series that aired on the Travel Channel.
Fox has appeared in a series of movies from 2019 and on, including a supernatural romance called Above the Shadows. Her other work includes a dramedy directed by James Franco called Zeroville. The cast also included Joey King, Seth Rogen, Danny McBride, and Craig Robinson. A few of her upcoming projects are Think Like a Dog, Rogue, and Midnight in the Switchgrass.
Nelson Franklin (Robby)
Robby entered the series in season two as Cece's boyfriend. He was super nice and laid-back, a major departure from Schmidt. Schmidt tries to start a feud with him, but as the show progresses they become friends. Robby is one of the few long-running recurring characters on New Girl-- often popping up when least expected. He even briefly forms a romantic relationship with Jess, until they find out that they're third cousins.
Nelson Franklin appeared in the films Gemini, Battle of the Sexes, and Captain Marvel. In Captain Marvel, he had a brief role as a medical examiner. His next film project is a movie called Sweet Girl. Jason Momoa and Isabela Merced star. Franklin has had a recurring role as Connor Stevens in Black-ish since 2016. He also was a main character in the short-lived series Abby's.
David Walton (Sam Sweeney)
Sam was Jess' love interest in Season 2. Their relationship started off mainly physical, but the character deepens and so does their relationship. He's another character that pops up throughout the series. David Walton had a brief lead role in NBC's About A Boy, then he appeared in the series Angie Tribeca, 9JKL, and Brockmire.
Walton has appeared as Mike Mitchell in the Bad Moms movies. Mike is Mila Kunis' character's husband turned ex-husband. In 2018, Walton appeared in the romantic comedy Happy Anniversary. The movie stars Noel Wells and Ben Schwartz. David Walton had the role of Sam on NBC's now cancelled Council of Dads.
With upcoming Hoops and Desperados, Netflix is providing plenty of New Girl reunions to keep fans happy. Desperados is currently available to stream and Hoops is available on August 21, 2020. The entire New Girl series is also available to stream on Netflix if you wish those lovable weirdos.
Spent most of my life in various parts of Illinois, including attending college in Evanston. I have been a life long lover of pop culture, especially television, turned that passion into writing about all things entertainment related. When I'm not writing about pop culture, I can be found channeling Gordon Ramsay by kicking people out the kitchen.
Your Daily Blend of Entertainment News
Thank you for signing up to CinemaBlend. You will receive a verification email shortly.
There was a problem. Please refresh the page and try again.