Pixar's Soul Ending Explained: How Things Ended Up For Joe And 22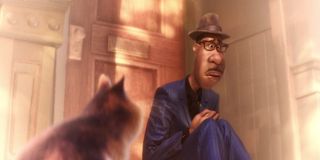 Pixar's latest animated film Soul was released on Disney+ on Christmas Day. The film overall received positive reviews from both critics and the general public. Not only is Soul magnificent to look at, but the Soul ending is one of the most profound of 2020, especially because of how relevant it is to today's landscape. The ending takes Joe (Jamie Foxx) and 22 (Tina Fey)'s journey full-circle while still leaving the audience wanting more.
Despite many films not making their debut in 2020, there were a ton of really good films released this year, but Soul may be the one that makes the biggest impression on its audience. Its simple storyline and the decision to release it on Disney+ makes it more accessible than many of the thought-provoking films of 2020. The Soul ending left an impact on many of us, so let's explore it further.
Most likely you've seen Soul. If you haven't, why haven't you? Go watch it. Spoilers Ahead.
How Pixar's Soul Ended
Joe gets in the zone to return to the Great Before or the You Seminar. He then learns that 22 has become a lost soul because she has become obsessed with what Joe last told her and repeatedly being told by the You Seminar Mentors that she was not good enough to live, a fear 22 expressed to Joe earlier in Soul. Joe sees lost soul 22 and then proceeds to chase her as she continues to grow larger.
Eventually, Joe sees that 22 is consumed by the idea that she is not good enough to live. To bring the original 22 back, Joe gives her a maple seed that reminds 22 of her time on Earth. 22 turns back to normal and Joe gives her her Earth pass. Before 22 goes to Earth, Joe accompanies her as far as he can. Then he heads for his place in line for the Great Beyond, but Jerry (Alice Braga) stops him and tells him that he inspired the Jerrys, so he gets a second chance at life.
What Happened To Joe At The End Of Soul
Soul ends with Joe getting to return to life on Earth. One of the Jerrys asks him what he's going to do with his second chance. He says that he doesn't know but he's going to live it fully. Life is unpredictable and you can't control what happens next. You can just enjoy the ride and appreciate every moment.
I enjoy that Joe's life is left for him to define, not Pixar, because that fits with the theme of Soul. However, we can speculate on what happens next for Joe. Joe is left with two very tempting options at the end of Soul. He can take the teaching position full-time or he can play with Dorothea Williams (Angela Bassett)'s band full-time. He also has the option to ditch both and find a new career or hobby.
I believe that Joe will do all three. He isn't completely satisfied with either option by the end of Soul. He played a great show but didn't feel as fulfilled as he expected. Dorothea then gave a fish metaphor, which I interpreted to mean that some people will go through life not fully being satisfied. They'll always want something bigger and better. Joe never really appreciated his job as a teacher because he kept dreaming about a career as a jazz musician.
I think Joe will likely continue teaching full-time but still play music, either locally or with Dorothea when she's around. The film emphasized Joe's impact on others as a teacher, which I think he understands now. Talking to Dez (Donnell Rawlings) also made Joe see how single-minded he's been with jazz, and now his mind is open to other passions and possibilities. So I think for sure, Joe explores other hobbies or careers in the future. Lisa is mentioned at the beginning of Soul, but we never meet her in the movie, but there is a significant possibility that Joe takes a leap and confesses his feelings to her, so a happy romantic ending may be in his future as well.
What Happened To 22 At The End Of Soul
22's future is left even more ambiguous than Joe's future. She finally travels to Earth, and we never see her again. I think whether you believe in fate, destiny, and soulmates (non-romantic ones) will determine whether you believe that Joe and 22 meet again. Logically, they probably don't meet again. 22 is at least 45 years younger than Joe, and Earth is so much bigger than New York, so she could have ended up in a country far away from America.
But if you take the optimistic approach, there is a very good chance that somehow 22 someday is one of the children that Joe tutors, or even on a smaller scale, maybe they cross paths one day at the supermarket or airport, and they only briefly talk but it feels familiar and comforting. As for 22's future, based on the fact that she had so much personality even before she was a human, I would guess she does something important on Earth, maybe become an activist of some sort.
Her new passion and appreciation for life mixed with her attitude of questioning authority and fighting for what she believes in definitely seems like a leader material of some sort.
The Moral of Soul
Like any good movie, especially any good Pixar movie, has a moral or message that it wants to leave with the viewers. I am going to discuss a couple of Soul morals that seemed the most prevalent and relevant. The most obvious one is about how to approach life. Joe goes through his life believing that he was put on Earth to pursue his passion for jazz and music. The journey of Soul shows him that passion isn't all there is to life. It's all the moments: good, bad, big, small, and etc. that make life worth living, but you have to be attuned with life to appreciate them.
In an interview with the Los Angeles Times, Soul co-director and co-screenwriter Kemp Powers had this to say about the message in the film.
I think that this idea is the one that most people will connect with, especially now when so many people's lives have been altered this year. Another message that is important in Soul is the idea of who has the biggest influence on people's lives. Yes, we aspire to be like the greats, Mother Teresa, Muhammad Ali, Copernicus, etc., but they don't touch our lives the same way as a teacher, parent, or friend.
This is shown in many ways throughout Soul. One way is how Joe influences his students. Joe has such an impact on Curley (Questlove) that he still thinks of Joe all these years and tries to help him get his big break. By tutoring Connie (Cora Champommier), Joe has fostered a love of jazz and playing. Yes, they may admire the jazz greats, like Dorothea Williams, but it's probably through Joe's tutoring and help that it became a passion to them. This message is seen even more strongly demonstrated with 22.
22 has been mentored by some major historical figures, but Joe is the one that helps her want to live. When 22 becomes a lost soul, it's because of Joe's comments that hurt the most, because she cares most about his opinion. Most humans value and praise these larger than life figures as heroes, and they are, but so are the people that are there every day helping you make it through another day.
Jerry actress Alice Braga in an interview with NBC stated this:
I believe that sentiment ties into this moral. It's the emotional connections we make that have the biggest influence on our lives and spark.
If you enjoy an animated film with a big heart and a simple story, then Soul is a can't miss movie. Soul is available to stream on Disney+. Stream it here (opens in new tab).
Spent most of my life in various parts of Illinois, including attending college in Evanston. I have been a life long lover of pop culture, especially television, turned that passion into writing about all things entertainment related. When I'm not writing about pop culture, I can be found channeling Gordon Ramsay by kicking people out the kitchen.
Your Daily Blend of Entertainment News
Thank you for signing up to CinemaBlend. You will receive a verification email shortly.
There was a problem. Please refresh the page and try again.