While Tyga And Bella Thorne Crush, How Much Does The Average Person Make On OnlyFans?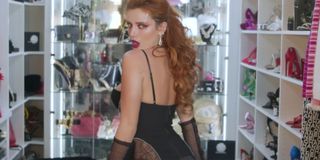 It's no secret that OnlyFans has exploded in popularity this year, thanks to a mix of some high-profile names joining the service, more people at home due to the pandemic, oh, and Beyoncé dropping the service's name in a remix of a Megan Thee Stallion track. As the service has grown more popular, we've been privy to some hot stats about how much some high earners such as Tyga and Bella Thorne have made. However, how much does the average person make on OnlyFans?
OnlyFans is different than a lot of content platforms because it gives the content creator a freedom and ability to set their own rates for varying kinds of content. While most known for NSFW content and nudes --or semi-nudes in Bella Thorne's case -- at this point, OnlyFans also offers everything from cooking classes to fitness training and even access to cosplayers, artists and more. Obviously, we often only hear about the major successes on the platform, but luckily there is information on how much the average person makes a month. Unfortunately, the number may not be as high as you'd expect.
How Much Does The Average Person Make On OnlyFans?
Reportedly, the average person on the service makes about $180 dollars per month. Of course, you need to factor in that some people aren't posting regularly or don't have super popular accounts, in which case they have fewer subscribers and should be making less. There are other accounts, of course that make enough to add a sizable amount to a person's monthly income or may be the bulk of a person's monthly income entirely. It is possible to succeed on OnlyFans, but it probably won't happen overnight. Unless you find a way to stand out, like selling your dirty bathwater.
In fact, according to the numbers XRUS put together, the top 1% of OnlyFans content creators account for 33% of all the money. Extrapolating that out further, the top 10% of all the accounts on OnlyFans make 73% of the money, with the site positing it's easier for people who already have popular social media platforms elsewhere to make the transition to paid subscribers than for people to start at 0 and build an entire following.
You also need to factor in that OnlyFans takes a 20% cut of all the creators' income made on the platform. That's how the companys keep the service functioning and running, while also remaining profitable.
However, at the end of the day, if you do manage to make it into that coveted 1% or 10% you may very well be rolling. OnlyFans account user Belle Delphine recently admitted she's making about a million per month on the platform. We also know Bella Thorne made $1 million her first day and had netted $2 million by the end of her first week. Tyga, Cardi B and other celebrities -- including even Vikings' Georgia Hirst -- have subscription accounts, and numbers are scarcer for their profits though Tyga allegedly made around $7.9 million through early December of last year.
It's a new year and a new chance to make some money, but we'll have to wait and see if and how OnlyFans grows as various parts of the world start to open back up again.
Your Daily Blend of Entertainment News
Reality TV fan with a pinch of Disney fairy dust thrown in. Theme park junkie. If you've created a rom-com I've probably watched it.
Your Daily Blend of Entertainment News
Thank you for signing up to CinemaBlend. You will receive a verification email shortly.
There was a problem. Please refresh the page and try again.