OnlyFans Star Belle Delphine Has Revealed Her Monthly Earnings To YouTube's Logan Paul, And Wow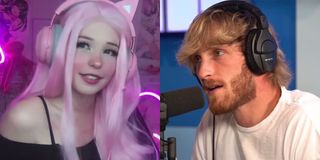 As more and more major names head to OnlyFans -- and some previously unknown names get popular -- the platform has only become more and more fascinating. We've heard a few stats about how some high earners like Bella Thorne and Tyga have earned a bunch of money in just a few days, but what are other earners taking home monthly? Well, thanks to Logan Paul and Belle Delphine, our eyes have been opened a little more to what the platform can do for some enterprising individuals.
Logan Paul and Belle Dauphine were casually chit-chatting about filming her first adult movie for OnlyFans when the topic of money came out. Belle Delphine, whose real name is Mary-Belle Kirschner, spoke out about being a higher earner on the platform thanks to commanding impressive fees. But the more important note she probably made was revealing how much she's pulling in per month. She noted:
Due to making so much money on OnlyFans, it seems as if she is considering whether or not to charge a secondary fee for future adult-only entertainment, which Logan Paul encouraged. Though she says she is going back and forth on the idea of what to charge for the stuff she creates.
And if you wonder whether or not $1 million a month on OnlyFans is normal, normal is probably not the correct word. That's a big number, and Logan Paul's buddy Mike Majlak, who also appears on the Impaulsive podcast, notes that the other women he's learned about OnlyFans deals from are only making about half what Belle Delphine says she is raking in per month--and they were high earners too.
Honestly, if Belle Delphine is able to command $35 a month from a large enough pool of people, that could lead to the big numbers she's alluding to. Heck, Cardi B's only charging $4.99 a month to get the scoop on all her musings. Aaron Carter's charging $20 bucks a month. Bella Thorne is charging $10 and her sister Kaili Thorne is charging $4.99. It seems to be working out pretty well for Belle though. To bundle she even only gives a 5% discount.
She later told Logan Paul that she didn't want to "flex," but that Only Fans had been transparent with her that she was responsible for the largest withdrawal in one swoop on the engagement platform. She really didn't want to get into it, but with a little coaxing, she did say she once took out $2 million at once.
Meanwhile, Logan Paul's obviously not doing too shabbily himself. The famous YouTube star has made millions of dollars on the platform, as has his brother Jake. However, he's looking to expanding his mini empire by getting into fighting and has a match set up with Floyd Mayweather in February of 2021 that should bring some eyeballs to his career and some additional moolah.
Amazing Race & Top Chef superfan with a pinch of Disney fairy dust thrown in. If you've created a rom-com I've probably watched it.
Your Daily Blend of Entertainment News
Thank you for signing up to CinemaBlend. You will receive a verification email shortly.
There was a problem. Please refresh the page and try again.