Hunger Games Fans Just Realized The Boys' Jack Quaid Killed Rue, And His Response Was Awesome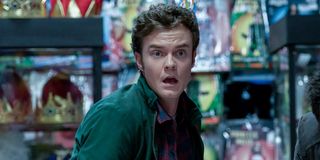 The Hunger Games came out back in 2012, which, after the way 2020 unfolded, feels like about 50 years ago. This is allllllmost enough time to forget about Rue's death in The Hunger Games franchise's first film. Almost, but not quite. Marvel, the tribute from District 1 who killed Rue, was played by Jack Quaid, a star of Amazon's original series The Boys. Quaid's response to being called out as Rue's killer was pretty great.
Jack Quaid responded to a tweet that outed him as Marvel, Rue's killer. He basically acted like he also forgot all about his involvement in her death, but he knows what he did!
The responses to the exchange are pretty killer as well. There's the initial mind-blown shock, because, well, how could we ever forget the face that killed Rue? Then there's feigned anger, my personal favorite reaction being "You'll rue the day you did that" from Twitter user Jacob McBaggins.
At least he says sorry, right? Okay, so it was never really a secret that he killed Rue, but The Hunger Games was actually Jack Quaid's first appearance on screen as an actor himself. He pretty much went under the radar, as no one really knew him back then. Besides, Marvel gets what is coming to him in the sequel.
The fact that no one really knew him back then is weird in itself, as he is the child of two Hollywood icons: Meg Ryan and Dennis Quaid. He's basically been on sets his entire life. And with that, the plot thickens! Jack Quaid seems to have a talent of staying under the radar; how did no one point out that Meg Ryan and Dennis Quad's kid killed Rue until now?!
It seems Jack Quaid's time sidestepping the spotlight is over, though. He's been keeping busy since his murderous first role, playing over 30 smaller roles in movies and TV shows over the last decade. More recently though, he landed a couple knockout parts as Hughie in The Boys and Boilmer in Star Trek: Lower Decks. The original poster of the call-out tweet no doubt was re-watching The Hunger Games and recognized Quaid from one of these recent roles.
We can expect even more from Jack Quaid, as he's joined the main cast in the long-awaited 5th Scream film. Scream 5 (Or just Scream, I guess?) is set to release at the beginning of next year, and with just that news 2022 is already off to a better start than this one. A year is a long time to wait, though, so check out our updated movie schedule for 2021.
And as always, check back with CinemaBlend for more movie, TV and pop culture news.
Your Daily Blend of Entertainment News
Constantly thinking about books, coffee, and the existential dread I feel from Bo Burnham's Inside. While writing I'm also raising a chaotic toddler, who may or may not have picked up personality traits from watching one too many episodes of Trailer Park Boys.