After Doom Patrol Success, Brendan Fraser Lands Major Movie Role With Darren Aronofsky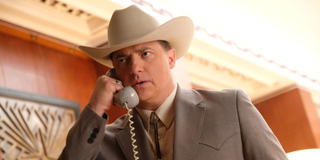 If you watched movies in the '90s, you probably know who Brendan Fraser is. From 1991 to 1999, he appeared in 22 movies, including Encino Man, George of the Jungle and The Mummy, the latter of which netted $416 million at the box office. The man was a staple of the '90s and continued his career into the 2000s until taking a hiatus from film acting. Since then, he has worked primarily in television and has generated buzz for his role as Robotman in DC's Doom Patrol. Now word's come in that Fraser will return to the big screen, as he's reportedly landed a major role in Requiem for a Dream director Darren Aronofsky's upcoming project, The Whale. That's right Fraser fans, he's back!
Initially reported by Deadline, The Whale will be produced by independent film house A24, with Darren Aronofsky to direct and Brendan Fraser to lead. It will be the first film by the director since his traumatizing 2017 project, Mother!.
The Whale is based on the 2012 play of the same name, which was written by Samuel D. Hunter, who is also attached to adapt the film for A24. Brendan Fraser fans shouldn't expect a George of the Jungle or Encino Man-esque comedy, as the plot for The Whale is extremely dark. Here's the synopsis of The Whale, per StageAgent:
How's that for a bright and uplifting visit to the theater? It's no surprise that this project caught the attention of Darren Aronofsky, as his films tend to have a more despondent outlook. A number of Arnofosky's films have even garnered controversy and disdain from audiences across the globe.
If The Whale is anything like Darren Aronofsky's past films, audiences can probably count on gloomy subject matter with shocking (and probably upsetting) sequences throughout. Regardless of how sad this film is inevitably going to make me feel, I'm elated that Brendan Fraser is back, baby!
I'm seriously thrilled he is getting back into movies, and with Darren Aronofsky and A24 no less! Brendan Fraser playing a suicidal 600-pound man in an Aronofsky film is almost so absurd it feels like an A24 bingo card, but you know what? I'm here for it. Put Brendan Fraser in everything, damn it. The man deserves it. We deserve it.
Your Daily Blend of Entertainment News
Into tracksuits by Paulie Walnuts, the Criterion Channel and Robert Eggers.