Bikini-Clad OnlyFans Star Mia Khalifa Thanks Fans For Support After Donating A Huge Chunk Of Money Made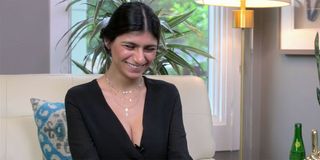 OnlyFans isn't exactly a new phenomenon at this point, but there's still curiosity around how much certain stars on the platform have made and how much money they have to burn. Recently, the former Pornhub star and newly minted OnlyFans user Mia Khalifa shared that she's been able to donate a huge amount of money thanks to her work on the platform.
Taking to other site, Instagram, the OnlyFans created shared a selfie of herself running in heels and a bikini (the heels part, at least, Bryce Dallas Howard would be familiar with.) The fun post was shared to raise awareness of Mia Khalifa's OnlyFans account and also revealed that she's been able to donate $160,000 of the money she's made this past year alone.
Obviously, OnlyFans has only grown as the pandemic has worn on and Mia Khalifa had a bit of a fanbase built in to help her get started in the first place. The star was formerly known for her work on Pornhub several years ago, but since she switched to OnlyFans to engage with fans, she's actually not doing the R-rated content she's previously been known for. In fact, she's said a lot of her posts are safe for work, noting on her OnlyFans profile that her new content is "safe for work, but spicy."
She's not the only major star who isn't fully going nude on the platform despite its general reputation, as that was Bella Throne's bent when she joined OnlyFans as well. Plenty of other celebrities do other things on OnlyFans, as Vikings star Georgia Hirst shares behind-the-scenes content from her work with those who subscribe to her OnlyFans account.
However, given Mia Khalifa is a former porn star, the lack of R-rated content may be surprising to some who haven't kept tabs on the star in recent years, though if the donations are any indication, Mia Khalifa seems to be doing pretty well without getting naked like she used to during her brief porn career. The star charges $11.99 a month for fans to interact with her page on OnlyFans. In addition, for fans who stick around, she has tried some special promotions, including "bonus photos" and "ppvs" for those loyal fans.
Whatever she is doing seems to be working. Donating $160,000 is way more than a normal person's salary for one year in donations alone and while we don't know how much Mia Khalifa is making a month, we've heard from other interviews that high earners can make in the hundreds of thousands of dollars per month (or more in some cases), though of course that is not the norm and nowhere near what the average person is making.
Having a built in fanbase can really help. Mia Khalifa has said previously that she was only in the porn business for three months, but she gained notoriety for performing porn in a hijab and was heavily searched for in a period between 2015 and 2016. It was only a couple of years ago that she started speaking out about why she got into porn, what happened when people found out and how she was famous before she really knew what she'd committed to, as her porn career will always be what brought her fame. In the time since, she's reemerged as an OnlyFans personality and the rest is history in the making.
Amazing Race & Top Chef superfan with a pinch of Disney fairy dust thrown in. If you've created a rom-com I've probably watched it.
Your Daily Blend of Entertainment News
Thank you for signing up to CinemaBlend. You will receive a verification email shortly.
There was a problem. Please refresh the page and try again.