4 Marvel Projects Teyonah Parris' Monica Rambeau Could Play A Big Part In After WandaVision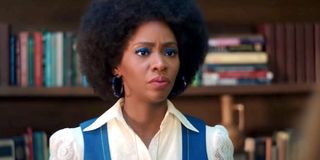 (Image credit: (Marvel))
Warning: SPOILERS are ahead for Disney+ series WandaVision and other MCU events.
As the MCU's very first television series, WandaVision, continues to unfold over on Disney+, our questions and theories about where the series is going continue to grow. Aside from the intrigue that's been built up about what's going on with Wanda Maximoff and her own personal TV wonderland, the show is slowly developing Teyonah Parris' "Geraldine," which Marvel has already confirmed is Captain Marvel's Monica Rambeau all grown up.
While it initially seemed like Monica Rambeau's part in the MCU might be small and referential to the interconnection of Captain Marvel to the common thread being formed in Phase Four, it now seems as if Teyonah Parris' superhero character could have a major future in the franchise. Let's talk about the MCU projects that could very well bring her along for the ride now that we've met her and the upcoming Marvel line-up is more clearly laid out.
Captain Marvel 2
Let's start with the MCU project that Teyonah Parris is 100% confirmed to be in before moving into speculation for the remainder of this discussion. The actress is set to star with Brie Larson in Captain Marvel 2 come late 2022, and she's expected to have a key role in the storytelling of the film. What's exciting about the project is Parris has already worked with director Nia DaCosta on her upcoming take on the Candyman franchise, and I can't wait to see how these collaborators do in both these highly-anticipated films.
As WandaVision goes along, the series will apparently start to fill the gaps in terms of Monica Rambeau's life after her mother's BFF air force pilot and superhero jetted off to space when she was a kid during the events of the '90s-set Captain Marvel. We'd imagine Monica and Carol will reunite in the 2022 sequel and perhaps team up for some kind of mission. It seems like Monica Rambeau may already have her powers in WandaVision and could be working for S.W.O.R.D. alongside Randall Park's Jimmy Woo and Kat Dennings' Darcy, but her role in Captain Marvel 2 could take her closer to the ranks of the Avengers.
Ms. Marvel
The third element of Captain Marvel 2 that may be forming over on Disney+ before taking place on the big screen is Ms. Marvel, another MCU series expected to come to streaming later this year. Ms. Marvel will follow Kamala Khan, a 16-year-old Captain Marvel superfan who gets incredible powers of her own. The character (who will be the MCU's first Muslim and Pakistani-American hero) has been teased to have a role in Captain Marvel 2 as well.
With this in mind, I believe Monica Rambeau and Kamala Khan will meet at some point and be great and exciting allies to Captain Marvel. But, I can see Teyonah Parris' character perhaps being Kamala's entry point to meeting Carol Danvers to connect the two Disney+ shows together, instead of Ms. Marvel taking away the big meetup between the trio for the small screen, when it should be a moment saved for the feature film. If Monica already has some ties to S.W.O.R.D (which stands for Sentient Weapon Observation and Response Division in the MCU), Kamala could show up on Monica's radar before the ever-busy Carol Danvers, who always seems to be off on other planets rather than back on Earth. Monica and Kamala have a lot in common and an intersecting storyline on the way, so Teyonah Parris' character could very well be part of the series to some degree.
Secret Invasion
Another MCU Disney+ series that we could see Teyonah Parris' Monica Rambeau involved in could be the recently announced Nick Fury-centered show called Secret Invasion. The series coming in 2022 will also find roots in Captain Marvel and Monica because it stars Samuel L. Jackson's Fury alongside Ben Mendelsohn's Talos as they try to stop Skrulls who have infiltrated aspects of the Marvel universe. Monica met both of them when she was a kid, and could either have kept in contact with them or become very intrigued to find out about their whereabouts after becoming a hero herself.
Whether Monica Rambeau has a future in Secret Invasion will lean heavily on what happens by the end of WandaVision, and it could be directly related to Captain Marvel 2 as well. In the comic books, Secret Invasion was a major crossover event that saw the shapeshifting Skrulls covertly replacing major superheroes over a period of years, so the series has a lot of potential to shake up the MCU in interesting ways that could be in need of Monica Rambeau's powers that include flying at the speed of light and emitting energy from the sun. It'd also be really sweet to see adult Monica Rambeau and Fury build a relationship within the MCU. I'd imagine Fury has been keeping some tabs on the budding hero either way.
Blade
Lastly, looking further into Teyonah Parris' future in the MCU past her connections in Captain Marvel, she'd be a great addition to the Blade movie in development with Mahershala Ali starring as the vampire hunter. Now Eric Brooks infamously likes to work alone, but in the comic books, there was a time where Blade and Monica Rambeau teamed up to fight off a horde of vampires in their mutual homes of New Orleans at the request of Black Panther (also next to Luke Cage and Brother Voodoo).
Monica (also known as Photon, Spectrum or Pulsar), is a highly-effective vampire hunter due to her abilities to harness the energy from the sun. If you remember vampire lore, bloodsuckers really, really do not like sunlight and cannot stand to be around it. Adding Monica to the MCU's Blade movie makes sense because the franchise tends to build familiar characters from other movies with new characters and it could allow for the character to further gain prominence in the universe.
Exciting right? We'll continue to watch WandaVision closely here on CinemaBlend for more clues about Monica Rambeau's future. New episodes are streaming on Disney+ every Friday.
Your Daily Blend of Entertainment News
YA genre tribute. Horror May Queen. Word webslinger. All her writing should be read in Sarah Connor's Terminator 2 voice over.