Why Now Would Be A Great Time For The Alita Sequel To Get Picked Up By Another Studio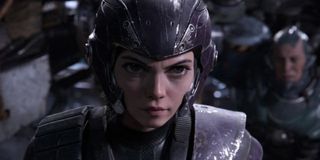 As we draw closer to the second anniversary of Alita: Battle Angel's theatrical release, fans are wondering just what the hold up is when it comes to the potential sequel they've been pushing for. While the good work isn't done just yet, the Alita Army is going to have their work cut out for them, as talks of Alita 2 seem to be sustained by their will and excitement alone. That dedication doesn't come for free though, and if another studio were in Disney's shoes, it might have already made a move to put Alita: Fallen Angel into production as soon as possible.
We've discussed whether or not another studio could pick up Robert Rodriguez and James Cameron's Alita: Battle Angel franchise, as this potential move isn't a new notion. However, today it's time to talk over why now specifically is the best time for moving Alita to a new studio home. For the record, having Alita: Battle Angel continue its path of series development feels most likely, and best suited, under the Disney/20th Century Studios machine. Though as you'll see in our first point of order, Disney might not know what it has in its possession.
Disney Doesn't Seem All That Interested In Alita: Battle Angel
After going as far as including Alita: Battle Angel in Disney's massive push to re-issue past titles into theatrical release, there wasn't even an acknowledgement of the film during the recent Disney Investor's Day event. While there was also a radio silent approach to other projects like the Avatar sequels, as well as the in-development Tron: Legacy sequel, those projects are at least known quantities that are making progress. But despite keeping Robert Rodriguez busy with The Book of Boba Fett, and stoking the long term fires on properties like Star Wars, the Marvel Cinematic Universe and even Pirates of the Caribbean, Alita: Battle Angel doesn't seem to have any forward momentum on the books at Disney.
Paramount's Future Is Already Cashing In On Fox's Past
Meanwhile, Paramount Pictures of all places seems to be assembling its own battle plan that involves personnel and projects from what was once 20th Century Fox. We already knew that former Fox cohorts Jim Gianopolous and Emma Watts snagged key positions in Paramount's inner workings, and with two more former Fox execs climbing aboard in the recent past, there seems to be a pattern building. Paramount's recent acquisition of Spamalot, after the fully-developed picture languished on the Disney lot, shows that both parties might be amenable to future deals. But Paramount adding pieces of the Fox apparatus one by one feels like the reunion of former co-workers, which could make for promising developments in the world of Alita: Battle Angel if the fans are loud enough.
Alita: Battle Angel Is Fit For Any Studio Looking For A New Potential Franchise
Paramount feels like the studio best positioned to provide that golden opportunity for Alita: Battle Angel's resurrection as a franchise. It doesn't feel like a mere coincidence that the former members of the 20th Century Fox brass are interested in castoffs from their former home, as Spamalot has proven. Much like with the Monty Python musical, there's already an existing foundation for Alita: Fallen Angel to take off from, complete with technological tricks and treats that Weta Digital has already honed on two Avatar films and the previous installment of Alita. With Robert Rodriguez ready to jump back in, Paramount could seize this opportunity to save Alita from the scrapyard and let her finish the fight she started in 2019. Plus, the ever-increasing bounty of Mr. Rodriguez's professional career could also be a key to getting the wind beneath Alita: Battle Angel's wings.
Robert Rodriguez Isn't Working Exclusively With Disney
All of this talk about Alita: Battle Angel does need to include the fact that writer/director Robert Rodriguez is a pretty busy man as of late. In addition to The Book of Boba Fett landing in his lap, the man also has a sequel for We Can Be Heroes over at Netflix, and is even working on potentially reviving his Spy Kids franchise with Skydance Media. Rodriguez isn't tied up with any sort of exclusivity pact to one studio or another, and the man himself is keen on keeping the Alita: Battle Angel franchise going in any way he can. Another studio could present that opportunity, getting the crucial development ball rolling on Alita: Fallen Angel as he pushes the other projects on his docket along the line.
The Fans Are More Primed Than Ever For An Alita: Battle Angel Sequel
It always comes back to the fans when Alita: Battle Angel is in play, as that first film could have merely been a flash in the pan that no one ever talked about again. Yet almost two years have passed since the first run in theaters saw modest returns, and loyal supporters are in it for the long haul. If there was ever a potential franchise that could, upon resurrection, see an audience fall in line behind its future installments, Alita: Battle Angel is one that still somehow seems untapped. Ultimately, if Disney's not interested in keeping the torch lit, despite possessing the best potential game plan to do so, it should hand the property off to another party that is ready to run with it to glory.
There will undoubtedly be celebration when the second anniversary of Alita: Battle Angel's Valentine's Day release rolls around. Fans are already gearing up for another push to trend on Twitter in the name of their devotion to Doc Ido's Cybergirl, so with or without an announcement, there will be much jubilation. But if the Hollywood power brokers out there really wanted to seize a moment, and turn it into a huge news story, landing a sequel to Alita: Battle Angel, with Robert Rodriguez in tow, would be a game-winning move.
CinemaBlend's James Bond (expert). Also versed in Large Scale Aggressors, time travel, and Guillermo del Toro. He fights for The User.
Your Daily Blend of Entertainment News
Thank you for signing up to CinemaBlend. You will receive a verification email shortly.
There was a problem. Please refresh the page and try again.