Pranksters Arrested After Changing Hollywood Sign To 'Hollyboob'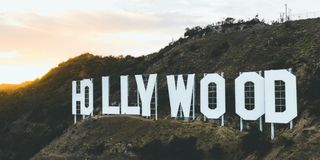 The Hollywood Sign has a long and iconic history in Los Angeles. First erected in 1923 during the silent film era as Hollywoodland, the famous sign dropped the 'land' portion in 1949. Since its creation the sign has become a staple of the movie industry and Los Angeles as whole. Unfortunately something so prominent and culturally significant is bound to be descended upon by pranksters and others that may seek to use the sign as a vehicle for their own personal messages. Once again a handful of jokers have taken to the sign for a prank so big it could be seen by the entire city.
Yesterday, six people were arrested for changing the Hollywood Sign to read "HOLLYBOOB." The sign, which was covered with a strategically placed tarp, can be seen below:
As you can see, through some quick engineering the pranksters were able to cover the 'W' with a large painted 'B' and erected a dash mark in the middle of the 'D' to form another 'B', thus flashing most of Los Angeles with a 'HOLLYBOOB.' The masterminds behind the plan can also be seen, along with a circling police helicopter. Talk about making a scene.
Those involved have since been arrested, as the immediate area surrounding the sign is off-limits to visitors. Although that doesn't stop thousands of folks from deciding upon the area year of year for photographs and other activities. The pilgrimage to the sign has become so popular that Warner Bros wants to build a tram up to the Hollywood Sign for those visiting.
The Hollywood Sign exists in a kind of legal quagmire. The sign and the land it rests upon is owned by the City of Los Angeles, The Hollywood Chamber of Commerce owns the licensing rights, and finally the Hollywood Sign Trust, who maintains the sign and the surrounding area.
Despite the various legal complexities surrounding the famous landmark, the minds behind the 'HOLLYBOOB' prank were let off with misdemeanor trespassing charges. The sign was in no way damaged so they were not charged with vandalism, according to the LA Times.
After falling into disrepair back in 1978, Playboy mogul Hugh Hefner and a few other famous residents of Hollywood banded together to auction off the original letters to raise funds and restore the sign to its former glory. In 2010 he gave a final gift of $900,000 to keep the land in the hands of the Trust for Public Land.
Over the years the Hollywood Sign has been altered no less than fifteen times with various messages over the years. It's unclear if the latest message of 'HOLLYBOOB' is a buzzy tactic to drum up support for… something, or if it's just a good old fashioned prank. My money is on the latter, but we will have to see.
Your Daily Blend of Entertainment News
Into tracksuits by Paulie Walnuts, the Criterion Channel and Robert Eggers.