Ana de Armas Posts More Images With Her Haircut After Break-Up With Ben Affleck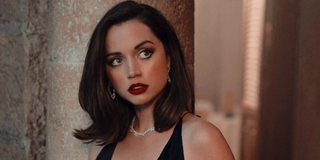 Celebrity couples aren't anything new, but every now and then, there is a pairing that takes the phrase 'power couple' to the next level. Knives Out star Ana de Armas and Ben Affleck's relationship has made headlines over the last year after spending most of quarantine together. Unfortunately, all good things must come to an end, with the pair recently splitting up. Ana de Armas seems to be doing just fine though, as she's taken to Instagram to share more images of her latest hair cut after the break-up with the Batman actor.
The future No Time To Die star, showed off her new short look in an Instagram post, as seen below:
Ana de Armas was so thrilled with her latest cut that she even took to her Instagram story to show off the short new hair-do. Check it out:
The short hair is quite different from the long locks that Ana de Armas has rocked in films such as Blade Runner 2049, Knives Out and No Time to Die, but it nonetheless looks great. The breakout actress has been staying busy with a number of upcoming projects.
Ana de Armas' relationship with Ben Affleck kicked off during the filming of Deep Water, in which the pair star as husband and wife, albeit with some murder tossed in for good measure. Their relationship and subsequent breakup has been marked with plenty of memes and attention from the internet, as most celebrity relationships of this caliber do.
The Cuban-born actress seems to be doing just fine in light of the breakup and has her work cut out for her between all of the upcoming projects, three of which are expected for 2021. Deep Water with ex-boyfriend Ben Affleck is scheduled for this August. After that, she is set to appear in No Time to Die, which has recently been delayed to October, and she's also playing Marilyn Monroe in Blonde by Andrew Dominik, which is also due for later this year.
Ben Affleck seems to be in a similar position, as his upcoming movie slate is packed as well. Fans can expect to see him on the directors chair as well as in front of the camera. In the near future, he'll be back for Zack Snyder's Justice League, in which he will reprise his role as DC's Caped Crusader. He's also taken up writing and acting for another project due this year, The Last Duel. Set to release on October 15, the period drama will see him in an all-star cast that includes Matt Damon and Adam Driver.
Despite the breakup, Ben Affleck and Ana de Armas both have plenty of projects on the calendar to keep them busy. Perhaps they will find love on another shoot, or perhaps they aren't even completely broken up? Only time will tell, but one thing is for sure: fans can expect to see both of them back on the big screen. As for the rest of this year's film slate, be sure to check out CinemaBlend's 2021 Release Schedule to stay up to date on forthcoming movies.
Your Daily Blend of Entertainment News
Into tracksuits by Paulie Walnuts, the Criterion Channel and Robert Eggers.