Why Jared Leto Refused To Wear A Wig For The Little Things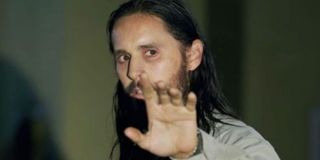 Jared Leto recently received a Golden Globe nomination for his performance as Albert Sparma in The Little Things. His character is a suspect in a series of serial killings being investigated by Denzel Washington's Joe "Deke" Deacon. The nomination comes as another feather in Leto's cap, who has already had an impressive career. The Oscar winner has proved that he's willing to do almost anything to get into character for a role. However, he refused one costuming choice for his latest movie.
Despite putting on weight and using a number of other prosthetics, Jared Leto recently explained why he refused to wear a wig for his character in The Little Things:
In his interview with the LA Times, Jared Leto mentioned that while he was willing to go with some of the other prosthetics, the wig choices pushed things a little too far. Ultimately, he decided that they were too 'ridiculous' for his character and chose to not use one for The Little Things.
Jared Leto wasn't the only one to take an extra step for getting into character. Co-star Denzel Washington also packed on some weight for his role. It's not the first time, nor will it be the last, that actors go to drastic lengths to mold into their characters. Just look at Christian Bale, who is known for his dramatic body transformations over the course of his career.
It looks like the refusal worked out for the best, as Jared Leto has earned his second Golden Globe nomination, which is the only one for The Little Things. Leto's first nomination was for his performance as Rayon in Dallas Buyers Club back in 2013. He ended up winning the Golden Globe for Best Supporting Actor and later won an Academy Award in the same category.
Jared Leto has been keeping busy since his tenure as the Crown Prince of Crime in 2016's Suicide Squad. He will reprise The Joker in the upcoming Zack Snyder's Justice League, which is set to release on March 18.
He is also set to appear in Sony Pictures' upcoming Morbius, where he will play doctor-turned-vampire Michael Morbius. The film has been delayed more than once, leading to a few hilarious memes, but it's now scheduled to release on January 21, 2022.
We won't know for sure if the choice to leave the wig behind will end up paying off big for Jared Leto, as the Golden Globes won't announce the winners until later this month. However, fans can continue to get hyped for Morbius and Leto's involvement in the upcoming Tron: Legacy sequel.
For those of you who have yet to see The Little Things, it's now available in theaters and on HBO Max. For more on the latest film fare, stay up to date with CinemaBlend's 2021 Movie Release Schedule, where you check out everything coming to the big (and small) screens near you in the coming months.
Your Daily Blend of Entertainment News
Into tracksuits by Paulie Walnuts, the Criterion Channel and Robert Eggers.