American Psycho: The Best Movies To Stream Or Rent If You Like The Christian Bale Movie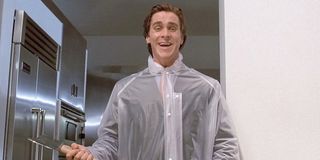 CinemaBlend participates in affiliate programs with various companies. We may earn a commission when you click on or make purchases via links.
I think my mask of sanity is about to slip… upon the discovery that American Psycho is turning 20 this year. The ultra-violent character study, based on Bret Easton Ellis' 1991 novel about a young, narcissistic Wall Street yuppie whose deep-seated bloodlust envelopes into an uncontrollable murderous rampage, is considered what propelled Christian Bale to stardom.
American Psycho and its ending are still widely dissected (no pun intended) today, not only for its relevant themes of toxic masculinity and serial self-centered behavior, but for how it presents a uniquely surreal depiction of violence through the eyes of its antagonist, who is also the story's protagonist and narrator. Of course, it is not the first brutal or just weird psychological thriller to put the audience in the shoes of an individual with questionable morals, to say the least, and certainly not the last either.
In fact, there are plenty of movies that were either inspired or took inspiration from the frightening character themes, bizarre visual style, and discomforting subject matter of American Psycho. Case in point, these following 11 films which are available to rent or stream on various digital platforms so that you will not have to spend much time returning some videotapes.
The Machinist (2004)
What It's About: In The Machinist, a sickly industrial worker (Christian Bale) begins to endure the nightmare of his life, despite still suffering from the same bout of insomnia the has plagued him for more than a year.
Why American Psycho Fans Will Like It: Bale infamously dropped from 173 pounds to a dangerous 110 for this role that, while more deserving of sympathy than Patrick Bateman, he is just as (if not more) insane in this extremely bleak psychological thriller from director Brad Anderson that often teeters toward horror.
Stream it on Amazon Prime here or Crackle here
Rent it on Amazon here
Requiem For A Dream (2000)
What It's About: In Requiem For A Dream, a young Coney Island man (Jared Leto), his delusional mother (Ellen Burstyn), his aspiring fashion designer girlfriend (Jennifer Connelly), and his wannabe drug lord best friend (Marlon Wayans) come to terms with their broken dreams as their lives become inescapably consumed by a crippling drug habit.
Why American Psycho Fans Will Like It: Leto starred in American Psycho as despicable Wall Street broker Paul Allen, the victim of Patrick Bateman's most arguably iconic kill, in the same year in which he played a victim of his own addictive personality in this traumatically challenging drama directed by the always shocking Darren Aronofsky.
Stream it on HBO Now here
Rent it on Amazon here
Lizzie (2018)
What It's About: Lizzie Borden (Chloë Sevigny) begins to engage in an unexpected, yet passionate, affair with her family's new Irish, live-in maid (Kristen Stewart) in this speculative dramatization of the legendary suspect of the double homicide of her own mother and father in the 1890s Massachusetts.
Why American Psycho Fans Will Like It: As Jean, the meek secretary to Patrick Bateman, Sevigny nearly became yet another victim of her boss' bloody rampage in American Psycho, but in this romantic, quasi-biopic exclusively available to stream on Shudder, she gets to be the one wielding the axe this time around… allegedly speaking.
Stream it on Shudder here (opens in new tab)
Henry: Portrait Of A Serial Killer (1986)
What It's About: A seemingly well-mannered pest exterminator named (Michael Rooker) introduces his unwitting roommate, Otis (Tom Towles), to the world of taking lives, leaving a trail of blood from random victims along the way.
Why American Psycho Fans Will Like It: Inspired by the crimes of real-life serial killer Henry Lee Lucas, this acclaimed thriller that the MPAA did not even bother giving a rating is an uncomfortably up close and personal depiction of the inner mind of a deadly sociopath that will make you never look at Yondu in Guardians of the Galaxy the same way again.
Stream it on Shudder here (opens in new tab) or IMDbTV here
Rent it on Amazon here
The Rules Of Attraction (2002)
What It's About: At the fictional Camden College, a womanizing drug dealer (James Van Der Beek) finds himself in a love triangle with a beautiful virgin (Shannyn Sossamon) whom he falls for and her bisexual ex-boyfriend (Ian Somerhalder) who falls for him at a life-changing "End of the World" party.
Why American Psycho Fans Will Like It: Christian Bale actually turned down the opportunity to reprise his role as Patrick Bateman, the older brother of Van Der Beek's character Sean Bateman, in this twisted romantic comedy directed by Pulp Fiction co-writer Roger Avary, which is also based on a novel by Bret Easton Ellis.
Stream it on Tubi here *
*Rent it on Amazon here
Taxi Driver (1976)
What It's About: In Taxi Driver, a socially isolated, insomnia-stricken former Marine and Vietnam veteran (Robert De Niro) slowly loses his grip on reality and acquires a corrupted sense of vigilantism while working as a cab driver in New York City.
Why American Psycho Fans Will Like It: Like how American Psycho takes subtle jabs at male insecurity through a violent lens, this Martin Scorsese classic is a societal commentary of similar themes, but a much bleaker and more earnest tone, in which De Niro's Travis Bickle mistakes his own unstable behavior as an act of heroism.
Stream it on Netflix here (opens in new tab)
Rent it on Amazon here
Locke (2013)
What It's About: Told entirely over the course of one tumultuous 90-minute nighttime drive, a construction manager and family man (Tom Hardy) finds his life unraveling right before his eyes through a series of phone call conversation that force him to confront his demons and the pressing consequences they have created.
Why American Psycho Fans Will Like It: Despite almost immediately writing himself off as despicable and self-serving, Hardy's performance in Locke makes it hard not to root for him (which, whether you admit it or not, is also quality of Christian Bale's performance of Patrick Bateman) in the title role of this riveting one-man show.
Stream it on Netflix here (opens in new tab)
Rent it on Amazon here
Nightcrawler (2014)
What It's About: In Nightcrawler, an aspiring freelance video journalist (an unrecognizably skinny Jake Gyllenhaal) takes the mantra "if it bleeds, it leads" a little too literally, blurring the line between voyeur and perpetrator of the horrifying Los Angeles incidents he "captures" on camera.
Why American Psycho Fans Will Like It: Despite Gyllenhaal's chilling performance and its biting commentary on ethics in media, writer and director Dan Gilroy's breathtaking thriller, which is unfortunately not streaming anywhere at the moment but is available for digital rental, can also be viewed as an unusual success story in which its highly motivated, sociopathic "hero" gets exactly what he wants by disturbing means.
Rent it on Amazon here
Extremely Wicked, Shockingly Evil And Vile (2019)
What It's About: Single mother Liz (Lily Collins) spends years struggling to come to terms with the devastating evidence that has linked her charming former beau, Ted (Zac Efron), to a string of kidnappings and violent deaths of young women in the early 1970s.
Why American Psycho Fans Will Like It: Based on Elizabeth Kendall's memoir recalling her experience as a longtime girlfriend of Ted Bundy, this Netflix original film from Academy Award-nominated filmmaker Joe Berlinger is more of a slow burn without much emphasis on the murder themselves, yet still provides a fascinating examination of one of the most notorious serial killers in history, told partially from his own skewed perspective.
Stream it on Netflix here (opens in new tab)
Good Time (2017)
What It's About: A young petty thief (Robert Pattinson) struggles to figure out a way to get his mentally challenged younger brother (Benny Safdie, who co-directs with his brother, Josh) out of jail and keep himself from going in over the course of one traumatizing night in New York City.
Why American Psycho Fans Will Like It: In addition to also being a stylish, panic inducing odyssey of increasingly poor decisions, much like how Christian Bale's role in American Psycho, arguably, paved the way for him to become Batman, you could say this word-of-mouth sleeper from the makers of 2019's Uncut Gems did the same for Pattinson.
Stream it on Netflix here (opens in new tab)
Rent it on Amazon here
Fight Club (1999)
What It's About: In Fight Club, a cynical, insomniac product recall specialist (Edward Norton) meets a mischievous soap salesman named Tyler Durden (Brad Pitt), with whom he starts a cathartic underground fist fighting ring for disgruntled males that begins to show signs of a more sinister agenda.
Why American Psycho Fans Will Like It: David Fincher's much-celebrated exercise in anarchism put to celluloid, based on Chuck Palahniuk's novel, has often been compared to American Psycho for its surrealist brutality, unique brand of consumerist satire, and an unforgettable twist ending that demands (and has successful resulted in) repeat viewings.
Stream it on HBO Now here
Rent it on Amazon here
What do you think? Will fans of American Psycho go utterly insane for these shocking films, or do you think this entire article has meant nothing? Let us know in the comments and be sure to check back for more information and updates on the 20-year-old psychological thriller as well as more streaming recommendations here on CinemaBlend.
Your Daily Blend of Entertainment News
Jason has been writing since he was able to pick up a washable marker, with which he wrote his debut illustrated children's story, later transitioning to a short-lived comic book series and (very) amateur filmmaking before finally settling on pursuing a career in writing about movies in lieu of making them. Look for his name in just about any article related to Batman.