Robert Downey Jr. Explains Why He Related To Tony Stark So Much When He Joined The MCU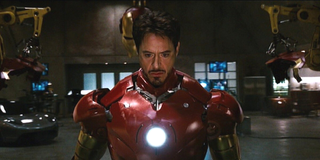 CinemaBlend participates in affiliate programs with various companies. We may earn a commission when you click on or make purchases via links.
There are few better Hollywood comeback stories than Robert Downey Jr's. He went from rock bottom to leading the MCU and the Avengers as the iconic Tony Stark. Since first donning the iron suit in 2008's Iron Man, he has appeared in 11 Marvel movies. He's kind of a big deal these days, to say the least. To have that kind of a comeback, there has to be a little luck involved. Robert Downey Jr. recently detailed some of his good fortune while explaining how he relates to Tony Stark so well, especially at the beginning of the MCU.
In a recent interview the Oscar-nominated actor acknowledged his low points, the forgiving nature of the entertainment industry and compared his own story to Tony Stark's. In his words,
During his interview on The Late Show With Stephen Colbert, Robert Downey Jr. noted how fortunate he was for his misbehavior to occur before the internet, but also mentioned that he always had a moral compass. He expanded upon wanting to always do the right thing and applied his story to Tony Stark's redemption in the MCU:
By the time Robert Downey Jr. was signed to portray playboy billionaire Tony Stark, he had already experienced a number of highs and lows, but he "took it on the chin" and kept going. Sounds familiar, huh? He notes that Tony Stark needed to be knocked down a peg to eventually become the Iron Man that fans know and love today.
RDJ's tenure in the MCU is currently streaming on Disney+. You can use this link to sign up for the streaming service.
While Robert Downey Jr. is currently distancing himself from his Iron Man character and the MCU as a whole, a possible return is always on the table. After all, comic book characters rarely stay dead. Since his departure after Avengers:Endgame, he has taken on lighter projects, including 2020's Dolittle. He will also reprise his role as Sherlock Holmes in Sherlock Holmes 3.
While there's no set release date for the third Sherlock movie, I wouldn't be surprised if we saw an Iron Man appearance in Marvel's upcoming Black Widow. The Natasha Romanoff centered story is set to release on May 7th, 2021, and will be the first entry into the MCU's Phase 4. As for the rest of this year's upcoming movies, be sure to check out CinemaBlend's 2021 Release Schedule for the latest heading to the big (and small) screens near you.
Into tracksuits by Paulie Walnuts, the Criterion Channel and Robert Eggers.
Your Daily Blend of Entertainment News
Thank you for signing up to CinemaBlend. You will receive a verification email shortly.
There was a problem. Please refresh the page and try again.