11 Jamie Dornan Movies And TV Shows To Rent Or Stream Right Now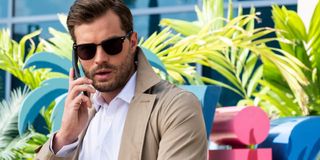 CinemaBlend participates in affiliate programs with various companies. We may earn a commission when you click on or make purchases via links.
Jamie Dornan won over the hearts of many as Christian Grey in Fifty Shades of Grey. Since his Fifty Shades days, Dornan has diversified his career. He played a serial killer in the critically acclaimed series The Fall. In 2020, he voiced the character Chaz in Trolls World Tour, and in 2021, he returned to his romantic roots by playing the love interest of Kristen Wiig's Star in Barb and Star Go to Vista Del Mar.
Jamie Dornan has come a long way from his Marie Antoinette screen debut in 2006. Luckily for fans of the Irish actor, there are plenty of shows and movies available to stream or rent featuring Jamie Dornan. Here are some of your best Jamie Dornan film and TV options currently available.
Barb And Star Go To Vista Del Mar (2021)
Kristen Wiig and Annie Mumolo play best friends Star and Barb in Barb and Star Go to Vista Del Mar. When they're fired from their jobs and kicked out of their favorite club, the women decide to have an adventure by vacationing at Vista Del Mar. Barb and Star experience more adventure than they expected (or wanted) when they become involved in a plan to kill everyone in Vista Del Mar.
In Barb and Star Go to Vista Del Mar, Jamie Dornan plays Edgar, a handsome man with whom the women have a wild night that turns into true love for Star. Edgar is also a main part of the killing everyone in Vista Del Mar plan: it's his whole reason for being in town. Barb and Star Go to Vista Del Mar is a goofy, fun comedy that's perfect viewing for when you want some lighthearted content and shirtless Dornan. The film is available to rent on your favorite VOD service.
Rent it on Amazon here.
The Fall (2013-2016)
The Fall follows a family man and serial killer Paul Spector (Jamie Dornan). Gillian Anderson played Detective Superintendent Stella Gibson, the woman on a quest to find Paul and stop his killings. The Fall is a fascinating crime drama that explores the psyche of a serial killer and the woman trying to bring him down.
Many consider The Fall one of Dornan's best works, both for his performance and the show's dark and complex writing. The series is also one of Dornan's few TV series roles, so it allowed him to really flesh out Paul and his twisted mind. The Fall aired for three seasons and they're all available on Tubi and Amazon Prime.
Stream it on Tubi here.
Stream it on Amazon Prime here.
Purchase episodes on Amazon here.
Fifty Shades of Grey Franchise (2015, 2017, 2018)
Fifty Shades of Grey is a film based on E.L James' best-selling novel of the same name. It follows Anastasia Steele (Dakota Johnson), a college graduate who begins a sadomasochistic relationship with businessman Christian Grey (Jamie Dornan). The 2017 follow up film Fifty Shades Darker continues Ana and Christian's journey of figuring out their relationship and all the complications that come with it. Fifty Shades Freed is the final installment and wraps up things for Ana and Christian.
The Fifty Shades of Grey trilogy is what made Jamie Dornan a household name, so these are important films to watch if you're a diehard fan of him or the Fifty Shades of Grey movies. These controversial films explore the world of BDSM in a way mainstream culture hasn't before, making the Fifty Shades movies a much-debated topic. The Fifty Shades of Grey movies are all available to watch on Peacock.
Stream them on Peacock (1, 2, 3).
Rent them on Amazon (1, 2, 3).
Wild Mountain Thyme (2020)
Wild Mountain Thyme stars Jamie Dornan and Emily Blunt as Anthony Reilly and Rosemary Muldoon. She's set on winning Anthony's affections, but he's oblivious to her. Meanwhile, Anthony's farm is threatened when his father plans to sell it to his American cousin. The Wild Mountain Thyme cast also includes Jon Hamm and Christopher Walken.
Wild Mountain Thyme is a romantic drama set in Ireland and takes a bit of a fable quality with its whimsical nature and storylines. This film is one where you're going to want to talk about its wild ending. Wild Mountain Thyme is currently available to rent through Video On Demand services, like Amazon and VUDU.
Rent it on Amazon here.
Once Upon A Time (2011-2018)
Once Upon a Time is an ABC series that ran from 2011 to 2018. It's the reimagining of several fairy tales, especially those in Disney's collection. Once Upon a Time follows Emma Swan (Jennifer Morrison) as she moves to Storybrooke, Maine. The son she gave up for adoption, Henry (Jared S. Gilmore) informs Emma that she is the savior and must break a curse. Everyone in this town has forgotten their true identity. They were once fairytale characters like Snow White and Cinderella.
Jamie Dornan only briefly appeared in Once Upon a Time. He played Sheriff Graham, whose fairytale identity was the Huntsman. He was also Emma Swan's first love interest on the series, and she becomes the sheriff when he's no longer on Once Upon a Time. Disney+ has all seven seasons of Once Upon a Time available to stream.
Stream it on Disney+ here.
Purchase episodes on Amazon here.
Endings, Beginnings
Endings, Beginning stars Shailene Woodley as Daphne, a woman who just broke up with her long-term boyfriend. She also just quit her job. Daphne vows to take a break from drinking and men but finds herself in a love triangle between two friends Jack (Jamie Dornan) and Frank (Sebastian Stan). Endings, Beginnings has Daphne fall for both men for different reasons, which makes her choice quite difficult.
I think many straight women and gay men would dream of the day that they're in a love triangle with Jamie Dornan and Sebastian Stan. Yet, Endings, Beginning is a drama that digs deeper than just a sexy love triangle. It's a look at spiraling downward and needing to love yourself before really opening your heart to loving another person. Dornan once again is in a romantic drama, so he's right in his genre sweet spot. Endings, Beginnings is currently available to stream on HBO Max.
Stream it on HBO Max here.
Rent it on Amazon here.
Synchronic (2019)
Anthony Mackie and Jamie Dornan star in Synchronic, a science fiction horror movie. They play Steve and Dennis, two paramedics who work the late shift. After a series of strange deaths and cases, they find that all these cases are linked to a drug called Synchronic. Steve has recently been diagnosed with a brain tumor and he finds out that because of his tumor, Synchronic could help him find Dennis's teen daughter, who goes missing.
Synchronic is a time-traveling movie that strays away from many of the time-traveling movie formulas, giving it a fresh perspective and allows it to de-romanticize the idea of the past. Dornan isn't the main protagonist in the way Mackie is, but he's a critical part of the story. His bond with Mackie's character is one of Synchronic's main driving forces. It also gets its emotional weight because of Dennis's missing daughter and the toll that takes on his family. Synchronic is available to rent on VOD.
Rent it on Amazon here.
New Worlds (2014)
New Worlds is a four-episode historical miniseries that stars Jamie Dornan, Joe Dempsie, Alice Englert, Freya Mavor, Pip Carter, and Holli Dempsey. Set in America and England in the 1680s, New Worlds follows England during the rule of Charles II and the struggles endured by those with a quest for liberty. It's the sequel to the 2008 miniseries The Devil's Whore. New Worlds takes place 20-years after The Devil's Whore.
Jamie Dornan plays Abe Goffe, a renegade that falls for the daughter of an anti-monarchist Beth Fanshawe (Freya Mavor). If you're a fan of historical fiction, then New Worlds may fit your desires for some 1600s drama. New Worlds is available to stream on Acorn TV.
Stream it on Acorn TV here.
Purchase episodes on Amazon here.
My Dinner With Herve (2018)
My Dinner with Herve is based on the life of Hervé Villechaize, best known for his role as Tattoo on Fantasy Island. The film stars Peter Dinklage as Hervé Villechaize. The cast of My Dinner with Herve includes Jamie Dornan and Andy Garcia. Dornan plays Danny Tate, a journalist who interviews Hervé. It follows these two broken men as Hervé tells Tate more of his life story. The two bond in their self-destructive and damaged behavior.
My Dinner with Herve includes two really strong performances from Dornan and Dinklage. It's a fascinating snapshot of one moment and how it fits into the big picture of these men's lives. My Dinner with Herve is an HBO Original Movie, so available to stream on HBO Max.
Stream it on HBO Max here.
Purchase it on Amazon here.
Robin Hood (2018)
Robin Hood is the retelling of the prince of thieves story of Robin Hood. Taron Egerton plays the title character, Jamie Foxx plays Little John, Ben Mendelsohn plays the Sheriff of Nottingham, and Jamie Dornan plays Will Tillman (a new version of Will Scarlet), and Eve Hewson plays Maid Marian.
If you've ever thought, "they really need to do another Robin Hood movie and this time add a bunch of action, and also make sure the cast includes Egerton, Foxx, and Dornan," well your request is answered with this 2018 action-adventure flick. Robin Hood is available to stream for free on Peacock.
Stream it on Peacock here.
Rent it on Amazon here.
Anthropoid (2016)
Cillian Murphy and Jamie Dornan star in Anthropoid, a film about Operation Anthropoid. Operation Anthropoid was the code name for the World War II assassination of Nazi officer Reinhard Heydrich by Czechoslovak soldiers. Murphy and Dornan play Jozef Gabcík and Jan Kubis.
In Anthropoid, Dornan plays more of the naive character compared to Murphy's driven and determined character. They balance each other out because it helps paint the picture of two men who are doing something massive that could change the course of the war, but ultimately to do so, they risk nearly certain death. Anthropoid is available to stream on Starz.
Stream it on Starz here.
Rent it on Amazon here.
The Fall, Barb and Star Go to Vista Del Mar, and Fifty Shades of Grey are just a few of Jamie Dornan's films available to stream or rent: Trolls World Tour is available to stream on Peacock, The Siege of Jadotville is available to stream on Netflix, A Private War is available to stream on Amazon Prime, and Untogether is available on Tubi. Most of these movies are also available to rent on Amazon Video. You can next catch Jamie Dornan in the HBO Max series The Tourist and the Kenneth Branagh-directed film Belfast.
Your Daily Blend of Entertainment News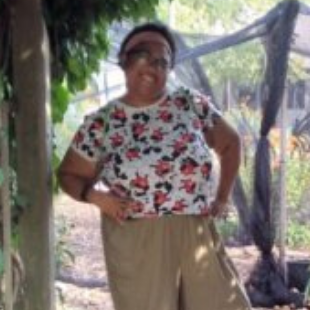 Spent most of my life in various parts of Illinois, including attending college in Evanston. I have been a life long lover of pop culture, especially television, turned that passion into writing about all things entertainment related. When I'm not writing about pop culture, I can be found channeling Gordon Ramsay by kicking people out the kitchen.