Ben Affleck Weighs In On The Theater Versus Streaming Debate In Conversation With David Fincher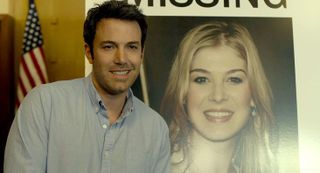 Over the last few years, streaming services have worked their way to the forefront of the entertainment industry. Giants such as Netflix, Amazon and Hulu have been releasing more and more high quality original content that has directly competed with big box studios. Hollywood leading man has Ben Affleck previously touched on the theater versus streaming debate, but months into the shutdown of many U.S. theaters, he's shared his thoughts on the situation.
In an interview with his Gone Girl collaborator David Fincher in 2021, Ben Affleck once again offered his two cents on theatrical versus streaming debate, pointing out that a film such as Fincher's recent Netflix collaboration Mank would have a tough time being made at a traditional studio. In his own words:
In the interview on Variety's "Directors on Directors" segment, Ben Affleck acknowledged that a niche film -- as David Fincher's Mank is -- may have not seen the light of day if not for Netflix or other subscription streaming services. Over the past few years, it's become apparent that streaming services have been willing to take on more risks with niche or mid-budget projects for the sake of drawing in viewers and subscribers. Even before the pandemic major studios were shifting to large scale tentpoles, leaving a gap for more idiosyncratic film fare that streaming services have happily filled.
Because of the pandemic and the current state of the theater industry studios have found themselves in interesting positions. The roll out of services such as Disney + and HBOMax have given studios a platform to share their own content, without being held to the formerly strict theatrical release windows. In December, Warner Bros. dropped the industry shattering news that it would premiere its entire 2021 film slate on HBOMax and theaters simultaneously.
That decision was not made lightly, as a number of Hollywood's elite spoke out against the decision, including Tenet's Christopher Nolan and Dune director Denis Villeneuve. Every day it seems as if the line between streaming services and traditional theatrical releases becomes increasingly blurred.
Disney rolled out its own strategy with last year's Mulan, which was available to stream on its release day from the homes of Disney + subscribers--so long as those subscribers were willing to pay an extra $30. While Disney was reportedly happy with the rollout for the release, the studio is still planning to release other upcoming films, including the highly-anticipated Black Widow, in theaters before moving to the studio's own platform.
Netflix on the other hand has continued doing what it has always done over the course of the pandemic, providing viewers with a steady stream of original content. The streamer has even managed to break into the awards circuit and was actually the most nominated studio at last year's Academy Awards ceremony.
It's looking like the debate between theaters and streaming services is becoming more apparent. The entire situation seems to be exacerbated by the ongoing pandemic and reduced access to theaters. That being said, there are a number of cities across the US that have recently opened up theaters for the first time since last March and we'll have to wait and see how the landscape looks in the coming months. Thought, I wouldn't be surprised if we saw this debate continue to be commented on as people are able to safely return to theaters.
Into tracksuits by Paulie Walnuts, the Criterion Channel and Robert Eggers.
Your Daily Blend of Entertainment News
Thank you for signing up to CinemaBlend. You will receive a verification email shortly.
There was a problem. Please refresh the page and try again.