Disney Is Still Planning For Black Widow To Hit Theaters, For Now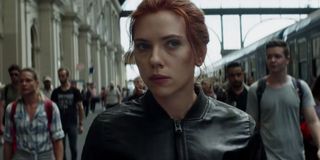 The COVID-19 Pandemic has overthrown the theatrical landscape as we know it. Since theaters first started shutting down last year, the domestic box-office has hit record lows. While the ongoing pandemic plays a big part in the decline, streaming giants such as HBO Max haven't made the going any easier. Despite Warner Bros' industry shattering announcement last December, Disney has assured viewers that when it comes its 2021 film slate, including the Marvel Cinematic Universe's Black Widow, the plan is still for them to hit theaters.
In a recent earnings call, Disney CEO Bob Chapek stood by that statement and confirmed that the studio is still intending to release Black Widow in theaters, for now. In his words:
The Disney executive reiterated the studio's plans to move forward with Black Widow's theatrical release, scheduled for May 7, 2021. The announcement, which took place during the company's Q1 earnings call, comes after the Disney Investor Day last December, in which a number of high profile projects were announced.
While it's nice to see that Disney hasn't gone all in on the HBO Max model yet, I wouldn't be surprised if things changed as we got closer to the release date. There are still a number of safety protocols and capacity limits in place for those who want to catch the latest flicks on the big screen.
Disney got in on its share of the streaming controversy with the decision to skip theaters for Mulan, charging Disney + subscribers a one time fee of $30 for early access. The House of Mouse seemed to be pleased with the film's performance despite not making it onto the big screen domestically. Despite the success, the company has not committed to the same strategy for its upcoming 2021 releases, with the exception of Raya and the Last Dragon, which will be made available both in theaters and on Premier Access on March 5.
Bob Chapek did mention that those involved will be closely monitoring the release of Black Widow, which will kick off the MCU's highly anticipated Phase 4 on the franchise's film side. The Natasha Romanoff-centered film will be the first Marvel movie released since 2019's Spider-Man: Far From Home. The superhero franchise is set to release four films this year, including Eternals, Shang-Chi And The Legend Of The Ten Rings and the yet-to-be-titled Spider-Man 3.
Expect more news on Black Widow as we approach the May release date. There is no telling where theaters, studios or even the country will be in relation to the coronavirus. Fortunately, it looks like Bob Chapek and company will be making the best (and hopefully safest) decision for this year's slate of Disney films.
Your Daily Blend of Entertainment News
Into tracksuits by Paulie Walnuts, the Criterion Channel and Robert Eggers.