How To Watch Each Ending From Unbreakable Kimmy Schmidt's Interactive Netflix Special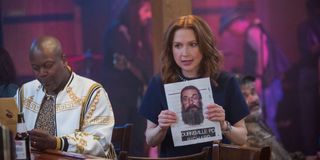 Over the past few years, Netflix has become a behemoth in the entertainment industry. But the streaming service originally launched with a limited catalogue of original shows, chief among them being Tina Fey's Unbreakable Kimmy Schmidt. While the series seemingly came to a close with Season 4, Kimmy and her friends returned to screens thanks to an interactive special on Netflix titled Unbreakable Kimmy Schmidt: Kimmy vs. the Reverend. And there are a ton of possible endings for the hilarious new special.
Following the success of Black Mirror: Bandersnatch, Netflix has put out another interactive movie in hopes of breaking the internet. Unbreakable Kimmy Schmidt: Kimmy vs. the Reverend follows up on the character years after the show's finale, as Ellie Kemper's title character prepared for her wedding. But when The Reverend is revealed to have another bunker, she gets involved in her own adventure. With plenty of endings along the way. Here's the full list of endings, and exactly what choices you have to do to see them for yourself.
The Makeout Ending
Unbreakable Kimmy Schmidt: Kimmy vs. the Reverend introduces the concept of making choices for Kimmy slowly throughout its runtime, with the first few choices being fairly low stakes. After picking out Kimmy's wedding dress, the first surprise ending happens once we're introduced to Daniel Radcliffe's Prince Frederick. While the protagonist has to plan her wedding, she's tempted to just make out with her fiancee instead. If you chose the make out option, the Kimmy Schmidt special will end with Titus complaining and faulting you for choosing that option.
The Donna Maria Ending
A little later in Unbreakable Kimmy Schmidt: Kimmy vs. the Reverend, Kimmy comes to the realization that The Reverend might have another bunker full of women. This information is understandably distressing, and you must decided which of Kimmy's fellow mole women she'll call to talk it out. The main story requires you to speak with Cyndee to move the story forward, but you can also choose have Kimmy call Gretchen or Donna Maria. If you pick the latter character, Donna Maria talks Kimmy out of investigating further, encouraging her move on free of The Reverend's influence. But that also means the main story is never fleshed out, so do over.
Taking Jacqueline Instead Of Titus
It soon becomes clear that Kimmy has to come face to face with The Reverend in order to find out if he was keeping another bunker full of captives. She has to travel and visit him in prison early in the runtime of Unbreakable Kimmy Schmidt: Kimmy vs. the Reverend, and must choose whether to bring Titus or Jacqueline with her. The first option moves the story forward, while picking Jane Krakowski's signature character will result in a bleak ending. Jacqueline has the bright idea of having her son Buckley fly them to the prison via private jet. Unfortunately he doesn't actually know how to fly, and they all crash to their death. Even poor Titus kicks the bucket during an accident at the gym.
Socializing With The Reverend
Once Kimmy and Titus finally arrive to speak with The Reverend, there's the potential for another ending for Unbreakable Kimmy Schmidt: Kimmy vs. the Reverend. One option is for Kimmy to either socialize with The Reverend, or "get down to beeswax". If you pick that lighter choice, Jon Hamm's character ends up dying unexpectedly. He tries to use his best Michael Jackson moves out, and cracks his head open on the visitor's booth in the prison. Another grim ending, and one that Titus scolds you for choosing.
Waiting For The Uber
This is yet another ending to Unbreakable Kimmy Schmidt: Kimmy vs. the Reverend that results in doom for our favorite characters. After visiting The Reverend, Kimmy and Titus continue their journey toward answers and hopefully saving the second group of Mole Women. They fly to West Virginia, and must decide whether to wait for an uber or start walking. If you allow Titus to maintain his signature laziness, the characters once again bite the dust. They are nothing but skeletons by the time their ride gets there, getting a one star rating in the process. Talk about adding insult to injury.
Free Bird
After taking to the road on foot, Kimmy and Titus eventually find a bar. Kimmy goes in to speak with the locals about any missing women, while Titus plan to connect with the locals through the power of song. He volunteers to sing Lynyrd Skynyrd "Free Bird", but there's the question of whether or not he actually knows the song. If you chose "he think he knows it" things quickly escalate in a negative way, and it seems like the locals and police unite to... shoot and kill Titus and Kimmy? It's another dark and wild ending, which also features a killer joke at the expense of Game of Thrones' final season..
The Reverend Wins
As Unbreakable Kimmy Schmidt: Kimmy vs. the Reverend's title suggests, the interactive special is ultimately a battle between the title character and her abuser. There are a few opportunities for The Reverend to make it out of the situation scot-free. One of which happens in the very beginning of the movie. Because if Kimmy plans her wedding instead of reading the book she found in her backpack, no one ever found out about the second bunker.
The second occasion of The Reverend getting away with it happens once Kimmy and Titus are left to care for a baby in a gas station. If you follow The Reverend instead of babysit, they'll fail to catch up with him. Instead the baby faces certain doom, and The Reverend escapes with his second batch of Mole Women and vows to go to Florida where "everything's legal."
Murdering The Reverend
Eventually Kimmy gets the upper hand on The Reverend, and has the chance for some sweet revenge. There are three different options for ways that Kimmy can murder her captor. If she blasts him with a bazooka Kimmy dies too, but is eventually cloned by Frederick. If Kimmy stomps him to death, she'll go crazy because she never finds the second group of women while Xan marries Frederick. And if Kimmy shoots the villain, she'll still fail to find the girls and never return home, resulting in Lillian marrying her fiancee instead.
If, like me, you decide to try out all three murder options from Kimmy Schmidt's new special, you're treated to a bonus sequence. There we see The Reverend partying in hell, which he assumes is actually heaven. Well played, Tina Fey.
The Almost Happy Ending
This ending for Unbreakable Kimmy Schmidt: Kimmy vs. the Reverend happens when Kimmy makes the right decision to spare The Reverend, but you might have made another bad decision earlier in the movie's runtime. When stalling for Titus on a film set, you must decide whether Jacqueline should blame the costume or script as an excuse for his refusing to film. If you go with the costumes, this sets off a chain of events which finds Jacqueline essentially bringing the Me Too and Time's Up movements to an end. It's some serious collateral damage, with Jacqueline personally telling you that you've made a mistake.
The Real Ending
The true happy ending for Unbreakable Kimmy Schmidt: Kimmy vs. the Reverend ends with the title character's wedding day. After saving the second group of Mole Women and deciding to spare The Reverend, we get to see Kimmy finally have her big day. Kimmy will rock whichever wedding dress you picked out in the very beginning of the special, with the full cast in attendance. Everything worked out in the end, although you might have killed off the characters a few times on the way.
Which ending for Unbreakable Kimmy Schmidt: Kimmy vs. the Reverend is your favorite? Sound off in the comments below. And be sure to check out our midseason premiere list to plan your next binge watch.
Your Daily Blend of Entertainment News
Corey was born and raised in New Jersey. Double majored in theater and literature during undergrad. After working in administrative theater for a year in New York, he started as the Weekend Editor at CinemaBlend. He's since been able to work himself up to reviews, phoners, and press junkets-- and is now able to appear on camera with some of his famous actors... just not as he would have predicted as a kid.
Your Daily Blend of Entertainment News
Thank you for signing up to CinemaBlend. You will receive a verification email shortly.
There was a problem. Please refresh the page and try again.