Harry Potter Producer Recalls 'Special' Early Scene On Set Filming With Daniel Radcliffe And Robbie Coltrane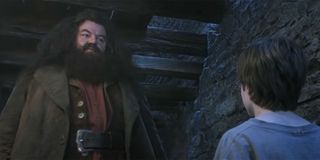 Any film franchise that ran as long as Harry Potter is bound to be a fount of amazing behind-the-scenes anecdotes. While oftentimes we hear the best stories from the cast, it's not uncommon for some of the higher ups to also weigh in from time to time. Now, one of Harry Potter's producers has revealed a "special" moment he has of Daniel Radcliffe and Robbie Coltrane from the film series' earliest days -- and it's easy to see why he remembers it so vividly.
David Heyman served as a producer on all eight Harry Potter films, which means he had a pivotal role in shaping the series and also bore witness to many of its most unforgettable moments, both on screen and off. In a new interview for Empire Magazine's 20th anniversary edition, he delves into his memories about making the iconic film franchise -- including what it was like on set for the very first day of Harry Potter and the Sorcerer's Stone:
Ouch -- kudos to Daniel Radcliffe for being able to remain professional in the midst of what sounds like a pretty uncomfortable situation. All together, it sounds like they were able to take what could have been a logistical nightmare and make it work for the movie. That was, of course, the first of many unforgettable moments for the Harry Potter cast and crew. In the years since the franchise has wrapped production, many of the actors who grew up on set have shared their fondest -- and sometimes not-so fond -- memories of their time together.
As we approach the 20-year anniversary of the premiere of Harry Potter and the Sorcerer's Stone, it seems like everyone involved is becoming even more nostalgic than usual. That's understandable, of course -- Tom Felton, who played Draco Malfoy, has made it clear he'd be more than willing to plan reunions for the cast. It will be interesting to see what those involved cook up to honor the milestone, and what other interesting stories they have to share with us in the coming months.
Your Daily Blend of Entertainment News
Thank you for signing up to CinemaBlend. You will receive a verification email shortly.
There was a problem. Please refresh the page and try again.