Eddie Murphy's Coming 2 America Reviews Are In, Here's What Critics Are Saying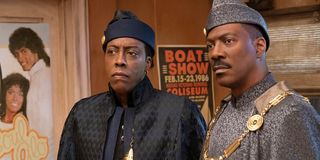 King Akeem and Semmi are back! The sequel to Coming to America, titled Coming 2 America, is being released on Amazon Prime this week, starring Eddie Murphy and Arsenio Hall and directed by Craig Brewer. In the movie, newly-crowned King Akeem (Murphy) and his trusted confidante Semmi (Hall) embark on an all-new adventure that has them traversing the globe from the great African nation of Zamunda back to the borough of Queens, New York upon the revelation that the monarch has a son he didn't know about.
Will Murphy and Hall play even more characters in Coming 2 America than in the first film? We'll have to wait and see when it debuts on Amazon Prime on Friday, March 5. But we don't have to wait to see what critics are saying, as they've begun sharing their thoughts on the sequel.
Our very own Sean O'Connell saw the film for CinemaBlend and rated it a two out of five stars. Sean does not consider the sequel nearly as good as the first film, which is an absolute classic. He thought the movie was "woefully unfunny," recycling all of its old jokes and watering its new ones down too much in order to stick to its PG-13 rating. Sean said:
Kristen Baldwin of Entertainment Weekly also noticed that the jokes in Coming 2 America were a bit similar to the original film. Though she had criticisms about a romantic subplot that feels too rushed, and that the third act is a bit "wobbly," she still insists that the end of the film will leave fans "giddy." Baldwin said:
Todd Gilchrist of What To Watch enjoyed the humor of the many characters Murphy and Hall brought to life 33 years ago (along with some new ones), but was disappointed with many aspects of the movie. For instance, Gilchrist argues that Coming 2 America undercuts the original film's progressive humor by introducing Akeem's three strong and intelligent daughters who could inherit the throne but then sidelines them by bringing in a male heir, Lavelle (played by Jermaine Fowler). Gilchrist continued, saying:
Vince Mancini of Uproxx actually enjoyed Coming 2 America quite a lot. He praised the beautiful costume design, and even argued that costume designer Ruth E. Carter should win another Oscar (her last win was for Black Panther). Though Mancini admits that he didn't laugh as much at the sequel as the original Coming To America, he still thinks that the sequel does justice to the original. He writes,
Frank Scheck of The Hollywood Reporter also praised the gorgeous costumes in his review, as well as the dance numbers and the fun cameos. But he argued that the celebrity cameos are unfortunately the most fun aspect of the film. He commented that Coming 2 America recycles too much from the original film, like its formulaic script and jokes. Scheck says,
Well, Coming 2 America sure does seem to be meeting its fair share of criticism, but we'll have to wait until March 5 when it hits Amazon Prime to see what audiences think.
In the meantime, you can see what other movies are premiering this month with our handy March 2021 movie guide.
Your Daily Blend of Entertainment News
Thank you for signing up to CinemaBlend. You will receive a verification email shortly.
There was a problem. Please refresh the page and try again.