Fantastic Beast 3's Katherine Waterston Talks Hanging Out With Newcomer Mads Mikkelsen... But Apparently Not On Set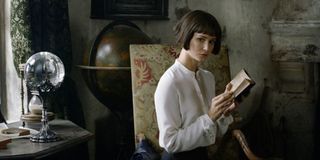 Sometimes the world has a way of putting people in the right place at the right time. Some chalk it up to coincidence, others to fate. Recently, Katherine Waterston revealed a funny story about running into Fantastic Beasts 3 co-star Mads Mikkelsen before he was even cast as Gellert Grindelwald.
Fantastic Beasts star Katherine Waterston shared that the pair had not only run into one another, they actually hung out together in Venice months before Mads Mikkelsen took over for Johnny Depp in the upcoming Fantastic Beast 3. When asked about working with Mikkelsen on the upcoming film, Waterston shared the story with Collider:
In the interview Katherine Waterston detailed the funny coincidence with Mikkelsen. Despite their prior meeting, Waterston said that she's never worked directly with Mikkelsen, as they don't share scenes in the upcoming Fantastic Beasts 3. While that may come as a disappointment to some, Katherine Waterston is optimistic that she will be able to work with the Danish-born actor in the future.
I don't think that optimism is unfounded, as the Fantastic Beasts series is set to run for a total of five films. It wouldn't be a surprise to see the pair share screen time at some point in the future. Mikkelsen took over as the series' titular villain Grindelwald after Johnny Depp stepped down from the role in the midst of his ongoing legal battles. Despite filming just one scene for the third entry of the Fantastic Beasts, Depp will reportedly take home his full salary.
Johnny Depp's departure was just one of a number of hurdles that Fantastic Beasts 3 has encountered during production. The COVID-19 pandemic has halted filming multiple times, with the most recent shutdown stemming from a positive test on set.
Since the recasting, it looks like production is once again back on track. The upcoming entry to the Wizarding World is scheduled for a July 15, 2022 release date and remains untitled, despite some of the cast being in the know.
I wouldn't be surprised if we saw that date shift, especially considering how flexible release dates have been for even the biggest blockbusters. Fingers crossed that Fantastic Beasts 3 has seen the last of its production delays as there are plenty of eager fans ready to once again visit J. K. Rowling's Wizarding World. As for the rest of the the Fantastic Beasts series, the updated cast is looking pretty stacked. Here's to hoping that director David Yates can keep the magic of the series alive for the entire five movie run.
Into tracksuits by Paulie Walnuts, the Criterion Channel and Robert Eggers.
Your Daily Blend of Entertainment News
Thank you for signing up to CinemaBlend. You will receive a verification email shortly.
There was a problem. Please refresh the page and try again.