What Samuel L. Jackson's Nick Fury TV Show Could Be About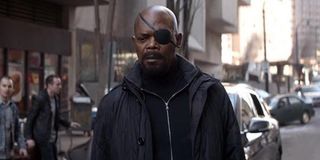 While MCU films like Black Widow and Eternals keep getting delayed, Marvel is expanding its universe over on Disney+. Currently, WandaVision, The Falcon and the Winter Soldier, Loki and more are headed to the streaming service. Joining the all-star line-up is Samuel L. Jackson, who will reportedly be reprising his role as Nick Fury for an upcoming TV series.
The last time we saw Nick Fury, he wasn't even on Earth. A post-credits scene from Spider-Man: Far From Home revealed that he'd been up in space the whole time. Meanwhile, a Skrull had masqueraded as him and Agent Maria Hill while working alongside Spider-Man. It was a wild plot twist that I didn't see coming.
Of course, there's no telling when Nick Fury's Disney+ show will be released or when the events of the series will occur in the timeline. As of right now, there isn't too much information about the plot, but there is plenty of time to speculate about it. And so, here are three things Fury's TV series might be about.
Nick Fury Will Establish S.W.O.R.D. Onscreen
S.W.O.R.D., an agency set up to monitor and observe extraterrestrial activity, has been rumored to be a part of the MCU and it seems likely that its agents will make their first appearance in WandaVision. With that in mind, it's possible that the Nick Fury TV show will actually follow the former S.H.I.E.L.D. director as he establishes the agency from scratch with the help of the Skrulls. Considering that we only got a tease of what he was up to in Spider-Man: Far From Home, a show about his space adventures with S.W.O.R.D. seems like a good plot to explore and the next logical step in his storyline, in my opinion.
The Nick Fury TV Show Will Be A Spy Thriller
In Marvel comics, Nick Fury spent some time as a spy for the CIA before moving on to lead S.H.I.E.L.D. I think it would be immensely entertaining if Disney+ went the route of a spy action thriller and sent Fury back into the field. Ever since he was first introduced in Iron Man, Fury has almost always been behind a desk or leading the superheroes from the sidelines. Here's a scenario: unfinished business from Fury's past forces him to go undercover in the present. I don't know about you, but Samuel L. Jackson back in the thick of the action would be satisfying.
Nick Fury's Disney+ Show Is A Prequel
Fans of the character got to see a bit of his early days during Captain Marvel. Set in the '90s, the film saw a younger version of Nick Fury (thanks to CGI) and it even detailed why he started wearing his eye patch. That said, it's always possible that his Disney+ show will be a prequel documenting the days before he joined up with S.H.I.E.L.D. or met the Avengers. There's a lot to mine here because there's very little we know about Fury's personal life and why he joined the agency to begin with. Knowing that the series will be focused on the character and that Samuel L. Jackson can be de-aged, I think it's the best opportunity to learn more about him and his background.
A premiere date has not been set for the Nick Fury TV show, but it will debut on Disney+. Stay tuned to CinemaBlend for updates. In the meantime, be sure to check out our 2020 fall TV premiere guide for more on what to watch.
Your Daily Blend of Entertainment News