Candyman: Everything You Need To Know About The Horror Franchise Ahead Of Nia DaCosta's Sequel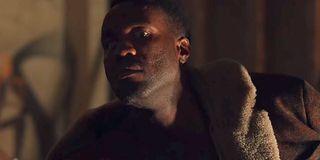 (Image credit: (Universal))
One of the most highly anticipated horror movies of the summer is Nia DaCosta's Candyman. The movie co-written and produced by Get Out's Jordan Peele will continue a story that began with Tony Todd's terrifying hook-hand and mouth full of bees in a modern take on the story that is grounded in real events and continues to be relevant today. After a round of delays, the spiritual sequel to the 1992 original is scheduled to be coming this summer.
To get ready for what's in store for the horror movie, let's talk about Candyman's origins and notable plot lines and discuss how the 2021 movie could forward the franchise. Get out of sight from any nearby bathroom mirrors, and get ready to get into everything you need to know about the upcoming Candyman movie:
The Candyman Legend Based On The Movies
In the Candyman movie, the "Candyman" is a man named Daniel Robitaille, the son of a former slave. In 1890, Daniel is an established painter who gets commissioned to paint a portrait of a wealthy white woman named Caroline Sullivan, who he falls in love with on the job. Through their forbidden affair, Caroline gets pregnant, and in her father's anger, he gathers a lynch mob, who cuts off Daniel's right hand and smears honey all over his body. He was stung to death and as the film's urban legend goes, if you recite "Candyman" in the mirror five times, the ghost of Daniel will appear behind you and kill you with his bloody hook hand. He also torments those who question his existence. He is immortal, but there is a mirror that apparently holds his soul and if it is destroyed he will cease to exist.
Candyman's legend is partly inspired from a 1985 short story called "The Forbidden," by Clive Barker. Except in "The Forbidden," the Candyman is a white man who wears a patchwork outfit and haunts the slums of England, rather than Chicago's Cabrini-Green housing projects. The story could also be inspired in part by the Bloody Mary folklore, which similarly conjures a deadly figure after repeating a name in a mirror.
How The Candyman Legend Is Rooted In Reality
What's even more spine-chilling than its folklore, is the real events that actually inspired Candyman. First of all, the violent origin story of Daniel Robitaille does derive from America's troubling history of lynching black men in order to "protect" white women. Interracial relationships were widely demonized from the early days of the American colonies up until 1958 when the landmark Loving v. Virginia Supreme Court case struck down the ban.
The Candyman films are centered around a real public housing project in Chicago that has a violent history. Back in 1987, a 52-year-old woman named Ruthie Mae McCoy, who was living in a Chicago Housing Authority project, was murdered by a man who came through her bathroom mirror medicine cabinet and shot her four times. The layouts of many of the apartments were oddly designed with routes through medicine cabinets, and other reports of people breaking in through mirrors were additionally reported. A recent viral TikTok showed a young New Yorker had access to an empty apartment through her bathroom mirror as well.
What We Know About Helen Lyle's Origin Story
The original film follows a Chicago grad student named Helen Lyle (played by Virginia Madsen), who is researching urban legends and comes across Candyman's. She comes across the housing project and the terrifying legend himself. During the first film, she investigates the death of a woman and a boy who are killed by Candyman, and ends up his crossfires. Her curiosity leads to her death, also amidst a betrayal from her husband, who has been cheating on her. She is burned alive, but becomes immortal like Candyman. At the end of the movie, her husband cries out to his fallen wife, saying "oh, Helen" and her spirit appears and he is slain by her.
The character of Helen Lyle kind of represents the fear surrounding housing projects, and the class divide between the wealthy white class and the world of impoverished black communities. Helen spends the entirety of the movie seeking to understand and empathize with the Candyman legend, and as the movie argues, in order to come the closest to that is to die for it and wallow in the Candyman's haunted fate. Helen's own immortal vengeance can never be as poignant as the pain of Daniel Robitaille's origins, but at the time of the film's release it was seen as a powerful ending.
How The Present Day Informs Nia DaCosta's Candyman
And that brings us to the upcoming Candyman movie. The film will take place in the same Chicago neighborhood from the original, but in the present day, in which Cabrini Green projects have been torn down, been gentrified and inhabited by latte-drinking millennials. The new movie will follow Yahya Abdul-Mateen II and WandaVision's Teyonah Parris as an artist couple who has just moved to a spacious apartment in Cabrini. Abdul-Mateen's character will become exposed to the Candyman legend and unknowingly goes down the rabbit hole straight down to the Candyman.
What's interesting about the spiritual sequel is how its new main character will share a love of visual art like the Candyman, along with carrying the weight of being a Black man, though in another generation from Candyman. The original Candyman Tony Todd is set to reprise his role, and it is rumored that Yahya Abdul-Mateen II will become the Candyman somehow. Helen Lyle's origins will also play a definite role in the upcoming horror film.
Candyman certainly has a rich and relevant history that will undoubtedly be important to know going into Nia DaCosta's take on the horror property. After a number of delays, the movie is expected to come out this August 27 in theaters. It's unclear whether the film will spawn more sequels, but the movie could perhaps usher in a new generation to the storyline and continue. Check out everything else coming out this summer with CinemaBlend's 2021 movie schedule.
YA genre tribute. Horror May Queen. Word webslinger. All her writing should be read in Sarah Connor's Terminator 2 voice over.
Your Daily Blend of Entertainment News
Thank you for signing up to CinemaBlend. You will receive a verification email shortly.
There was a problem. Please refresh the page and try again.