Why The Prince Of Egypt Remains One Of The Best Dreamworks Movies To Date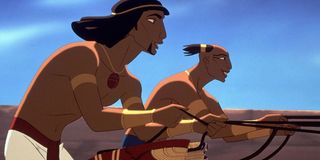 CinemaBlend participates in affiliate programs with various companies. We may earn a commission when you click on or make purchases via links.
I am not a religious person.
I grew up in a very religious household, going to church every Sunday, even attending a Catholic elementary and high school for eight years (and went to Sunday School for the four years I didn't). I believe in God, and go to church on Christmas and Easter and occasionally throughout the year, but I never felt a super-strong connection to my religion.
This is why it always astounds me how a simple animated movie like The Prince of Egypt from Dreamworks still always manages to make me cry – and after watching it, I feel more connected to my faith than I have in a long time. But it's not just the religious aspects that get me – it's the animation, the cast (featuring a strong lineup of stars like Val Kilmer, Michelle Pfeiffer, Sandra Bullock, and more), the music and so much else that makes this movie fantastic.
And to me, The Prince of Egypt will always be one of Dreamworks' best. And it deserves much more praise.
The 2D Animation Is Visually Stunning In The Prince Of Egypt
To this day, my jaw still drops at the beauty of the animation in The Prince of Egypt. Keep in mind that this is a 2D animated movie, and this film came out in 1998, the same year as big hits like Mulan and A Bug's Life. And while those two movies (and other films) respectfully have their color gradient and masterful impacts of beauty, there's nothing quite like The Prince of Egypt.
I mean, when I watch this film, I feel like I am transported to ancient Egypt. I feel like I am right there with Moses and his brother, racing alongside them in horse-drawn carriages. I feel like I am crossing the Red Sea with his people. And come on – that moment where he splits the water alone deserves all the awards. We even get to see a megalodon pass by in the water as they walk. Now that is attention to detail.
In The Prince Of Egypt, The Relationships Between Characters Are Rich And Full Of Life
I always loved that no relationship in The Prince of Egypt felt forced. Everything, from the building of friendships and loves to the diminishment of brotherhood, felt organic and passed correctly. I truly believed the relationship between Moses and Tzipporah, and how their love didn't just blossom out of nowhere. It took time, trust, and a lot of sheepherding (through song montage of course).
I loved the ending of the pairing between Moses and Rameses as well. You can tell that they clearly love each other so much at the beginning of The Prince of Egypt, but that is soon cut off by Moses calling to save his people, and Rameses just doesn't understand how he could abandon his adoptive family for the Hebrews just like that. It's heartbreaking and raw, but it's real and painful at the same time. It's the perfect amount of emotion both of them needed to progress the plot.
The Voice Cast Is Full Of Stars In The Prince Of Egypt
Let's take a moment to talk about this all-star casting right here. Val Kilmer takes the lead as Moses. Kilmer has taken roles in movies like Top Gun and portraying the caped crusader himself, Batman. We have Ralph Fiennes -- the man who's behind the iconic-ness of Voldemort from the Harry Potter series -- as Rameses.
Playing Tzipporah is Michelle Pfeiffer, who's been in the Marvel Cinematic Universe and played the famous antihero, Catwoman in one of the Batman movies. Sandra Bullock and Jeff Goldblum play Miriam and Aaron, Moses' true siblings respectively, and both of them have amazing roles in films like The Blind Side and Jurassic Park respectively – truly, the list of talent goes on and on. And somehow, each voice fits the character so well.
The Soundtrack Is Absolutely Amazing
The songs in The Prince of Egypt are absolute bangers. This is ironic because when you think of a religious story, you never think of the music that could come with it. But, with The Prince of Egypt being a musical, they make sure you remember every single meaningful event in this film with an awesome song as well.
For example, we have the haunting "Deliver Us" to start out this masterpiece, with a beautiful melody and heartbreaking lyrics of the origins of Moses' story. We have "Through Heaven's Eyes," a wonderful song that is filled with metaphors about our place in life. We have the orchestral piece "The Plagues," which displays wonderful animation alongside its powerful sound and dark message. And then of course, there's "When You Believe," which earned The Prince of Egypt an Oscar for Best Original Song.
Every song in here slaps. You never thought you'd be bopping your head along to religious music but here we are.
It's An Actual Good Media Representation Of A Bible Story
Okay -- takes a deep breath -- I despised Christian/Catholic media growing up.
And I know I'm not alone in this, but in my experience there is such limited good religious stories that are told in the media that really educate you while also entertaining you. It's usually just really bad cartoons with horrible animation or a really old broadcasts from some old TV show.
But with The Prince of Egypt, you don't get that same feeling of dread. The story of Moses is important in so many religions that it reaches so many hearts. It not only is a beautifully animated movie with wonderful songs, but the story actually educates you.
Even though I already knew the story of Moses before I watched this for the first time, I still felt captivated by it in a way I can't quite explain. It's the only piece of real religious media I find myself watching over and over, and I'm sure that you will too, regardless if you grew up religious or not.
It Has Messages That Are Still Relevant To This Day
There can be miracles when you believe.
That is just one of the many overarching messages that this film has for you to intake. I've personally taken that message into my everyday life now when I'm feeling down on myself, and remind myself that even in the darkest of times, sometimes I only need to believe in myself to make it through the day. Sometimes we just need those heartwarming messages that films have to get us through the hard times.
But that's not the only theme that beats constantly within your head as The Prince of Egypt goes on. The theme of finding your true family, learning your purpose, exploring your meaning in this world – every single bit of it is covered in this film, but it's so much more than that. While this movie is supposed to be for kids, adults can feel just as much of a connection to it as well.
Alright, I need to stop myself before I continue to go on and on about this film and run my mouth. To make a long story short, The Prince of Egypt is a cinematic masterpiece and continues to be one of Dreamworks' best to this day. The story isn't just for children – it has almost much more power as a re-watching when you're all grown up, and you really get to understand the meaning of it.
Truly, the story of Moses is powerful, but this film explores it to deeper depths, creating a fulfilling movie-goer experience. If I could, I would re-watch this film for the first time over and over again. It's truly one of a kind. No matter what movies in 2021 come out, I don't think anything could truly beat this - at least from Dreamworks. But who knows what the future might bring?
Stream The Prince of Egypt on Peacock (opens in new tab).
Big nerd and lover of Game of Thrones/A Song of Ice and Fire. Will forever hate season eight. Superhero and horror geek. And please don't debate me on The Last of Us 2, it was amazing!
Your Daily Blend of Entertainment News
Thank you for signing up to CinemaBlend. You will receive a verification email shortly.
There was a problem. Please refresh the page and try again.