Sam Heughan Would Make An Excellent James Bond After What We Saw In SAS Red Notice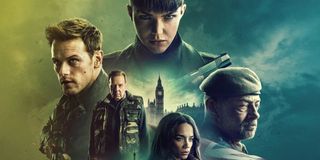 There has been a lot of talk surrounding Outlander star and James Bond hopeful Sam Heughan's latest film, SAS: Red Notice. So much so that it kind of makes it hard not to want to see the man himself make his way through an action-packed counter-terrorism thriller, based on the novel of the same name by author Andy McNab. While the movie definitely does draw more comparisons to John McClane's exploits in Die Hard, there's quite a bit of evidence to support that after what we saw in director Magnus Martens' film, Sam Heughan would make an excellent James Bond.
Let's get into a quick rundown of what SAS: Red Notice has to offer the audience before we really dig into what makes Sam Heughan a prime candidate to become the next Bond. Heughan plays Tom Buckingham, an SAS agent who helps protect England against its greatest domestic threats. In his debut adventure, Buckingham has to save a train full of hostages with only his wits and whatever arms he can grab from the members of a group of military contractors known as "The Black Swans."
That's obviously a top-level description of the film, which co-stars a hell of a talent roster that includes Ruby Rose, Hannah John Kamen, Noel Clarke, Tom Hopper and Andy Serkis. And at the center of it all is Sam Heughan's wealthy elite operative, who's taking the fight to those who oppose him and hold his girlfriend, Dr. Sophie Hart (Kamen), hostage. So right there, Heughan's performance as Tom Buckingham shows us our first indications of being able to play a modern James Bond.
Action-wise, Sam Heughan is a hell of a competitor in SAS: Red Notice. The film shows us both tense and precise operations in the name of capturing enemy combatants, and the actor looks extremely comfortable with heavy weaponry. Heughan also shows the command that any agent of the crown should possess, being able to take point and assess a situation on the fly. You really believe this man could clear a room of the opposition and rebound into a quick moment of humorous patter with his teammates. That covers both the serious and the slyly funny air that Daniel Craig has put into the world through his tenure as James Bond.
But along with the steely-eyed focus and killer skills that Tom Buckingham allows Sam Heughan to show off in SAS: Red Notice, there's also an emotional component that lets him display that vulnerability that we've seen Craig's 007 inhabit in the modern era of James Bond. A running subplot throughout the film sees Tom ready to propose to Sophie during a whirlwind trip to Paris. There's even a thread of doubt that this pairing will end successfully, as the threats against both Tom and Sophie mount with each passing moment, and our SAS hero has to think if his ability to compartmentalize his dangerous and deadly job so easily could ever allow him to truly love someone.
Something that SAS: Red Notice lets Sam Heughan, and its story of political intrigue, really dig into is the consequences of killing. Tom Buckingham, while being able to defend against and dispatch foes on the battlefield, does really take the time to think about what he's doing and who he really is. Those factors have only really come into play in the James Bond franchise's most recent arc, which means that if EON Productions producers Michael G. Wilson and Barbara Broccoli want to continue the tone of the Craig era, they have a fantastic contender with Sam Heughan in the mix.
With Sam Heughan showing off a bunch of action chops, as well as an acting range perfect to embody the modern 007, there's no question that his name has been in the running for so long with very good reason. As Outlander made for a fantastic launching pad for Heughan's rugged charm, swordsmanship and dreamy romantic side, SAS: Red Notice enhances all of those factors with a more James Bond friendly framing. Though should those super spy ambitions not pay off, there's always a market for the Tom Buckingham franchise to continue, as this film has also proven that if Heughan wants to pursue this character's cinematic fate, it would be a totally welcome prospect.
You might be a bit curious as to how SAS: Red Notice plays as a film, Bond comparisons and all. Well, perhaps the best part about the movie, besides all of the adrenaline fueled Sam Heughan action, is that it's pretty easy to get your hands on. You can rent the film through Redbox, both in physical and Video on Demand options; and if you like the film enough, you can even purchase it on Digital HD.
CinemaBlend's James Bond (expert). Also versed in Large Scale Aggressors, time travel, and Guillermo del Toro. He fights for The User.