Chris Hemsworth's Wife Elsa Pataky Reveals Why They Left Hollywood To Move To Byron Bay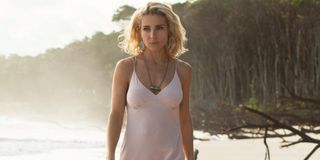 When you picture the lives of famous actors and Hollywood stars, the go-to image is the hustle and bustle of LA, dodging paparazzi and wearing heels to visit the corner store for a last minute bottle of Cristal. You'd think the same for Chris Hemsworth, seeing as he's been at the forefront of Hollywood for some time, thanks to his huge presence in the Marvel Cinematic Universe and other big productions like action-thriller Extraction. However, you'd actually be way off base if this is what you're thinking. Hemsworth and his wife, Elsa Pataky, actually left their life in Hollywood back in 2014 in favor of living in Byron Bay, Australia, and Pataky has now revealed why they made the move and aren't looking back.
Chris Hemsworth may be the big Hollywood name in the family at the moment, but Elsa Pataky has her own impressive list of film credentials with a recurrent role in the Fast and Furious franchise and looks to be taking bigger steps into the film industry than she recently has since having and raising the couple's three children. In an interview with The Sydney Morning Herald, she touched on why she and husband Chris Hemsworth moved their family to the land of Australia. Here it is in the actress' own words:
It honestly makes a ton of sense, some celebrities do choose to raise their children in Hollywood but, if Elsa Pataky is anything like her husband, a more relaxed vibe would seem like a better fit for raising a family. It also appears that Hollywood's high standards and watchful eyes are less flavorful for the family, as Pataky seems to enjoy the fact that she is able to "dress down" more often in Byron Bay than she can in LA.
Elsa Pataky is Spanish and hails from Spain, which you would think gives her the same chill personality as Chris Hemsworth, who is Australian. The couple may have chosen to relocate to Hemsworth's country of origin, but they could probably fit right into the Spanish way of life as well.
You can catch Elsa Pataky in a couple of upcoming projects, including Interceptor, which sees her in the heroic lead role, and the film is even executive produced by Chris Hemsworth. I'd say we should be jealous of Pataky for both her talent and marriage to one of the hunkiest men in the film industry right now, but I'm honestly jealous of the couple's three kids. A life hanging with nature and animals in Byron Bay and the children of now two superheroes? I don't know how a childhood could get any better.
Constantly thinking about books, coffee, and the existential dread I feel from Bo Burnham's Inside. While writing I'm also raising a chaotic toddler, who may or may not have picked up personality traits from watching one too many episodes of Trailer Park Boys.
Your Daily Blend of Entertainment News
Thank you for signing up to CinemaBlend. You will receive a verification email shortly.
There was a problem. Please refresh the page and try again.