Gal Gadot Is Pregnant, And The Wonder Woman Star Celebrated With A Sweet Photo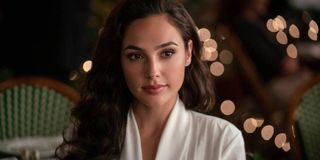 Following Gal Gadot's success at the box office and HBO Max with Patty Jenkins' Wonder Woman 1984, it looks like she's due for a different kind of congratulations. The face of Wonder Woman is taking off her tight Golden Eagle armor in favor of something a little more fitting for two, as she is pregnant. Gadot recently celebrated the not-yet-arrived addition with a sweet photo.
Gal Gadot is a superhero in real life too, at least in the way that all moms are. The Justice League actress has two children already, both girls, with her husband Jaron Varsano. Gadot recently took to her Twitter to announce the incoming of her third child by posting a loving picture of Varsano and their two children each placing a hand on Gadot's tummy. Her caption reads "here we go again", and we may even be able to see that start of a baby bump. Check out the growing family:
While the picture just may be the cutest thing I've seen all day, I can't help but be jealous of the genes that baby is getting. It's just not fair, why can't my parents be totally gorgeous superstars? It's a leg up in life, for sure.
If you thought you recognized some of the faces in the picture (other than Gal Gadot of course), you aren't going crazy. Gadot's husband is a producer in his own right, and now an actor, as you may have caught a glimpse of him in Wonder Woman 1984 in a scene by a carousel. In fact, the couple's two daughters were thrown into the mix too, as they can all be seen within a couple minutes of each other in their cameos.
Fans may be wondering what the future will hold for Wonder Woman with this new baby on the way. Even though Wonder Woman can technically have children, and has been pregnant before, we doubt that's where the third installment of the film series is going.
Not to worry though, because Gal Gadot is no stranger to filming while pregnant. In fact, she was up to 5 months pregnant when filming the first Wonder Woman. So I guess that means her youngest girl was quite the star in that film, too.
Every pregnancy is different though, and it's possible Wonder Woman's tight fitting bodiced armor just won't accommodate a pregnancy very long this time around, or if Gal Gadot will feel up to it if she has a rough pregnancy. She has a good amount of projects in the works, so it will be interesting to see how she can work filming around growing new life. It's a tall order for Gadot, but like I said, she's pretty much a superhero.
Constantly thinking about books, coffee, and the existential dread I feel from Bo Burnham's Inside. While writing I'm also raising a chaotic toddler, who may or may not have picked up personality traits from watching one too many episodes of Trailer Park Boys.
Your Daily Blend of Entertainment News
Thank you for signing up to CinemaBlend. You will receive a verification email shortly.
There was a problem. Please refresh the page and try again.