Why Black Widow's Scarlett Johansson Still Hasn't Gotten Back To Work Yet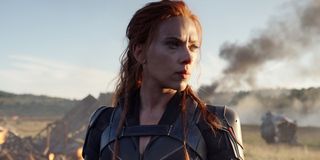 Hollywood has been in an interesting position over the past year, thanks mostly to the effects of the ongoing COVID-19 pandemic. This period of time saw a number of productions shut down and eventually get delayed as a result. Needless to say, this entire ordeal threw a wrench into the plans of actors, directors and crew members across the world. Black Widow's Scarlett Johansson is one of the many who felt the impact of the pandemic and, even though things are currently picking up, it turns out she still hasn't gotten back to work yet.
For years, Scarlett Johansson has been one of the busiest stars in the industry, having starred in comedies, dramas and superhero flicks. So it's kind of surprising to hear that the Oscar-nominated actress is taking things easy at the moment. However, her reason for doing so is understandable:
As Scarlett Johansson explained to The Gentlewoman, she doesn't yet feel comfortable working in the era of COVID. Film sets do look different now, given pandemic protocols now require masks, face shields, social distancing and regular testing. And while studios do their best to make sure all employees are safe, there's still a chance someone could contract the COVID and shut down production.
It probably can't be easy for Scarlett Johansson to just sit at home, but it does sound like she's willing to wait, especially since she's not in desperate need of a job. Despite not having worked during the pandemic, the 36-year-old actress has still been busy. Last fall, she tied the knot with Saturday Night Live's Colin Jost, who has been back at work in 30 Rockefeller Plaza since the season began last October.
Though Scarlett Johansson isn't wanting when it comes to work, she is still waiting for the release of Black Widow, her fan-favorite character's long-awaited solo film. The movie is one of the high-profile 2020 films that's moved from date to date since the onset of the pandemic. But now, we know for sure that the film will be arriving this summer - on both the big and small screens.
Many of us are more than ready for things to go back to some form of normalcy, and the same is surely true for Hollywood's biggest stars. But if things continue to improve, Scarlett Johansson and many others will hopefully be back to working the environments they're accustomed to.
Marvel Studios' Black Widow will arrive in theaters and on Disney+ (with Premier Access) on July 9.
Covering superheroes, sci-fi, comedy, and almost anything else in film and TV. I eat more pizza than the Teenage Mutant Ninja Turtles.
Your Daily Blend of Entertainment News
Thank you for signing up to CinemaBlend. You will receive a verification email shortly.
There was a problem. Please refresh the page and try again.