Netflix's Havoc: 6 Reasons I'm Excited For The Tom Hardy Crime Drama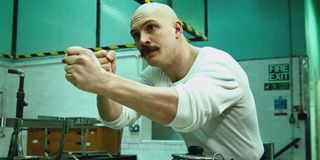 Gareth Evans, the Welsh filmmaker and action choreographer best known for creating The Raid movies (aka, two of the most badass action movies of the 21st Century), and Tom Hardy (who is also no stranger to the action genre) are getting together for what sounds like a badass project, and excited isn't strong enough of a word to describe how I am feeling right now. Havoc on Netflix will see two of the best at what they do team up for the first time, to tell the story of a detective who finds himself in the wrong place at the wrong time when a drug deal goes south.
There is a seemingly endless list of reasons why I'm so giddy about this movie right now, a movie that I know next to nothing about save for its basic premise. Everything from the cast, which includes Forest Whitaker in addition to Tom Hardy, Gareth Evans' track record, and what this could mean for the director and Netflix's relationship moving forward, have me stoked to see how this plays out for all involved parties.
Havoc Has A Simple, Yet Effective Premise That Has Served Gareth Evans Well In The Past
When reporting on the announcement of Havoc, and Gareth Evans' overall deal with Netflix, Deadline described the film as a story that centers on a bruised detective who must fight his way through the criminal underworld to rescue a politician's estranged son while also trying to get to the bottom of a conspiracy and survive a drug deal gone wrong.
On the surface, this sounds like a very cut-and-dry plot with elements we've seen before: physically (and presumably emotionally) beaten down detective must survive the night, save someone, and stop the bad guys from putting a mysterious plan into motion. But, don't forget, this is coming from the same guy who took a story about cops swarming an apartment building to take down a drug lord and pretty much changed the way we see action movies with The Raid.
Gareth Evans Is One Of The Best When It Comes Planning Action, And Havoc Won't Be The Exception
There is no doubting it, Gareth Evans is one of the best at what he does, in fight choreography as well as filmmaking. The Welsh director, in addition to writing and directing The Raid, The Raid 2, and Apostle, also either worked as a fight choreographer or action designer, planning out every single detail of all those fights and bits of torturous gore, as was the case of his 2018 Netflix horror thriller.
In 2017, Evans sat down with Vulture to go over some of those action sequences, including the brutal and heartbreaking fight between Jaka (Mortal Kombat's Joe Taslim) and Mad Dog (Yayan Ruhian), which involved dozens of takes to get it perfect. And he did. That fight, and so many others like it, were built from the ground up by Evans (who fell in love with the silat martial arts style while filming a documentary) and his team of experts, creating the most visceral yet realistic fights in recent memory. Add the physicality of Tom Hardy and Havoc could be insane.
There Are Few Actors Better Suited For This Role Than Tom Hardy
When it was revealed that Tom Hardy had signed on to lead Havoc, I struggled to think of anyone who was better suited for that role than the Mad Max: Fury Road and The Dark Knight Rises star. Seriously, Hardy has everything you would want from an actor hired to take on the role of a bruised cop trying to survive what's pretty much an unwinnable fight. He has the physicality needed for this type of role (as seen in the underrated MMA movie Warrior), the charisma (Inception), and that wild card factor (go watch Bronson and get back to me), and I'm not the only one who thinks this.
Shortly after the big February 2021 announcement, Gareth Evans took to Instagram (you should follow him if you're looking for all things soccer, classic movies, and random thoughts) to post a screenshot of the aforementioned Deadline article with the caption: "Hardy. Heroic. Bloodshed. Havoc." Upon seeing that, I was somehow even more excited to see Tom Hardy knock a few dudes around like he's Bane taking over Gotham City all over again.
Havoc Will Also Feature Forest Whitaker, Who Has Been On An Absolute Roll Lately
In March 2021, Variety reported on the casting of Forest Whitaker to star alongside Tom Hardy in Havoc. And while Whitaker's character or what kind of role he'll play has yet to be revealed, this is something I can get behind. Whitaker, who won every award under the sun for The Last King of Scotland in 2006, has been on one hell of a run in recent years with a few of the best performances of his career.
Let's start with Rogue One, in which he played Saw Gerrera, the paranoid and unhinged extremist rebel leader who didn't take well to strangers. The combination of Forest Whitaker's size and demeanor make for an imposing force that you both fear and sympathize with even if you don't agree to his methods. Then came Black Panther, which saw Whitaker play the conflicted Zuri, the Wakandan leader whose past transgressions come back in a big way, setting the stage for the movie's biggest reveals.
In both of those roles, and dozens of others, Forest Whitaker possesses a command of the screen (and our attention) better than just about everyone, and it's hard to not feel for him, no matter what side you're on.
This Is Just The Beginning For Gareth Evans And Netflix
As great as Havoc sounds, this is just the beginning for the partnership shared by Gareth Evans and Netflix, as both sides agreed to a multi-year deal that will have him developing titles for the streaming giant for quite some time. None of the other projects have been revealed or even teased at this point (I know it won't happen but what if Evans' Deathstroke movie somehow finds a way to fall into Netflix's hands), but this is a deal that could lead to some pretty remarkable things.
And, it should be noted that Havoc will technically be Gareth Evans' second Netflix movie, as the streamer released his horror thriller Apostle. Maybe this deal leads to more from that world or maybe we see Gangs of London, Evans' gritty UK crime drama, end up on Netflix at some point. We can only hope.
Maybe This Means The Raid Movies Finally Become Available On Netflix
I know, I know, we'll probably never see The Raid 3 at this point, but I would at least settle for the first two movies in the franchise, as well as Gareth Evans' 2009 martial arts film Merantau, finding their way to Netflix as part of his new deal with the streamer. I doubt Evans has any say in these types of decisions, but by putting those movies on Netflix, it would further drive up more interest for Havoc and whatever may come next from Evans.
Those are just a few of the reason I am excited for Havoc and whatever else may come from Gareth Evans' deal with Netflix. We are still in the early stages of the film's development and there are a lot of things we don't know, so I'm sure it's only going to get crazier from here. While that is still a far way off, there are a ton of 2021 movies to get excited about in the meantime.
Your Daily Blend of Entertainment News
Philip grew up in Louisiana (not New Orleans) before moving to St. Louis after graduating from Louisiana State University-Shreveport. When he's not writing about movies or television, Philip can be found being chased by his three kids, telling his dogs to stop yelling at the mailman, or yelling about professional wrestling to his wife. If the stars properly align, he will talk about For Love Of The Game being the best baseball movie of all time.
Your Daily Blend of Entertainment News
Thank you for signing up to CinemaBlend. You will receive a verification email shortly.
There was a problem. Please refresh the page and try again.