Channing Tatum Is Getting Back On The Horse (Literally) To Do Another Rom-Com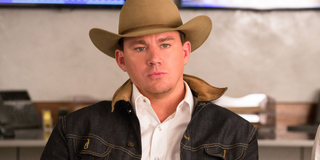 Romance fans have a lot to look forward to in the next couple of years, and it would seem that Channing Tatum has now jumped into the mix of upcoming romance projects with a brand new romantic comedy. The Step Up star pretty much started out in the rom-com genre, and unlike his Magic Mike co-star Matthew McConaughey who "doesn't do" these sorts of films anymore, he'll be dipping his toes back into the genre in the upcoming film Lost City of D alongside Sandra Bullock and Daniel Radcliffe (who has an eclectic resume himself). It appears that Tatum is not only getting back on the rom-com horse, but is quite literally back in the saddle for the film.
In a recent Instagram post, Channing Tatum can be seen riding a horse in preparation for the upcoming Lost City of D. The post is actually a pretty lengthy video of Tatum practicing with a horse and getting the feel of riding again, as in his caption Tatum says it's been quite a while since he engaged in any equine activity You can check out the post from Tatum's Instagram containing the two-minute gift from God below:
Channing Tatum captions the video "I've always loved a pony," but then goes on to say he hasn't ridden in a long time. Riding a horse must be like riding a bike, because Tatum looks very at home on his steed. I mean, he doesn't fall off, which is way better than I could do, and Tatum actually looks to be very in control of the horse's many speeds and at one point even appears to put his ride in reverse.
While Channing Tatum may just be trying to innocently practice for an upcoming role, his female fans are losing their minds over the video. Commenters are practically swooning over Tatum - who knew that a handsome man riding a horse could be so sexy? Even if Tatum didn't post the video specifically to highlight his hotness, he was named People's Sexiest Man Alive back in 2012, so it's safe to say he could expect at least a little bit of ogling in the comments.
The most seemingly common comment asks if things could get any better now that Channing Tatum's horse riding video exists. One commenter hilariously asks how the video ever got uploaded without Genuwine's "Pony" playing in the background. Amongst all of the fans drooling over Tatum you occasionally come across a fan commenting on the upcoming Lost City of D, which brings us out of the trance Tatum has put us in.
Horse riding aside, Lost City of D looks pretty promising. Channing Tatum is playing alongside Sandra Bullock and Daniel Radcliffe --both big names -- in what appears to be an adventurous romantic comedy set in the jungle. Tatum is actually taking on the role originally thought to belong to Ryan Reynolds, which would have made for an epic reunion between Reynolds and Bullock. Even so, if the comments on Tatum's post are any indication, people don't seem too disappointed about the recasting choice.
Lost City of D is still in pre-production, which makes sense as Channing Tatum seems to be preparing to film. Even though filming has not started yet, it seems like we could expect to see the film released in April of 2022. Until then, at least we have two minutes of Tatum on a horse, which is way more than nothing!
Your Daily Blend of Entertainment News
Thank you for signing up to CinemaBlend. You will receive a verification email shortly.
There was a problem. Please refresh the page and try again.