Movies Like Freaky Friday: 10 Wacky Body Swap Movies And How To Watch Them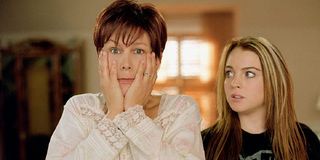 CinemaBlend participates in affiliate programs with various companies. We may earn a commission when you click on or make purchases via links.
There's a certain type of movie genre that has been around for decades, one that always seems to bring the perfect combination of drama, comedy, and looniness, and that genre is the body swap film. There have been plenty of movies like Freaky Friday, but only a few have really stood the test of time – some which are so iconic that it's hard to forget about them.
Here, we take a look at several decades worth of movies, from '80s classics to some much newer ones, including Freaky Friday and it's twisted reboot, Freaky. Either way, no matter which movie you end up watching, you're going to enjoy the craziness. Here are some of the best body swap movies you can watch right now.
Freaky
Starting off with one of the most recent entries on this list, 2020's Freaky is actually a horror-comedy – a genre you don't usually expect to see in a body-swapping movie, but it works so well. Freaky is all about a serial killer (Vince Vaughn) and an unpopular teen (Kathryn Newton), who end up swapping bodies because the serial killer took an ancient knife from a museum.
It has all of the aspects you would expect from a movie like this, with some horror elements thrown in there. Vaughn does an excellent job in his role once he's literally swapped bodies with a teenage girl. For a moment you wouldn't even expect it to truly be him but he does the portrayal so well you're invested in these characters. It's most certainly one of the best films on this list.
Rent Freaky on Amazon here (opens in new tab).
18 Again!
This film is one of the many body-swapping films of the '80s which made the genre so popular. 18 Again! follows the story of a college student (Charlie Schlatter) who switches souls with his grandfather (George Burns) after an accident, creating hijinks and craziness as they both try to figure out how to get back into their bodies.
While not the best body-swapping film on this list, it's still fun to see what it would be like to watch a senior citizen live as a young person again. It's an interesting premise to explore, and they do a good job of it – plus you also get to see a grandpa in a college boy's body have fun in college again, which is always an entertaining time.
Stream 18 Again! on Pluto TV here.
Rent 18 Again! on Amazon here (opens in new tab).
The Shaggy Dog
This was one of the first body-swapping movies I can remember watching – and it's not even technically a human body he swaps with. In this remake, The Shaggy Dog covers the story of a district attorney (Tim Allen) who is involved in a case of the use of laboratory animals, where he is bitten by a 300-year-old dog from Tibet.
The premise itself is super silly, a man turning into a dog, but the theme that follows really pays off. In this story, while we still get the jokes cracked, we also get to see a classic case of increased perspective. No one knows that Allen's character is a dog, so he gets an inside look into how his family really is, and he learns to better understand them. It's kooky, but the story has heart – and who wouldn't want to watch a dog run around for an hour and a half? I'm always down for that.
Rent The Shaggy Dog on Amazon here (opens in new tab).
All Of Me
Now we move onto a classic in body-swapping movies, starring the legendary Steve Martin. All of Me (and no, not the famous John Legend song) follows the story of Roger Cobb, an attorney who ends up having his soul fused with that of a dying woman (Lily Tomlin), and they then share his body, with her having control over the right side and him having control over the left.
The movie itself is quite strange compared to other body-swapping movies, just because the idea of two souls sharing a body kind of boggles my mind. But, the acting and the comedy behind it are what make this movie so entertaining. Steven Martin does an excellent job, and the screwball comedy that he injects into the story makes it all the better. Lily Tomlin is a great addition to this cast as well, despite only showing up in reflections for most of the film. It truly is a great addition to this list.
Stream All of Me on Amazon Prime here (opens in new tab).
Rent All of Me on Apple TV here (opens in new tab).
Vice Versa
This move is often credited as one of the best body-swapping films out there. Vice Versa is a film about a father (Judge Reinhold) and a son (Fred Savage) who don't get to spend as much time together due to divorce and the dad's heavy work schedule. While holding an ancient skull, the two of them profess they wished they could be in each other's bodies after a heavy discussion, and the skull grants them their wish.
Not only is it hilarious to see a young boy suddenly have all the freedom in the world as an adult, we get to understand their relationship from not only a viewer's perspective, but the character's perspective as well. We start to see how the lives of two people are more than just what they say, and how if we just step into each other's shoes, we can understand them a bit more. You'll walk away from this film feeling that familiar warmth spreading through your chest at another sweet family story.
Rent Vice Versa on Amazon here (opens in new tab).
If You Like Vice Versa: Check out Like Father Like Son. It's another body-swapping film that has a similar plot, and was also released in the '80s.
Face/Off
We've gone over ancient relics that have somehow transferred souls – how about physically changing bodies? Face/Off is the classic tale of an FBI agent (John Travolta) who, after obsessing about trying to catch a terrorist (Nicholas Cage), undergoes surgery to switch out his face with the terrorist's features, after said criminal is involved in a plane crash and thought to be dead.
I know, this sounds wacky. I mean, the other films on this list sound like the typical body-swapping films but this idea straight up screams kookiness. However, it strangely works. The chemistry between Nicholas Cage and John Travolta is top tier, and the plot itself carries an interesting concept. A sequel, after more than twenty years, is currently in the works, so it's most certainly a film that has a lasting impact.
Rent Face/Off on Amazon here (opens in new tab).
The Hot Chick
The Hot Chick follows a teenager (Rachel McAdams) who comes across magic earrings, and the moment she puts them on, they cause her to swap bodies with a thief (Rob Schneider). Throughout the film, she and her friends try to find her body, which now houses the thief, while dealing with the crazy situations you would expect.
I sort of look at this film like Freaky but without the horror aspect, and just pure comedy. Schneider is great in this role and it's always hilarious to see an older man act like a young teenage girl. McAdams, in her pre-Mean Girls years, does an excellent job as the mean-spirited Jessica who now houses the mind of a criminal. The rest of the cast bring in plenty of funny moments, as well. For absolute fans of the body-swapping genre, this would be a great addition to your watch list.
Stream The Hot Chick on HBO Max here (opens in new tab).
Rent The Hot Chick on Amazon here (opens in new tab).
The Change-Up
What do you get when you pair two movie stars known for comedy? A great body-swapping film. The Change-Up, which stars Ryan Reynolds and Jason Bateman, tells the story of two friends, one married and one a bachelor, who end up getting drunk and simultaneously urinate into a fountain, wishing that they had each other's lives. The next morning, they wake up body swapped.
Ryan Reynolds has become known as an action star, who I'm pretty sure is Deadpool in real life, while Jason Bateman is awesome in dramas like Ozark, and the two of them together are amazing. They have great chemistry and work well as a duo. The plot is about as typical as you can expect with a body-swapping film, but I think the stars make it charming enough to watch. Their wit and timing are great.
Stream The Change-Up on Peacock here (opens in new tab).
Rent The Change-Up on Amazon here (opens in new tab).
Freaky Friday
It's why you're here. You know it, you love it...Freaky Friday is an endearing classic, and in my opinion, much better than the original movie from the 1970s. In Freaky Friday, we see a troubled relationship between a mother and daughter blossom when they switch bodies after a crazy earthquake while in a Chinese restaurant, and now must figure out how to switch back.
Freaky Friday is a favorite of moviegoers for many reasons. We have a hilarious Jamie Lee Curtis, and Lindsay Lohan in her prime, and their chemistry is off-the-charts amazing. The comedy that comes from their pairing, along with some amazing one-liners ("Oh, I'm like the Crypt Keeper!") make this film one of the best body-swapping movies out there.
Stream Freaky Friday on Disney+ here (opens in new tab).
Rent Freaky Friday on Amazon here (opens in new tab).
Honorable Mention
17 Again
Ah. I remember seeing this film in my Zac Efron-crush days, but honestly, on a rewatch, this is everything 18 Again! was but so much better. In this film, an older man named Mike ends up becoming his 17-year-old self again after an accident.
While it has sort of the same premise of 18 Again!, 17 Again really amps it up with the fact that it's the same guy. Much like the awesome Big and 13 Going On 30, no one is really switching bodies, here. Mike's just back to being his younger self, and can see from sort of an outsider's perspective what his kids and estranged wife go through. Zac Efron does an excellent job for a role that he had during his High School Musical years, and Matthew Perry also stands out for the small amount of time he appears as the older Mike. It's fun, comedy-filled, and has plenty of laughs. You'll enjoy this one.
Stream 17 Again on Netflix here (opens in new tab).
Rent 17 Again on Amazon here (opens in new tab).
With plenty of options out there, this list gives you several choices. However, if any of us have learned anything from these movies, it's not to touch ancient relics while wishing to be in another body – think I'll keep that off my to-do list.
Your Daily Blend of Entertainment News
Big nerd and lover of Game of Thrones/A Song of Ice and Fire. Will forever hate season eight. Superhero and horror geek. And please don't debate me on The Last of Us 2, it was amazing!
Your Daily Blend of Entertainment News
Thank you for signing up to CinemaBlend. You will receive a verification email shortly.
There was a problem. Please refresh the page and try again.