12 Great Drama Series To Watch On Paramount+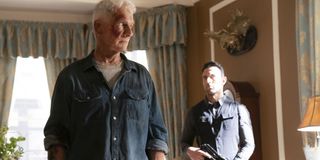 CinemaBlend participates in affiliate programs with various companies. We may earn a commission when you click on or make purchases via links.
With every new streaming platform, there are several great dramas for people to turn to when they want to spice up their lives with the problems of fictional characters. Paramount+ is no stranger to that, even though it's sort of new to the scene. Already, it sports awesome shows, with some of the best dramas out there. While you wait for your new shows to premiere from the 2021 TV schedule, streaming is the way to go.
We have shows that have been going on for what feels like forever, such as NCIS and Star Trek, and others that still have dedicated fans, like Blue Bloods and The Good Wife. No matter what you're into, Paramount+ is sure to have some sort of drama for you to wrap your head around. These are some of the best that the streaming service has to offer.
NCIS Shows
If you haven't heard of NCIS at this point, I don't know what rock you've been hiding under.
NCIS is one of the quintessential cop dramas out there. The phrase stands for Naval Criminal Investigation Service, and the series has been going on for years, since 2003.
Because of the popularity of this military and police procedural show, there have been a couple of spinoffs in this franchise that have also been put onto Paramount+ for your viewing, including NCIS: New Orleans and NCIS: Los Angeles. For all you procedural fans, this is most certainly the one for you.
Stream the NCIS franchise on Paramount+ here.
All Rise
Moving onto a more recent entry in this list, All Rise follows the stories, cases, and personal lives of a judge, a persecutor, and a public defender in the beautiful world of Los Angeles, and all the crime that comes along with it.
Obviously, if you're already a fan of legal shows like Your Honor and Better Call Saul, this drama will be right up your alley. Even if you've never given series like this a chance, I'd say keep an eye out for this show. It's an intriguing look at the legal system, which does a great of of illuminating and entertaining.
Stream All Rise on Paramount+ here.
The Good Wife
Another legal and political drama, The Good Wife, kept a steady reputation as one of the best shows on TV for seven seasons. Produced by Ridley Scott, this show covers the story of Alicia Florrick, the wife of Cook County State's Attorney, who returns to her career in law after her husband is found guilty of a public sex and political corruption scandal.
The show received critical acclaim and was nominated for multiple Primetime Emmy Awards for how fantastic it was. Sometimes shows like this need to be viewed to really grab you, and once you start that first episode, it's like a drug. You'll find yourself rooting for Alicia in ways that you never thought you would – truly worth the time to view.
Stream The Good Wife on Paramount+ here.
Clarice
Think of one of the best films you've ever seen – did you think of The Silence of the Lambs? Because I did, and that's exactly what Clarice is based on. We return to the world of Clarice Starling a year after the events of Silence of the Lambs, as we dive deep into the personal, untold story of the detective.
This series has everything from the movie that you loved and more, with that same psychological aspect that made Silence of the Lambs so intriguing in the first place. Along with that, you'll get some prime hunting down of other serial killers and sexual predators, in a high-stakes world all around Washington D.C. If you loved the original, you're sure to love the show as well.
Stream Clarice on Paramount+ here.
Star Trek Shows
Alright, there are far too many to tell you the individual plot of each Star Trek show, but know that there are so many for you to explore. The Star Trek franchise – which has been around since the 1960's – is all about going "boldly where no man has gone before," through the channel of space and (sometimes) time. Trust me, there are several stories which have been told throughout the years.
From the Star Trek franchise, you could watch the original Star Trek, Star Trek: Picard, Star Trek: Discovery and so much more. While the series is rooted in science-fiction, there is still plenty of drama for you to enjoy. With each of the new shows that this franchise has turned out over the years, you'll have entertainment for months.
Stream the Star Trek franchise on Paramount+ here.
The Equalizer
Moving onto another show based on a movie, The Equalizer is a brand-new TV series inspired by the original series of the same name from the 1980s. The show, now starring the fabulous Queen Latifah, tells the story of a vigilante who wants to help with social justice and pursues cases where the people aren't helped by the law – which is where the "equalizer" steps in to help them out.
After the success of the series (and films starring Denzel Washington), it was only a matter of time before they decided to reboot the idea, and Queen Latifah holds up in the main role, along with several other shining costars alongside her. The crime-drama has only has a few episodes so far, so it's easy to catch up, and who doesn't love a good vigilante story?
Stream The Equalizer on Paramount+ here.
Blue Bloods
Blue Bloods focuses on the Reagan family, a group of individuals who largely work in law enforcement. The father is the New York City Police Commissioner, followed by family members that play other pivotal roles in the daily ongoings of the NYC Police Department.
With eleven seasons to binge, there's plenty of you to enjoy on this popular cop show. Whether you're a city dweller or someone who's really into the law, there are parts of this show that will satisfy any viewer. Tom Selleck, Donnie Wahlberg, and several others star in this popular show, so there's also plenty of talent to watch during the long-running series.
Stream Blue Bloods on Paramount+ here.
Twin Peaks
This is one of my all-time favorite dramas, and it's been popular for such a long time that it's clear others feel the same way. Twin Peaks, while short-lived, has a cult following for a reason. The series tells the tale of a murder investigation of a homecoming queen, in the fictional town of Twin Peaks, Washington.
While it sounds like just some normal everyday crime show, there are so many elements to Twin Peaks that stand out. For example, every episode is a standard day in the show, so each season only chronicles a month – therefore, as the viewer, you really get to dive deep into these investigations and see all of the horror, mystery, and killers that appear during these cases. It's super interesting, extremely entertaining, and worth the watch for any crime fan, even if it's a short series.
Stream Twin Peaks on Paramount+ here.
Madam Secretary
Back to the political spectrum, we take a look at a role that isn't usually covered that often from the White House in scripted TV – the secretary of the United States. Madam Secretary is the story of a secretary of state, and the internal struggles that she has while trying to drive diplomacy, and the politics of not just the country, but the office as well.
I know that there are so many political shows out there, but this was is super complex. It really digs deep into this position and the troubles that anyone in the White House can face. I feel like in the last couple of years, we've all had our fair share of politics, but for a show that was around for six seasons, it's clear they must have been doing something right. The character development is great, the stories interesting, and the politics aren't too hard to understand for someone who's new to shows like this.
Stream Madam Secretary on Paramount+ here.
The Stand
Based on the Stephen King novel of the same name, The Stand is basically what we're living right now – through a pandemic.
Nah, I'm just joking, but that is a main plot-point of this miniseries. In this show, we see the beginning of a pandemic that is a result of a mishap in a military biological research station – this, in turn, leads to the people who are left fighting a true battle of good against evil.
With this great show, we see awesome actors like James Marsden and Odessa Young take the lead, really providing us with a rich story – I mean, it's Stephen King, the same guy who wrote The Shining. We all know that this story is going to be great. There's no better time than now to watch it.
Stream The Stand on Paramount+ here.
The Twilight Zone
While the new Twilight Zone that Jordan Peele hosts is fun and all, there's nothing that can quite compare to the original The Twilight Zone from the '60s. The Twilight Zone is an anthology, often dealing with strange and unusual events and the people who get caught up in those events.
While the show can lean a little bit more into the horror and mystery aspect, the episodes always end with some sort of lesson being taught. Even though some of the issues can be a bit dated (this show did debut in 1959), many of the stories are still mysterious enough to be thoroughly entertaining.
Stream The Twilight Zone on Paramount+ here.
Under The Dome
Another Stephen King adaption here, Under The Dome, tells the story of a small town which is suddenly trapped under a glass dome. No one knows why, but it's up to the townspeople to figure out exactly how to get out – and why it might have happened to them in the first place.
I know that this sounds a little bit like the plot of The Simpsons Movie, but I promise you that the story of Under The Dome is much more fleshed out and entertaining – and a lot less comical. This is the epitome of what a drama should be, with a nice science-fiction twist.
Stream Under the Dome on Paramount+ here.
Jeez. I'm already biting my nails imagining the stress I would feel watching all these dramas – but, I suppose that's the fun part about it. You can sit on the couch and view it all on Paramount+, without having to deal with any of the consequences that the characters did.
Your Daily Blend of Entertainment News
Big nerd and lover of Game of Thrones/A Song of Ice and Fire. Will forever hate season eight. Superhero and horror geek. And please don't debate me on The Last of Us 2, it was amazing!