Knives Out's Netflix Deal Could Be The Key To Break The Streamer Into Wide Theatrical Release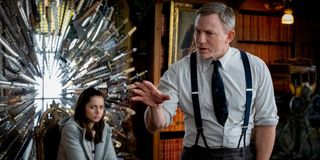 Cinderella stories are always exciting to behold in the world of the movies, and that's exactly what writer/director Rian Johnson's Knives Out achieved almost two years ago. The ensemble whodunnit that saw Daniel Craig majorly flexing his comedy muscles won over the world with a well-earned campaign of cinematic victory, memes and inspired fashion. But some are seeing the recent news that Netflix has made a massive play to control the fate of two sequels as a sign that Benoit Blanc won't be returning to theaters. Actually, we should all be looking at this as the potential key to breaking Netflix into a wider theatrical release model.
What's The Deal With Netflix And The Knives Out Sequels?
Once an unknown quantity that probably didn't have the words "worldwide super smash" written all over it, Knives Out eventually became a huge hit for Lionsgate in 2019. However, it was a hit that was completely controlled by Rian Johnson and producer Ram Bergman. With the rights in hand, they could ask for a king's ransom or even a truck load of sweaters worn by their own Ransom, Chris Evans. Enter Netflix, the scrappy streaming service that is nearing a deal to acquire Knives Out 2 and 3 in the $400-450 million range!
Should this deal go through, it means that a lot more people are going to be able to see Daniel Craig's Benoit Blanc in action. However, this has led to one major concern among the moviegoing populace, leaving a gigantic question in its wake. Could this mean that Knives Out 2 and 3 won't be the collective theater experience a lot of people hoped it would be?
Does This Mean Knives Out's Sequels Won't Be Going To Theaters?
The answer to this question is a resounding no, as Knives Out 2 and 3 jumping to Netflix doesn't totally negate the prospect of these films heading to theaters. As a streaming service and a production studio, Netflix has a history of putting its original films into theaters, and has done so for quite some time. That being said, Knives Out 2 is going to be harder to catch in theaters, if the current tensions between the three major chains and Netflix remain.
Historically, AMC Theaters, Regal Cinemas and Cinemark Theaters have been at war with Netflix thanks to the streaming platform not adhering to the traditional window of theatrical exclusivity. It wasn't until last fall, during the time of COVID and the smashing of said theatrical windows, that a crack of light emerged in this particular debacle. As movies like The Christmas Chronicles 2 and The Midnight Sky did make their way to Cinemark Theaters last fall, and within shorter windows than usually adhered to, both sides make for a hell of an opportunity for Knives Out 2 and 3 to unite them once and for all.
How Knives Out 2 And 3 Could Break Netflix Into Wider Theatrical Release
To say that theater chains are going to want in on Knives Out 2 and 3 is probably akin to saying that fish want water. Daniel Craig, Rian Johnson and the insane cast of talent in Knives Out managed to surprise the world with an unforgettable theatrical hit. Plus, the desire to get those sequels into theaters is probably being felt on Netflix's end too, as Benoit Blanc's return is pretty much a license to print money at this point.
Netflix's limited theatrical reach will definitely allow Knives Out 2 and 3 to be seen at the movies, but only if you're living near an indie theater that's able to make a deal to show them. So to increase that reach, changes are going to have to be made between how Netflix and the major theater chains have looked at each other. Which is exactly what studios like Universal have been doing with the Big Three over the course of this past year.
What Sort Of Terms Could Netflix Negotiate With Knives Out 2 And 3?
If anyone expects Knives Out 2 and 3 to head to theaters, some business decisions will have to be made on both sides. The traditional wheeling and dealing on how much money goes to the studio from ticket sales will probably be the first key battleground. Studios usually make out like bandits on this end, but theatrical exhibitors may try to negotiate better terms to keep more money in their pockets.
This might also lead to Netflix potentially allowing VOD rentals through platforms like AMC Theaters Video on Demand. It's not like they can give theaters a cut of subscription revenues, so if AMC is going to get its cut from VOD, like it does with Universal, it'll going to need to look elsewhere. Above all else, the release date of Knives Out 2 and 3 in theaters will probably be affected by the window that major theater chains will want to maintain.
Using the Universal/Regal model as an example, 17 days will be the minimum window required for Rian Johnson's films to stay in theaters. It's not too far off from the usual two week windows that Netflix has instituted in the past; however, monetary thresholds in that deal could push that window wider. For example, with the Universal/Regal deal, if an opening weekend haul for any particular title exceeds $50 million, the theatrical window goes from 17 to 30 days exclusivity.
While Knives Out has a decent, but not chart-topping start in 2019, it did come close to that magic number with $41.7 million. The film's increased brand recognition is only going to change that in Round 2, and depending on the competition, who knows where Knives Out 2 could open? If any factor drives negotiations between Netflix and major theater chains, it's going to be this.
Is It Worth It Trying To Get Knives Out 2 And 3 Into Theaters?
Yes, it absolutely is. Knives Out went from just drawing in the usual Rian Johnson/Daniel Craig fanbase to becoming a massive hit for Lionsgate. With the pandemic hampering theatrical business to a great extent, the world is as eager to get back to the movies safely. The release of Godzilla vs. Kong is starting to prove that point with huge numbers for a limited capacity market, and theaters will want more fan-recognized films to lift their spirits and their profit margins.
The Knives Out sequels are definitely going to qualify as such films, so getting them into as many theaters as possible only helps everyone. It will especially help Netflix gain more of a foothold in the theatrical market, and might even curb their desire to start buying up venues to compete in that same space. Should the donut hole and the donut align, Knives Out's sequels could end a storied rivalry, allowing everyone to make some good money in the process.
In the long run, Netflix could make a historic deal with AMC Theaters, Regal Cinemas and Cinemark Theaters that would allow them to do business with the theatrical rights to future original films. Should Knives Out 2 and 3 be used as the ultimate olive branch, we could see Netflix running its productions at a theater near you, with the ability to send them to their own platform not too long after. If Warner Bros could broker a deal where theaters were cool with HBO Max acting as a major player on opening weekend, there's hope that major theater chains could put their knives away and shake hands with Netflix.
Which only leaves two important deals to be made: hiring whoever runs the Knives Out Twitter to fulfill their duties for the sequels, and getting the rights to Knives Out's origin story, which is currently available exclusively on Prime Video (opens in new tab).
Your Daily Blend of Entertainment News
Senior Movies Contributor
CinemaBlend's James Bond (expert). Also versed in Large Scale Aggressors, time travel, and Guillermo del Toro. He fights for The User.
Your Daily Blend of Entertainment News
Thank you for signing up to CinemaBlend. You will receive a verification email shortly.
There was a problem. Please refresh the page and try again.