The Best Kevin Bacon Movies And How To Watch Them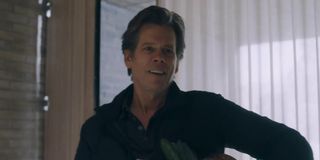 CinemaBlend participates in affiliate programs with various companies. We may earn a commission when you click on or make purchases via links.
They say that you can connect Kevin Bacon to almost any other actor through mutual movies in six steps or less and, as a frequent player of this game, I can conclude there is some validity to it. The reason being, simply, that the 62-year-old Golden Globe winner is in a lot of really good films, which means a list of the best Kevin Bacon movies would actually take more than just six steps to get through. Case in point, the whopping total of 17 favorites you can watch now on streaming, as a digital rental or purchase, or even to find on Blu-ray and DVD if you still prefer to collect physical media, starting with his feature film debut.
National Lampoon's Animal House (1978)
A 20-year-old Kevin Bacon proved his skills in both comedy and villainy as Chip Diller in director John Landis' National Lampoon's Animal House - considered the Citizen Kane of college movies by most. The freshman ROTC cadet thinks he's hot shit after Faber's Omega House accepts him as a pledge, but his true cowardice is exposed when Delta House sabotage's the homecoming parade.
Stream National Lampoon's Animal House on AMC+.
Buy or Rent National Lampoon's Animal House on Amazon.
Get National Lampoon's Animal House on DVD/Blu-Ray on Amazon.
Friday The 13th (1980)
There is not much to be said about Kevin Bacon's role as Jack in director Sean Cunningham's first installment of the iconic slasher franchise, aside from being one of the several young counselors stalked and killed one-by-one at Camp Crystal Lake. However, when it comes to the most iconic kill in Friday the 13th, he easily gets the point.
Stream Friday the 13th on Starz.
Buy or Rent Friday the 13th on Amazon.
Get Friday the 13th on DVD/Blu-Ray on Amazon.
Footloose (1984)
The movie that made the world want to dance again was the movie that made a star out of Kevin Bacon as a teenager who seeks to rebel against his new small town's law against dancing. With a choreography by future High School Musical director Kenny Ortega and fun set of tunes by Bonnie Tyler, Foreigner, and Kenny Loggins on the title tracks, Footloose is an irresistible romp to "cut loose" to.
Stream Footloose on Hulu or on Amazon Prime. *
Buy or Rent Footloose on Amazon. *
Get Footloose on DVD/Blu-Ray on Amazon.
Diner (1982)
Two years after Animal House, Kevin Bacon once again played a collegian in a period piece that has a great deal of comedy, but a more dramatic central narrative. Written and directed by Barry Levinson, Diner is an inspiring, Oscar-nominated coming of age story about five young men facing the end of the '50s and the beginning of adulthood.
Stream Diner on HBO Max. If you're not an HBO Max subscriber, you can sign up here. *
Get Diner on DVD/Blu-Ray on Amazon.
She's Having A Baby (1988)
Speaking of the beginnings of adulthood, She's Having a Baby also carries that theme heavily. The romantic comedy written and directed by the late, great John Hughes stars Kevin Bacon as newly married man who begins to fall under the pressure of life when his wife (Academy Award nominee Elizabeth McGovern) announces she is pregnant.
Stream She's Having A Baby on Paramount+. *
Buy or Rent She's Having A Baby on Amazon. *
Get She's Having A Baby on DVD on Amazon.
Tremors (1990)
Further cementing Kevin Bacon into "Scream King" status was his lead role in this old school creature feature about a small, desert town in Nevada terrorized by giant, man-eating worms. There are still Tremors movies being made today (as recently as 2020 with Tremors: Shreiker Island), but none have had quite the same charm that Bacon's Valentine McKee brought to the original.
Buy or Rent Tremors on Amazon. *
Get Tremors on DVD/Blu-Ray on Amazon.*
Flatliners (1990)
While Tremors is appreciated for its decent number of laughs, Kevin Bacon's other cult thriller from 1990, which earned an Oscar nomination for visual effects, takes a more earnest approach to horror. Directed by the late Joel Schumacher and featuring an all-star ensemble also including Julia Roberts and Kiefer Sutherland, Flatliners stars Bacon as one of five medical students going to the extreme to study the afterlife, and with grave consequences.
Buy or Rent Flatliners on Amazon. *
Get Flatliners on DVD/Blu-Ray on Amazon.
Stir Of Echoes (1999)
Nine years after Flatliners, Kevin Bacon would once again grow uncomfortably close with the dead as a man hypnotized into seeing ghostly visions in a thriller released the same year as The Sixth Sense, coincidentally. Based on the novel by Richard Matheson, Stir of Echoes was Bacon's first chilling collaboration with writer and director David Koepp before reuniting on You Should Have Left in 2020.
Stream Stir Of Echoes on Tubi, on IMDbTV, or on Vudu. *
Buy or Rent Stir Of Echoes on Amazon. *
Get Stir Of Echoes on DVD/Blu-Ray on Amazon.
JFK (1991)
Earlier in the 1990s, Kevin Bacon would make two highly acclaimed legal dramas released within a year of each other - the first being JFK, which sheds light on a supposed governmental conspiracy behind the assassination of President John F. Kennedy. Bacon appears as a fictional composite of multiple witnesses who testified at the legendary trial that inspired director Oliver Stone's controversial Oscar-winner.
Get JFK on DVD/Blu-Ray on Amazon.*
A Few Good Men (1992)
Kevin Bacon would follow up JFK the next year with director Rob Reiner's A Few Good Men, in which he plays a a prosecuting military attorney for murder opposing Tom Cruise's defense of Marines accused of murder. The oft-quoted film from the mind of writer Aaron Sorkin, director of recent legal thriller The Trial of the Chicago 7, was nominated for four Academy Awards, including Best Picture.
Buy A Few Good Men on Amazon. *
Get A Few Good Men on DVD/Blu-Ray on Amazon.*
Apollo 13 (1995)
In Kevin Bacon's next Oscar darling (winning two of its nine nominations), he portrayed Astronaut Jack Swigart, one of a three-man crew whose lives were put in danger when a "problem" occurred during a flight to the Moon in April 1970. Also starring Tom Hanks and Bill Paxton and directed by Ron Howard, Apollo 13 is pulse-pounding space odyssey based on a shocking true story of miraculous survival.
Stream Apollo 13 on Peacock. *
Buy or Rent Apollo 13 on Amazon. *
Get Apollo 13 on DVD/Blu-Ray on Amazon.
Balto (1995)
In the same year as Apollo 13, Kevin Bacon lent his voice to his first animated family adventure that is also based on a true story which later inspired the live action film Togo in 2019. He plays the title character of Balto - a Husky who leads a team of sled dogs in an attempt to prevent a deadly epidemic from reaching a small Alaskan town.
Buy or Rent Balto on Amazon. *
Get Balto on DVD/Blu-Ray on Amazon.
Sleepers (1996)
Kevin Bacon would reunite with Diner director Barry Levinson for another coming-of-age story, but with much grimmer circumstances. Based on the novel by Lorenzo Carcaterra, Sleepers follows a group of childhood friends who seek revenge against the detention center guard who abused them years earlier, played by Bacon.
Buy or Rent Sleepers on Amazon. *
Get Sleepers on DVD/Blu-Ray on Amazon.
Mystic River (2003)
Years after Sleepers, director Clint Eastwood would cast Kevin Bacon in another dark thriller based on a novel about childhood friends reunited through tragedy. Bacon plays a Boston detective investigating the murder of his ex-convict friend's teenage daughter (future Shameless star Emmy Rossum) in Mystic River, which Sean Penn and Tim Robbins both earned their first Academy Awards for.
Stream Mystic River on HBO Max. If you're not an HBO Max subscriber, you can sign up here. *
Buy or Rent Mystic River on Amazon. *
Get Mystic River on DVD/Blu-Ray on Amazon.
Frost/Nixon (2008)
Kevin Bacon would reunite with Apollo 13 director Ron Howard for another Academy Award-nominated historical drama set around an infamous occurrence in the 1970s. He plays Richard Nixon's post-resignation chief of staff Jack Brennan in Frost/Nixon, a dramatic recreation of a legendary series of interviews between the disgraced former president (Frank Langella) and British TV journalist David Frost (Michael Sheen) in response to the Watergate Scandal.
Stream Frost/Nixon on Peacock. *
Buy or Rent Frost/Nixon on Amazon. *
Get Frost/Nixon on DVD/Blu-Ray on Amazon.
Crazy Stupid Love (2011)
While he may not be the romantic lead, Kevin Bacon plays one of its more memorable characters in Crazy Stupid Love, especially by how often his name is brought up in conversation. He plays David Lindhagen, with whom Julianne Moore's Emily cheats on her husband, Cal (Steve Carell), who then seeks retribution from charming womanizer Jacob (Ryan Gosling) in this surprisingly clever and refreshingly honest romantic comedy.
Stream Crazy Stupid Love on Netflix. *
Buy or Rent Crazy Stupid Love on Amazon. *
Get Crazy Stupid Love on DVD/Blu-Ray on Amazon.
Patriots Day (2016)
Released just three years after the bombing at the 2013 Boston Marathon, Patriots Day chronicles the events leading up to and preceding the harrowing tragedy. Kevin Bacon plays Special Agent Richard DesLauriers, who joins Mark Wahlberg's Sgt. Tommy Saunders on a manhunt for the perpetrators of the heinous act in one of director Peter Berg's very best films.
Stream Patriots Day on Amazon Prime or on HBO Max. If you're not an HBO Max subscriber, you can sign up here. *
Buy or Rent Patriots Day on Amazon. *
Get Patriots Day on DVD/Blu-Ray on Amazon.
Clearly Kevin Bacon has an impressive filmography on the big screen, but his work in television also should not go unnoticed. He led the cast of Scream writer Kevin Williamson's crime drama The Following, won his first Golden Globe for the HBO movie Taking Chance, and now stars opposite Aldis Hodge on City on a Hill, a Showtime original miniseries about the unlikely partnership between a corrupt FBI agent and an assistant district attorney on an earth shattering case in 1990s Boston. It is just further proof of how, in six steps or less, everything comes back to Bacon.
Jason has been writing since he was able to pick up a washable marker, with which he wrote his debut illustrated children's story, later transitioning to a short-lived comic book series and (very) amateur filmmaking before finally settling on pursuing a career in writing about movies in lieu of making them. Look for his name in just about any article related to Batman.
Your Daily Blend of Entertainment News
Thank you for signing up to CinemaBlend. You will receive a verification email shortly.
There was a problem. Please refresh the page and try again.